The Art Of Illusion
Alexis Michalik, translated by Waleed Akhtar
Hampstead Downstairs / Celia Atkin
Hampstead Theatre
–

Listing details and ticket info...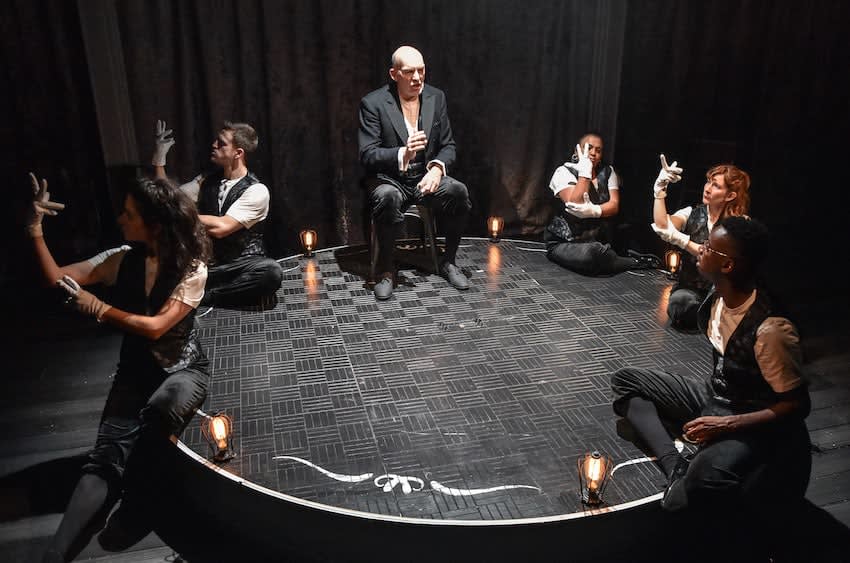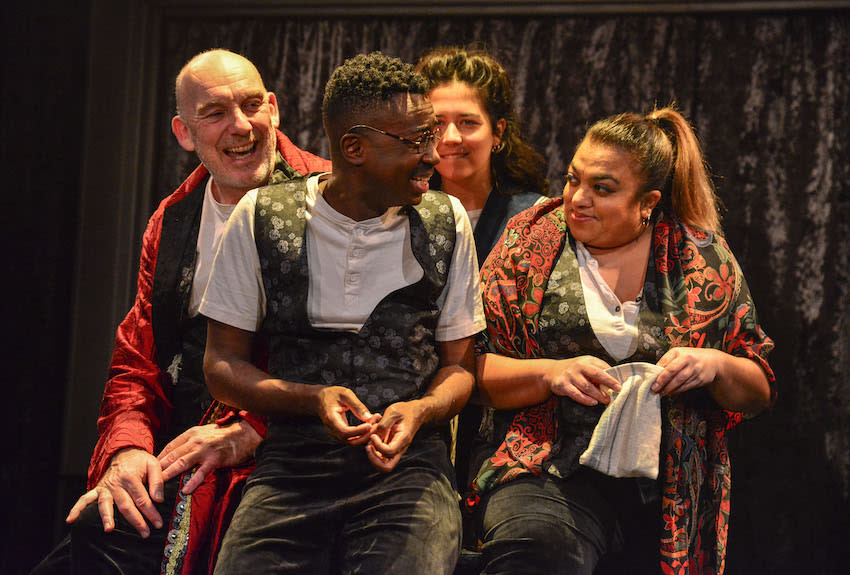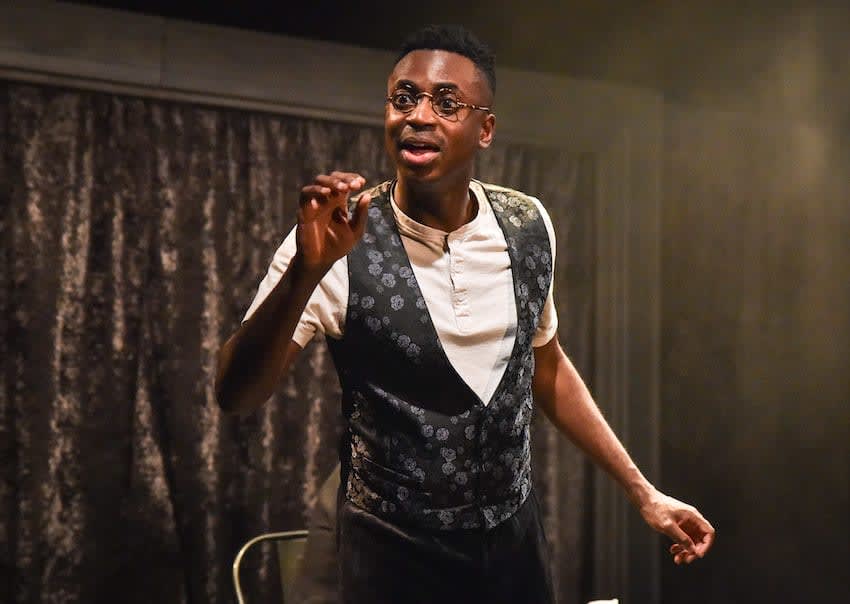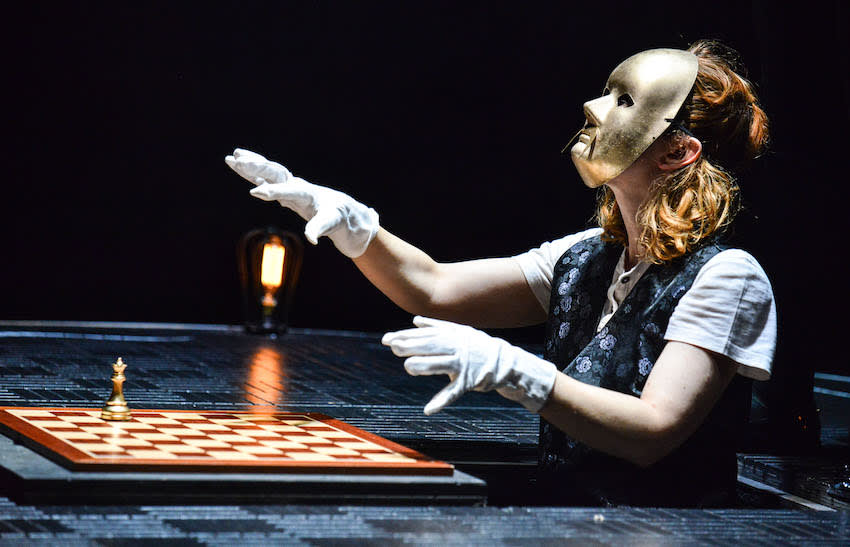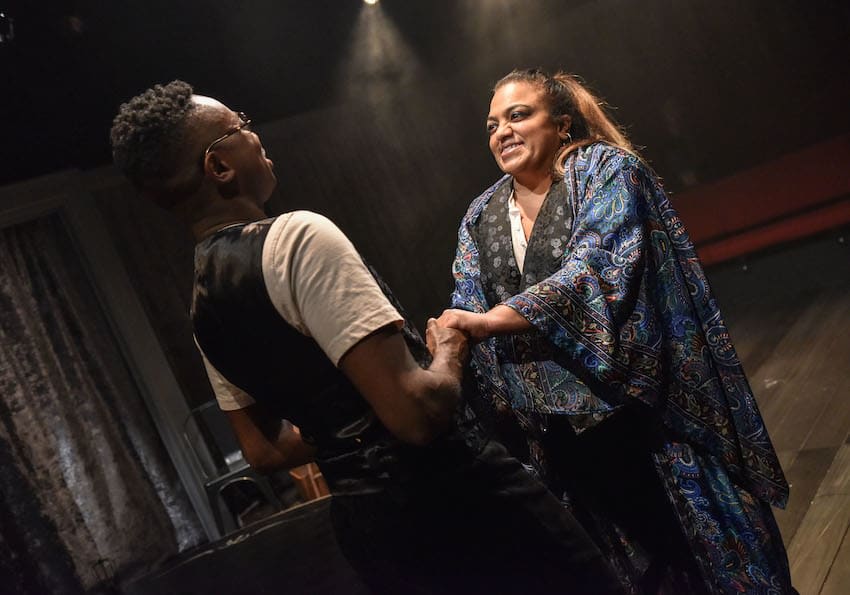 When it premièred in Paris in 2014 as Le Cercle des Illusionistes, Alexis Mischalik's play garnered Molière awards for both Best Author and Best Director and that production is still running, so this first UK production arrives with great expectations to launch a new year of theatregoing. It delivers a densely packed 100 minutes of multiple stories but, though presenting an array of deft conjuring tricks, it is low on theatrical magic.
It begins with a disappearing handkerchief, a first trick from the chorus-like Watchmaker who sets out some key dates: 1776 when a chess-playing automation was presented before Catherine the Great, 1805 when future illusionist Jean-Eugène Robert-Houdin was born in Blois and 1861 when Georges Méliès was born in Paris (all real events) and 1954 when a (fictional) new-born baby is abandoned in a suburb of Paris.
Then he transports us to 1984 when most of Paris is excitedly watching TV as France play Yugoslavia for the UEFA Championship. That baby, now a 30-year-old petty thief called December, is returning a case to April, the woman he stole it from (though she doesn't know that). The play tells all their stories, stories of people who, each in their own way, present different kinds of illusion: subterfuge, sleight of hand, cinema, the con trick.
"Some believe that life is a straight line," the Watchmaker tells us, "but life is a circle, since we are all turning". These stories keep going round and round, sometimes with a little confusion as they mix fact and fiction, but despite everyone playing characters in each other's stories, real muddle is avoided. The Watchmaker spans time; he claims to have introduced Euripides to his Electra, Shakespeare to Queen Elizabeth, to be "the Great Prompter, the spirit of entertainers," and to be himself an illusion.
The cast aren't give much on which to build character. Martin Hyder's performance doesn't give the Watchmaker much of the mystery such a controlling character seems to require but he does the magic with dexterity. Brian Martin and Bettrys Jones as thief December and April, a safe designer who describes herself as "a Fundamental Cartesian", are an odd pair of budding lovers; it is intriguing to see how their story uncovers the others.
Kwaku Mills's Jean is set to be a watchmaker, like his father and grandfather, but his heart is devoted to magic. Meanwhile, Norah Lopez Holden's Georges is desperate to escape his family's boot-making. Both manage to change their destiny. Jean turned a magic act into a stage show with his underground theatre, thus inspiring the man who took the stage name Houdini in homage. Georges became a cinema pioneer in the same place with films such as his A Trip to the Moon.
Rina Fatania brings her very individual comic talent to playing an hysterical Italian conjuror's assistant and a number of other roles, Georges's mother among them, and Kaku Mills does an outrageous double as Suzanne, the artist's model Georges falls for, but Tom Jackson Greaves's direction makes little attempt to integrate their boldness into the overall production. Indeed, there is no consistent style of playing either overall or for the individual storylines.
The intricate interweaving of all these stories rediscovers them all in the 1980s and then does a leap forward to the next generation. It is all very cleverly contrived but The Art of Illusion doesn't provoke real engagement. There is much to enjoy but I suspect there is a better play under the surface.
Reviewer: Howard Loxton