The Audience
Peter Morgan
Matthew Byam Shaw for Playful Productions, Robert Fox and Andy Harries
Apollo Theatre
–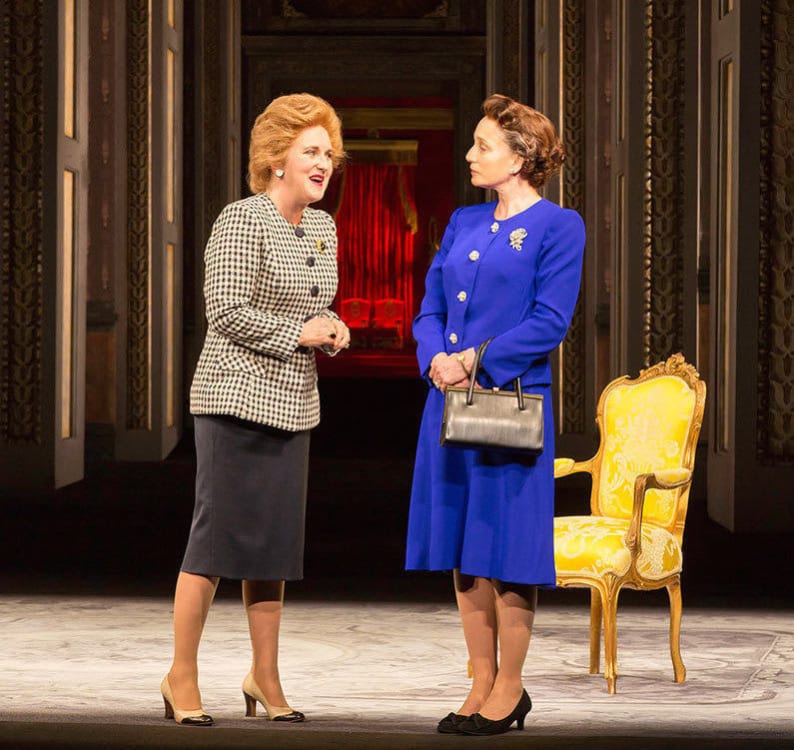 As Dame Helen Mirren reprises her performance of Her Majesty on Broadway, Stephen Daldry's production also returns to the West End with a new cast led by Kristin Scott Thomas as Elizabeth II.
Peter Morgan's imagined recreation of the private encounters that take place every week between the Queen and her Prime Minister now includes a scene with Tony Blair and omits one with Jim Callaghan. It comes right up-to-date with reference to possible Grexit and this week's election.
David Peart, who played Callaghan at the Gielgud in 2013, now appears as the royal equerry who provides a link between all the scenes and opens the evening explaining that these briefings are entirely private, no record is taken, no secretaries in attendance, and that at Buckingham Palace they take place in the first floor Private Audience room where there are two Canalettos on one wall and two Gainsboroughs opposite them and the yellow chairs they sit on date from 1826 (when they had much more sombre upholstery).
First on those chairs meeting Her Majesty is Michael Gould's John Major in a scene that matches the equerry's detail as it presents a confident monarch attempting to put an uncomfortable politician at ease.
"Prime Minister, everything you say in this room stays between us," the Queen reassures him before he reveals his awkwardness among all the highly-educated public school patricians of the Conservative Party when he gained only three 'O' levels. "Well, I have no 'O' levels at all," she replies, then wryly comments, "what fine hands the country is in."
When Major was at Number 10, the Queen already had nearly forty years experience but the next PM we see takes us right back to just after her accession, with a blustery Winston Churchill (David Calder) ignoring protocol and familiarly calling the young women he had known as a girl Lilibet. Even then she was quite able to stand up to his attempt to lecture her on her role.
The Queen constitutionally has to support the Prime Minister. She has the right to be consulted, the right to advise and the right to warn and Morgan's play is very funny and perhaps perceptive in suggesting how she has managed to do so without breaking the rules.
Though the yellow chairs remain and encounters take place in the same room (except for when the Queen is at Balmoral), a gauze flies out after the first scene revealing the grandeur of designer Bob Crowley's symbolic setting of huge pillars and a receding perspective of doorways with the twin thrones on the dais of the Throne Room as a distant focal point.
This setting becomes an imposing reminder of the monarch's status despite the informality with which she us usually dressed, though an episode with Cecil Beaton (Jonathan Coote) photographer here justifies further baroque décor and a switch to royal regalia—both offering the kind of production values that some audiences expect for West End prices.
The un-chronological sequence of the structure also allows for a Coronation moment (not just a crowning but a consecration as the Queen insists) that adds more spectacle. It also provides an opportunity for the juvenile Elizabeth (Marnie Brighton shares the role with Madeleine Jackson Smith and Izzy Meikle-Small), who voices Elizabeth's problems with her destiny, to make a moving vow of dedication.
Although above political involvement, this is not a Queen without opinion, which influences her questions and advice. A firm believer in the value of the Commonwealth, she clearly disagrees with Sylvestra Le Touzel's Margaret Thatcher over apartheid rule in South Africa while the irate Iron Lady smoulders about what she thinks a newspaper story that emanated from the Palace.
Her questioning of mandarin Anthony Eden (David Robb) over the Suez invasion is echoed in a scene with Mark Dexter's rather bumptious Tony Blair questioning his determination to invade Iraq. Dexter also doubles a voluble David Cameron.
Guess which Prime Minister bores her to sleep and then takes an undiplomatic liberty. It's certainly not Harold Wilson, with whom the Queen seems to have the best rapport. Nicholas Woodeson now plays him, giving him an open honesty that separates the cigar-smoking real man from the pipe-puffing political image.
Neither this nor any of the other prime ministers are played as impersonations, though some look more like the real ones than others, but they feel uncannily right, as though these could be real meetings, despite the satirical edge with which they are sometimes sharpened.
This isn't documentary history. On their own, these scenes could be revue sketches but put together and with the other interwoven material, this is much more than just a very funny evening. It is moving too, and full of carefully gauged performances and at their centre is Kristin Scott Thomas's Elizabeth.
It may be Helen Mirren who got there first, but Kristin Scott Thomas also makes so this role her own, creating not imitating. Unfazed by repeated quick changes of costume and wigs as the play moves backwards and forwards in time, before your eyes she changes from young woman to slow-paced octogenarian, regal or relaxed with her corgis (who are on cue performers)—it is an accomplished performance.
She doesn't smile as much as the Queen does when she is in public; there is a sense that without that sense of duty that drives her she'd love to leave it all to get out on a Scottish hillside with the dogs and a picnic, yet at the same time The Audience gives a glimpse of the value of the experience she has gathered in her long reign, that she does perhaps "advise".
Reviewer: Howard Loxton