The Autumn of Han

Red Dragonfly Productions and Grist To The Mill Productions
theSpace @ Surgeons Hall
–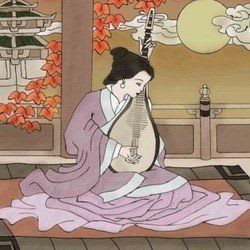 The Autumn of Han is a new adaptation of the traditional folktale Autumn in the Palace of Han, expertly adapted by playwright, Ross Ericson, the tragic love story of Wang Zhaojun, one of the four great beauties of ancient China, later sent as a gift to the Huhanye, Khan of the Hsiung-Nu.
The play is a proud and measured piece, retelling the traditional story with a flourish of modernity. After being sent to the Palace of Han, to be viewed as a concubine in the court of Emperor Yuan, she refuses to bribe the petulant and greedy minister Mao Yanshao, who retorts by cruelly altering the portrait and thereby assuring she will never be called upon by the Emperor.
It's only then, through the help of the eunuch Little Yellow Gate, that she contrives to meet him and the two fall in love, only for matters to further complicate with tragic results.
The play beautifully captures the majesty and beauty of the Han Dynasty era, as well as the social mores and the bureaucracy of the culture and the constraints it placed upon the men and women of every level of society.
A wonderful experience to explore the culture and traditions of ancient China through their own mythology, in a manner that will appeal to everyone.
Reviewer: Graeme Strachan