The Bald Prima Donna: The Apocalypse Before Christmas
Eugene Ionesco
Tarquin Productions
Old Red Lion Pub Theatre
–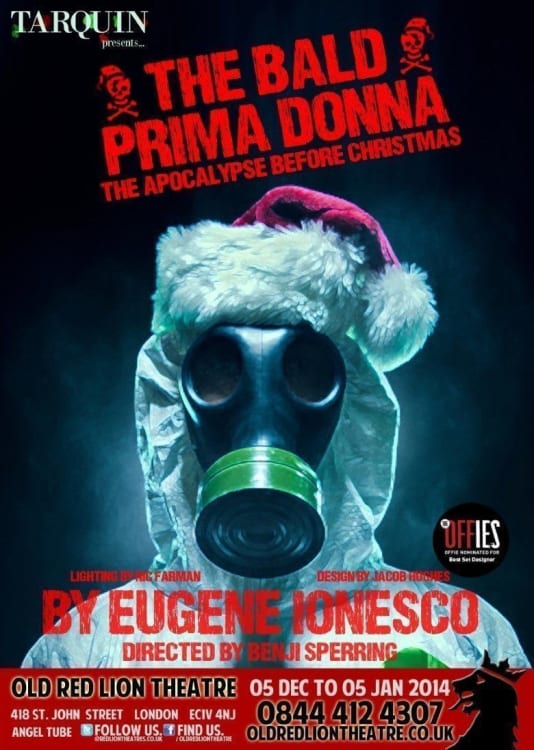 Eugène Ionesco's 1950 absurdist play The Bald Prima Donna is given a festive makeover at the Old Red Lion Pub Theatre. Alleged to be one of the most performed plays in France, Tarquin Productions hopes to bring it out of obscurity across the Channel.
Director Benji Sperring—who is also founder of Tarquin Productions—places the action in an apocalyptic setting—the programme hints at the Millennium Bug as the cause. Six people are locked together in a bunker at a Christmas party and take it in turns to talk (no, shout) about nothing.
Each character is in fancy dress: Mrs Martin a princess (Cheska Moon), Mr Martin a clown (Darren Beaumont), Mrs Smith a bee (Helena Payne), Mr Smith a prisoner with 24601 on his top in a nod to Les Misérables (Patrick Lenney), a fire-chief as Buzz Lightyear (Rupert Baldwin) and Mary as Queen Victoria (Judy Tcherniak).
There is much ambiguity in Sperring's production, particularly with regards to the Christmas concept. Maybe it highlights the repetitive, mundane nature of Christmas. Or perhaps it shows our descent into madness during the festive season; perhaps not. But then, should it need explaining? Surely that's the purpose of absurdist theatre—anything goes, right?
That's all very well, but does it work? Sadly, no. It certainly contains all the necessary elements: a hopeless situation, non sequiturs, even a continuous loop, but The Bald Prima Donna doesn't really awaken us to the futility of life nor does it show the fragility of human nature. Instead, it really is just an hour of nonsensical shouting.
There is a distinct lack of the absurdist humour that usually keeps audiences interested. At one point Mr Smith claims that, "Someone's going to make us laugh". This definitely doesn't materialise.
With Beckett, Stoppard and Pinter, there's a reason that Ionesco remains in obscurity.
Reviewer: Sean Brooks