The Ballad of Johnny Longstaff
Book, music and lyrics by The Young'uns
Northern Stage, The Young'uns and Harbourfront Centre Toronto
York Theatre Royal
–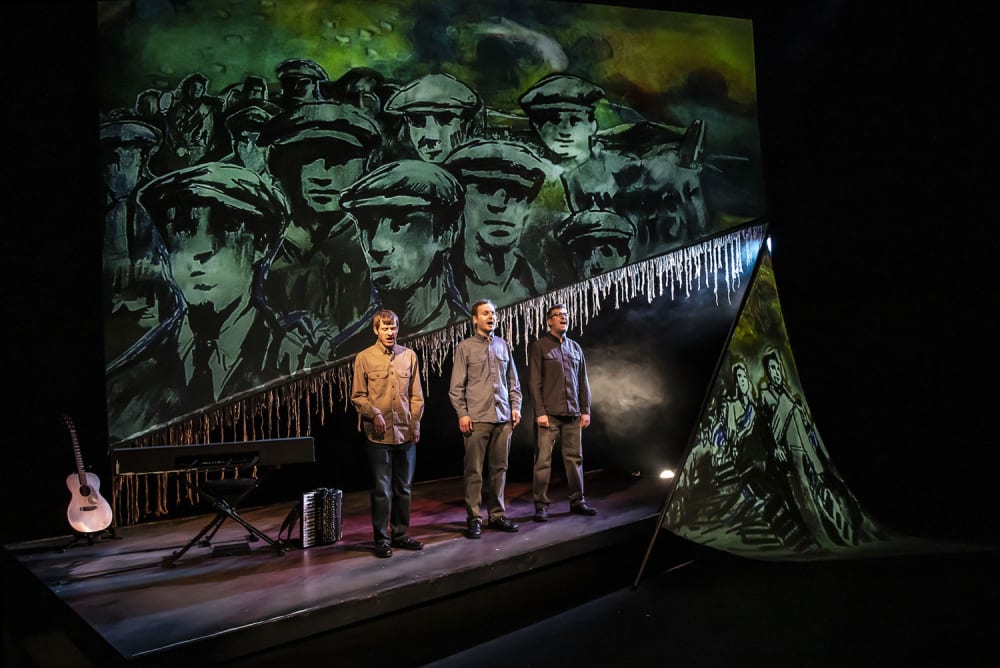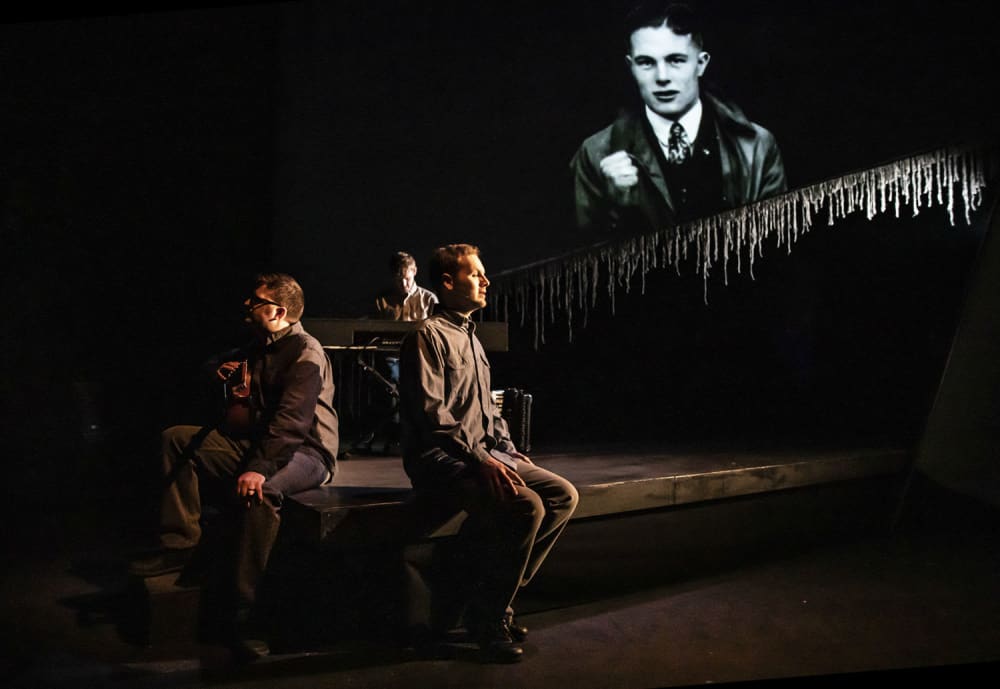 The Young'uns are a (by their own admission increasingly ironically named) folk trio from Stockton-on-Tees near Middlesbrough. Singing together for nearly twenty years, their most recent endeavour has been to compose an album's-worth of songs based on the life story of Johnny Longstaff.
Longstaff was a fellow Stocktonian, born just over a century ago as the First World War came to a close. His life took him to the heart of many of the crucial working-class conflicts of the early 20th century, from the Hunger March to London in search of employment, to enlisting in the International Brigades and covertly entering Spain in order to fight with the Popular Front against Franco during the Spanish Civil War.
On learning of his life story from Johnny's son, who approached them after one of their gigs, the band decided that this was a story worth sharing. Before his death in 2000, Johnny had recorded hours of testimony detailing his exploits, which is now shared online on the web site of the Imperial War Museum. Inspired by these tales, the band wove snippets of Johnny's voice into original folk songs they composed to recount his exploits, and these are now shared in a tight two-act performance complemented by vivid projected animation and the dry, easy-going wit of the Young'uns' three members.
In fact, one of these is a newer young'un than the other two: founder members Sean Cooney and David Eagle are joined here by acclaimed folk artist Jack Rutter as the third regular Young'un and co-arranger of these songs, Michael Hughes, could not commit to the full tour.
Despite the substitution, the voices of the three men blend perfectly, and, though the majority of the music is written for a capella performance as you'd likely find in a folk club (or on a route march), there is frequent augmentation from Eagle on piano or accordion and Rutter's guitar, piano and bouzouki.
The story is fleshed out between songs through the recorded voice of Longstaff himself, as well as through narrative sequences delivered mostly by the main songwriter, Sean Cooney. Despite professing early on that none of them are 'actors', Cooney comes at the task with assurance and a softly-spoken, wide-eyed sense of joy and wonder that put me in mind of Professor Brian Cox (though Cox is less likely to cry '¡No pasarán!' or to pen a jaunty number in favour of unionisation).
There is also warm, affectionate banter between the men, particularly long-standing bandmates Eagle and Cooney. All of this makes for a charming evening despite the sometimes appalling tales of an arduous life on the sharp side of the 20th-century poverty line. There's little in terms of on-stage action, though Lorne Campbell's light-touch direction does rearrange the singers in a variety of patterns on Kai Fischer's set in between songs. The stories are also supported by Scott Turnbull and Aaron Brady's projected animations, which range from abstract depictions of the Spanish landscape to cartoony, shadow-puppet-inspired portrayals of some of the more comic interludes.
These projections are most successful when transforming photographs and other images into swirling patches of colour, or providing a panning skyscape of constellations; the cheekiest song snippets ("Noddy" and "Paella") would, for me, have had more comic punch if presented without the gaudily literal Monty-Python-meets-Benny-Hill interpretations. Likewise, the weaker moments of the storytelling come where a plot point is repeated twice, or sometimes three times: we get to hear narration from Cooney, then hear a song reiterating the setting or event, and then hear Longstaff's own words, for instance. In almost all of these instances, a single iteration would have sufficed, as often the songs speak so clearly for themselves.
The reason that this rather small niggle stands out a little is that Cooney and co are evidently master storytellers. Overall, the occasional sense of a tale treading water is a small price to pay for an evening in such fine company, an insight into working-class histories of a crucial time in the labour movement in Britain, often beautiful visuals and pitch-perfect singing performances that more than once should send a tingle of pleasure down your spine.
Reviewer: Mark Smith