The Ballad of Martha Brown
Amy Rosenthal, Tamsin Fessey and Lynne forbes
Angel Exit
Salisbury Playhouse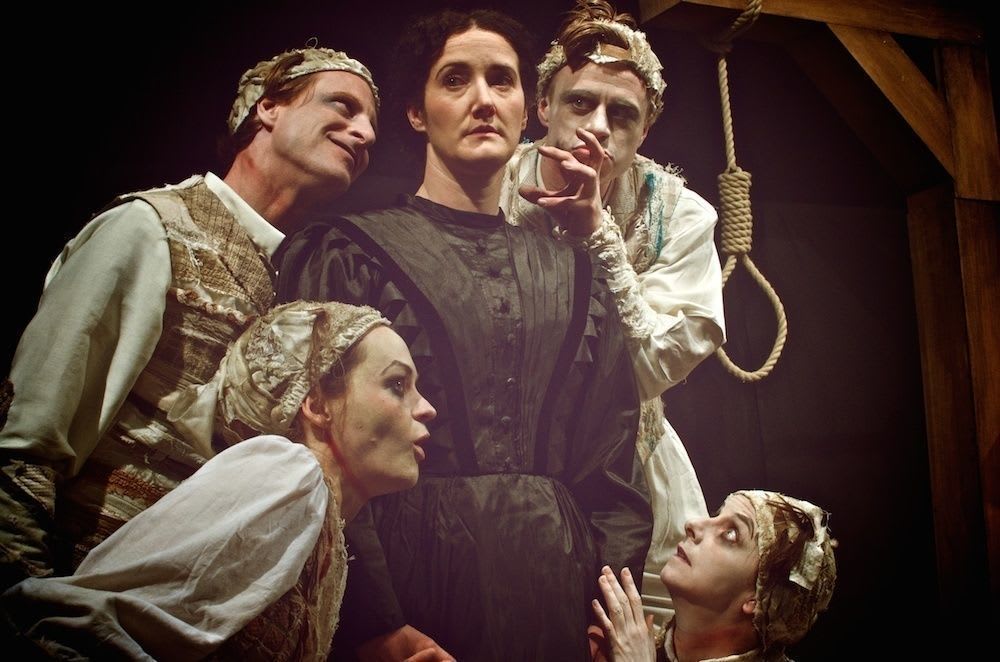 Based loosely on Nicola Thorne's novel My Name is Martha Brown, the play tells the story of the last woman to be hanged in Dorset.
It's known that 16-year-old Thomas Hardy was in the crowd that watched the execution and some people believe it could have been the inspiration for Tess of the D'Urbervilles.
Martha, born in 1811, was a milkmaid who progressed, through hard work and initiative, to becoming a successful businesswoman. The events leading to her husband's death make up the main plot.
It shouldn't work, should it? We know the ending before we've even begun and it's bound to be gloomy and ultimately hopeless.
Amazingly, what Angel Exit has managed to produce from this unpromising material is a joyously satisfying romp with just five superbly talented and versatile actors, two of whom, Tamsin Fessey and Lynne Forbes, together with Amy Rosenthal, wrote the script. Lovely, original toe-tapping music takes us into rural Dorset, while the cast switch effortlessly from role to role, even becoming cows and horses where this is called for.
Morag Cross and Tamsin Fessey are by turns a screeching mother-in-law, an interfering neighbour, a brazen seductress and a sympathetic prison chaplain, while Simon Carroll Jones's initially overbearing, then viciously cruel treatment of Martha, as Brown sinks further and further into depravity, earns all our censure.
The subject matter may be grim, but this play is actually a lot of fun. Even the executioner, William Calcraft (William Wolfe Hogan), proud to have been responsible for over 400 hangings, manages to draw laughs with his cheerful pragmatism and excessively cultured voice. Difficult to forget, though, that, in the interests of pleasing his audience, he would deliberately use a short rope to prolong the spectacle as the convict was slowly strangled.
These images of the gallows and the noose crop up constantly throughout the play in both the set and the action. Even the jolly maypole dance is performed with thick ropes in the form of nooses rather than ribbons. And the Horned Beast is a reminder that pagan influences still had some credibility in the early 19th century.
Another powerful image is that of the black crow, fallen down the kitchen chimney and indicative of disaster to come. When Martha dresses herself for her final appearance, on the scaffold, she is wearing her mourning dress, black with featherlike trimmings.
Then there's the constantly reappearing white-faced spectators of the action, their sinister nature reinforced by swathes of rising mist. They are the company of those who have already been hanged, waiting with silent anticipation for Martha (Lynne Forbes) to join them.
And she, patiently reconciled to her fate, at the end accepts it with dignity. We, encouraged by the cast who have sat among us and worked hard to make us feel part of the village community, feel outraged on her behalf.
There were over 3,000 spectators to watch Martha die in 1856. Last night in the Salberg, the Playhouse's studio theatre, there were fewer than 200.
Angel Exit's Martha, for its joyous and inspirational interpretation of this sad story, deserves, unreservedly, to have the 3,000.
And they will. I'm sure of that.
Reviewer: Anne Hill