The Ballad of Truman Capote
Andrew O'Hagan
Northern Line Productions
theSpace @ Niddry St
–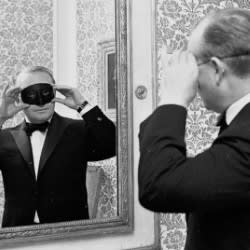 It is difficult to work out what the writer Andrew O'Hagan intended with this peculiar monologue set in Capote's room in the New York Plaza Hotel the night of his 1966 Black and White Ball.
There are dozens of famous names mentioned in this fifty-five-minute piece, but to no purpose. Joan Didion phones up about an article. The hotel desk rings to say Mailer is arm wrestling a member of the government and James Baldwin is taking notes. There are passing comments on William Buckley, Dorothy Parker, Gore Vidal and many more.
Talking about writing, he claims all literature is gossip and that "Hemingway is tittle-tattle without cross-dressing." But surely what we call literature has some recognisable structure and this does not.
Patrick Moy gives a confident, convincing performance as Capote looking and sounding very much like the writer. The script is polished, literate and at times momentarily intriguing before it moves on to something else. There are lots of fleeting references to bits of his life, to his parents being divorced, to a childhood living next door to the child Harper Lee. Time is briefly spent reflecting on In Cold Blood.
Unfortunately, the script skates everywhere and nowhere. There is never any depth, nor is there any narrative drive. Even the entertaining phrases seem to exist in forgettable isolation.
Many of those watching the show will have a view of Capote. The writer doesn't have to agree with them, but this is theatre. Turn your notes into a structured narrative that gives us a journey. Don't just sound like a staged Wikipedia entry.
Reviewer: Keith Mckenna