The Band's Visit
Music and lyrics by David Yazbek and book by Itamar Moses, based on the screenplay by Eran Kolirin
Donmar Warehouse
Donmar Warehouse
–

Listing details and ticket info...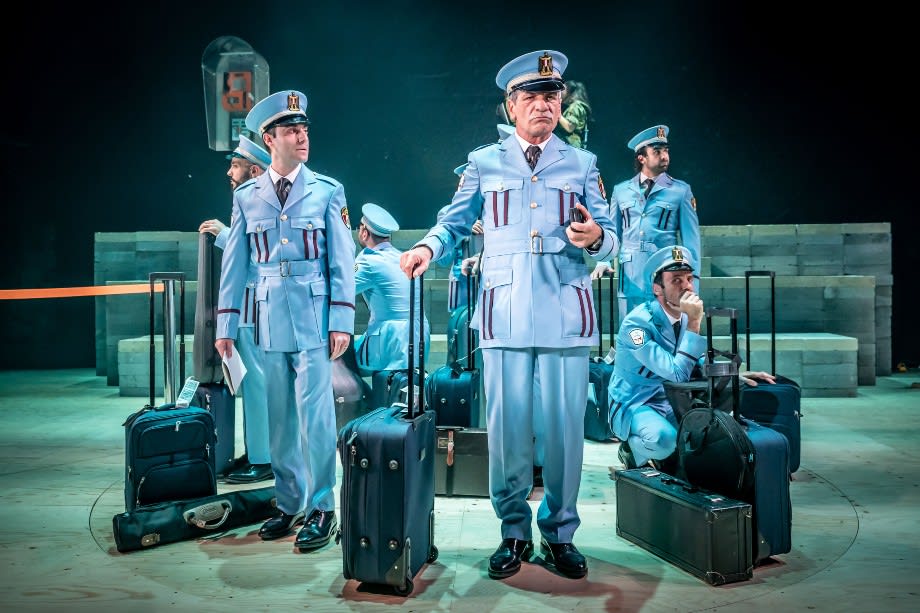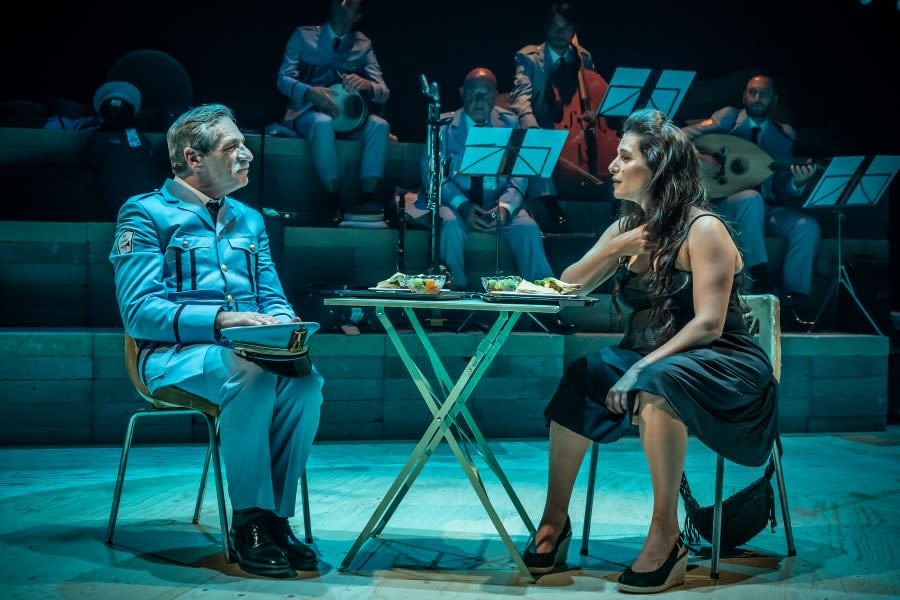 The musical fantasy The Band's Visit imagines the Egyptian Alexandria Ceremonial Police Orchestra dressed in light blue uniforms en route to performing the following evening at the Arab Cultural Centre in Petah Tikva, accidentally buying bus tickets for the town of Beit ha-Tikva in the Negev Desert of southern Israel where there is very little of anything beyond an apartment block, a café and an ice rink. On arrival, they are told, "it's Israel no culture."
There being no night bus out of the place, the café owner Dina (Miri Mesika) arranges for the band to stay with various people in the town, herself taking in the rather formal band leader Tewfiq (Alon Moni Aboutboul) and the younger flirtatious trumpeter Haled (Sharif Afifi) who in the very first scene has tried chatting up a bemused female Israeli soldier with the line, "you have beautiful eyes. Do you like Chet Baker?" It seems that's his standard line for any woman he fancies.
Two other band members stay with Itzik (Marc Antolin) and his wife Iris (Michal Howowicz) who are already entertaining for the evening the father-in-law (Peter Polycarpou)
This is a town where everyone is, in the words of one of the songs, "waiting, for something For anything to happen Just waiting for anything to..."
Dina longs for romance with Omar Sharif and is drawn to Tewfiq who is still mentally stuck on the loss of the son he failed and the wife he disappointed. Iris is frustrated with Itzek whom she describes as being the "boy who is up a tree and never wants to come down." The Egyptian Simon (Sargon Yelda) wants to finish his clarinet concerto. And throughout much of the show, a character listed as Telephone Guy (Ashley Margolis) waits on a raised section outside a public phone box for his girlfriend to call.
The first section of the show is light and breezy, with fast, witty comic songs where nothing is overdone and you can clearly hear the lyrics. Later, the music slants in a romantic direction with the Israeli award-winning singer Miri Mesika recalling a childhood cultural icon as she sings about "Friday evening, Omar Sharif In black and white and blurry through tears My mother and I would sit there in a trance He was cool to the marrow, the pharaoh of romance."
It's a night when people from both countries are helping each other. Simon soothes a crying child by playing his clarinet, Papi, a young café employee, intervenes to prevent a rough ice rink security officer from attacking Haled and is helped in turn by Haled to overcome his awkwardness with women.
The music is impressive, and the stories of the characters are woven together in a light, satisfying way aided by easy comic dialogue.
This gentle, magical fantasy of hope and harmony between Arab and Israeli in a place that doesn't exist (the town of Beit ha-Tikva is fictional) reflects a yearning for peace in the Middle East that would be more likely if ever there was justice for those people who don't exist in the show, the Palestinian victims of Israeli persecution.
Reviewer: Keith Mckenna