The Band
Tim Firth
The Lyric, Theatre Royal Plymouth
–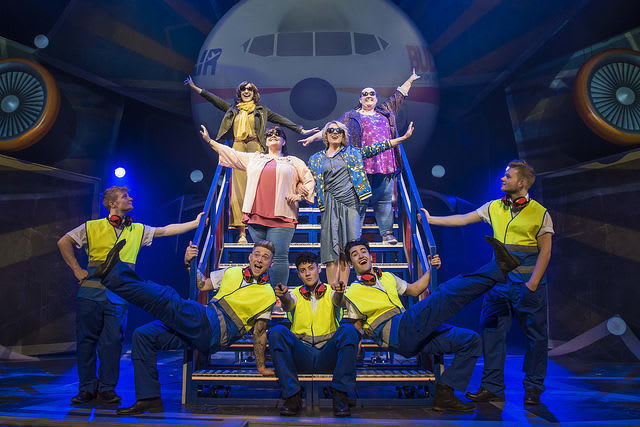 Managing to both please Take That fans and provide decent drama, The Band fails to live down to expectations.
This is no jukebox jolly shoehorning a back catalogue into a weak storyline but is instead an engaging study of friendship, loss, love and boyband obsession. Some 18 hits are performed but provide a soundtrack to Rachel's life—a song for every occasion.
The premise of the piece is now and then. Introduced to the schoolgirls on the memorable day in 1993 when they skive off school to see their idols in concert, we pick up on them again 25 years later when the chance of a gig in Prague reunites the friends, bringing closure to unresolved angst and flags an optimistic future.
Young Rachel (Faye Christall of Cirque du Soleil) is obsessed with the (never actually named) boy band. She sleeps, showers, eats and breathes with the fabulous five as a buffer to the domestic chaos of a rapidly breaking home.
Best mate and dance diva Debbie (debutante Rachelle Diedericks) has all the moves and five tickets to a dream come true. Academic dunce fashionista Heather (Katy Clayton, Samantha Booth in Where the Heart Is), Olympic hopeful Claire (Sarah Kate Howarth) and bookworm Zoe (debutante Lauren Jacobs) join them on a life-changing night none of them will ever forget.
On the cusp of adulthood, the hopes and awkwardness of being 16 are nicely portrayed — from polo-swapping snogging and Duke of York (having 10,000 men) aspirations to playing hookey and cheating in science tests. Dreams are big, intentions are intense and anything is possible. But a single moment in time can change all of that and shape a very different future.
Fast-forward 25 years and adult Rachel (award-winning Rachel Lumberg) is still living with the boys—and long-suffering Jeff (Martin Miller)—when a chance radio competition win results in a girls' trip to Prague where the inner teenager is released, wounds are salved, much fun is had, the circle is closed and white balloons prevail. As does Every Dave (Andy Williams), the man for all seasons, all eras and all locations.
It is a very different Heather (My Hero's Emily Joyce), Claire (Gangsta Granny assistant director and performer Alison Fitzjohn) and Zoe (Jayne McKenna) who step on the plane to wreak havoc in an international incident involving virginal headdresses, fountains and an emasculated Neptune.
Winners of TV talent show Let It Shine, AJ, Curtis, Sario, Nick and Yazdan are masters of the quick change and the moves, and provide pleasant vocals. Costumed in iconic Take That garb including dungarees and swirling long coats, playing airline crew or living statue, the boys take centre-stage in dry ice-filled concert moments or quietly envelope Rachel's day-to-day life ready with an appropriate track to fit the occasion.
But the stand-out song doesn't really involve the boys at all as "Back For Good" is poignantly sung as a duet between the young and older versions of each friend—the older wanting their younger selves back and the youngsters apologising for what they have done or said. Very nicely done.
With a strong cast, Tim Firth's evocative and simple script, slick direction from Kim Gavin and Jack Ryder, a good live band and absolutely excellent design by Jon Bausor, there really is something for everyone in the very mixed, enthusiastic audiences.
Reviewer: Karen Bussell