The Barber of Seville
Music by Gioachino Rossini, libretto by Cesare Sterbini translated by Richard Studer
Opera Project
Factory Theatre, Tobacco Factory Theatres, Bristol
–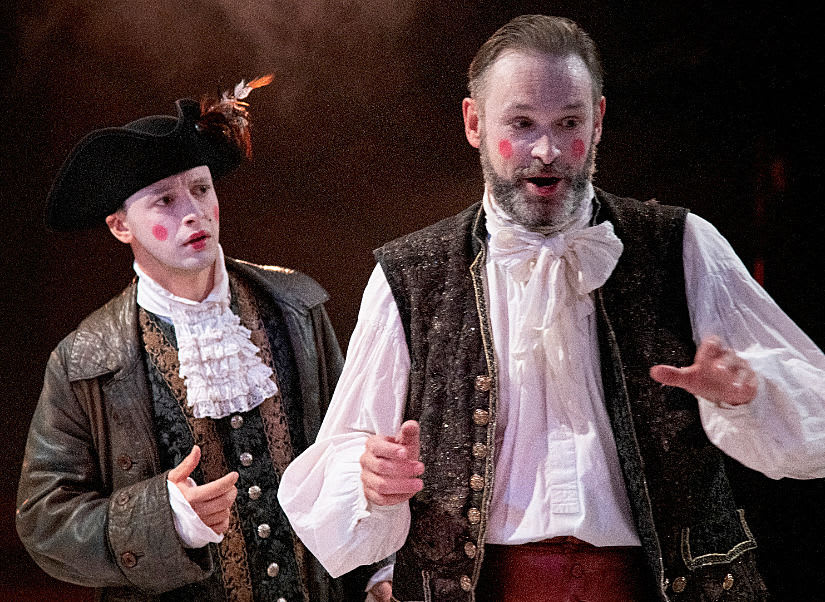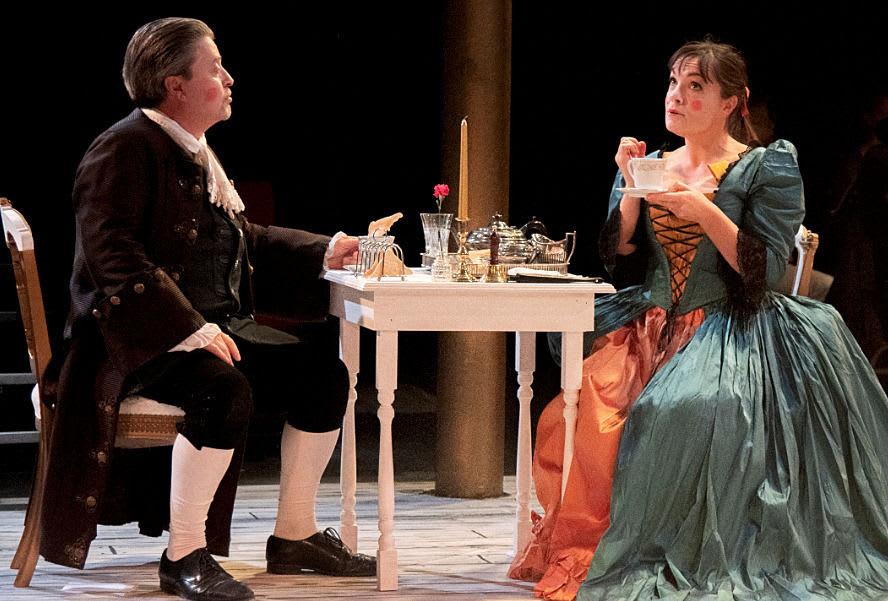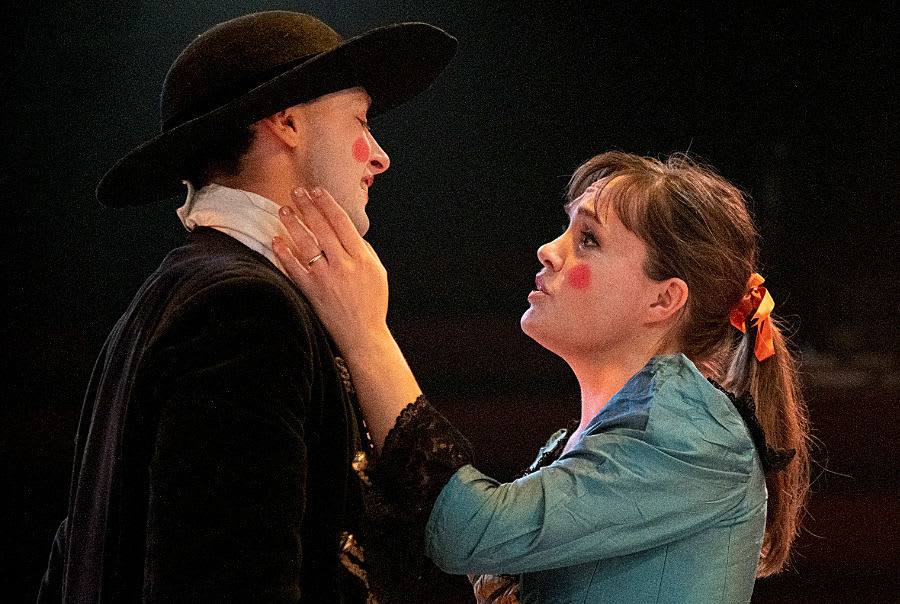 Following a break in 2018, Opera Project returns for its annual visit to Bristol's Tobacco Factory with Rossini's comic masterpiece The Barber of Seville. As usual for this touring company, the libretto is performed in English, with Cesare Sterbini's original translated by director Richard Studer.
The opera buffa, based on the first play in Pierre Beaumarchais's Figaro trilogy, plots the burgeoning romance of Count Almaviva and Rosina, a wealthy and beautiful young woman closeted away by her guardian Dr Bartolo, who plans to marry her himself. Studer has opted for a traditional interpretation, with performers pale-powdered Pierrot-style in 19th century frock coats and dresses. Yet the intimacy of the Factory Theatre and its setting in-the-round creates a thrilling immediacy that is all too rare in even the most contemporary of productions.
With the Count's factotum Figaro lending his guitar to the audience for safe-keeping and handing out a flurry of business cards, this really is opera up close and personal. Philip Smith as the scheming facilitator of romantic missives is sharper than his barber's razor in the role, fleet-footed and expressive, full of sly, mischievous wit with a pleasing, rounded baritone.
Rebecca Afonwy-Jones is strong vocally in mastering the complex coloratura of the role of Rosina and in her wily, self-confident characterisation. From a yearning opening scene, William Wallace as Count Almaviva is quickly in his stride, farcical in the guises of the impoverished student Lindoro and his drunken soldier alter ego. His duetting with Rosina as they declare their love and scheme to escape together blends beautifully, emphasising the optimism and exuberance of youth in the face of stultifying convention.
Nicholas Folwell and Julian Close are both comically assured as the cynical, thwarted Bartolo and bumbling music teacher Don Basilio. All too easily fooled by Figaro into believing he must be suffering from scarlet fever, Close's richly textured bass effortlessly fills the auditorium with Basilio's confusion. Meanwhile, Jana Holesworth makes the most of her portrayal of Berta, representative of all the household's servants in her take on a stroppily wayward maid.
Choreography is strong, with individual cast members weaving fluently together to form a rousing chorus. The 10-piece orchestra, conducted by Jonathan Lyness, dexterously delivers the melodic energy of Rossini's superlative score. If, on occasion, the production veers towards slapstick—a statue wobbling comically as it is leant against becoming cumbersome to remove during a scene change—then it manages to reign itself in before it begins to feel overdone.
Studer's English translation is full of verve and laugh-out-loud moments—entreating the audience to look to Mozart for the sequel, for example—and only on rare occasions feels less fluent than the Italian original. Though it contains enough plot twists and disguises to rival the Shakespearean dramas so often performed at the Tobacco Factory, Opera Project's production is always accessible and joyous: whether you're a Rossini aficionado, or watching The Barber of Seville for the very first time, this is a cut above the rest.
Reviewer: Claire Hayes