The Barber of Seville
Gioachino Rossini, Libretto by Cesare Sternbini
Glyndebourne Opera House
Glyndebourne Opera House
–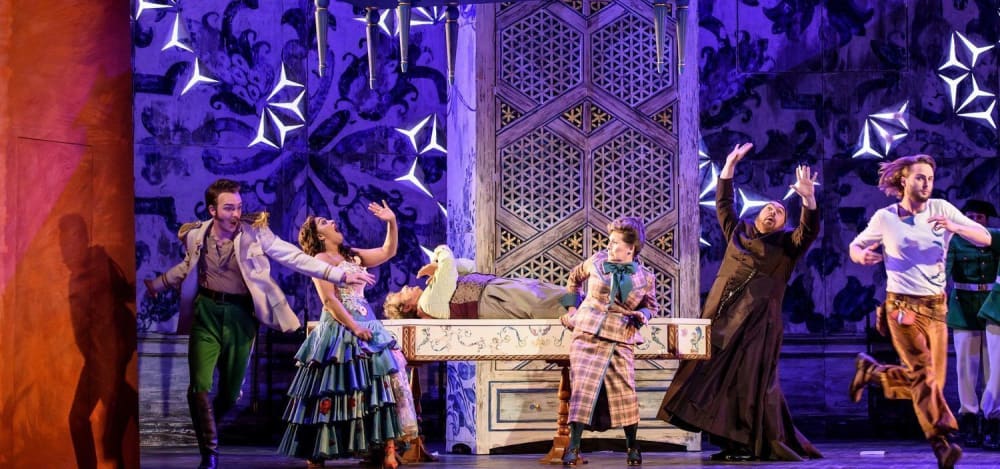 Gioachino Rossini was a wit on and off-stage. "Give me a laundry list," he boasted, "and I will set it to music." The Barber of Seville, with its virtuoso exuberant score, bravura solo arias and intricate ensembles, is the greatest of all buffa operas. The act 1 ("My heart is in a whirlwind") finale is irresistible.
Beaumarchais would have been delighted by Rossini's worldwide success. His play on which the opera is based, and which had its première forty years earlier in 1775, had begun as a draft opera-comique.
This performance, directed by Annabel Arden and designed by Joanna Parker, which can be seen online, was filmed live at Glyndebourne in 2016. Enrique Mazzola conducts the London Philharmonic Orchestra.
Rosina (Danielle de Niese), with the help of a quick-witted, long-haired hippie barber (Björn Bürger), manages to escape the clutches of her guardian (Alessandro Corbelli). De Niesee is vivacious. Burger is a charismatic charmer. Corbelli is an excellent comedian.
A high spot is Basilio (Christophoros Stamboglis in cassock) describing how a libellous rumour grows into a monstrous unbridled storm and humiliates and destroys its victim.
Singers and orchestra are fine. The production, however, is often a major distraction. The surreal set has no reality and the costumes have not one set period. Taylor Stayton's Almaviva wears an off-putting metallic frock coat. He looks far more convincing as Almaviva when he is in disguise as a drunken soldier and priest.
There is too much irrelevant, unfunny comic business. The singers, even whilst they are singing, heaven help them, are regular upstaged by three mime actors who, in commedia dell'arte fashion, hang around and regularly move a harpsichord on and off and around the stage to no purpose and no laughs.
Corbelli has the best nouvelle blague when Bartolo, fast asleep at the harpsichord, is woken by the applause de Niese is getting for her singing and presumes the applause is for him and takes a bow, the ultimate breaking of the fourth wall.
Reviewer: Robert Tanitch