The Bartered Bride
Music by Bedrich Smetana; libretto by Karel Sabina, translated by Leonard Hancock and David Pountney with additional dialogue by Daniel Slater
Opera North
The Lowry, Salford
–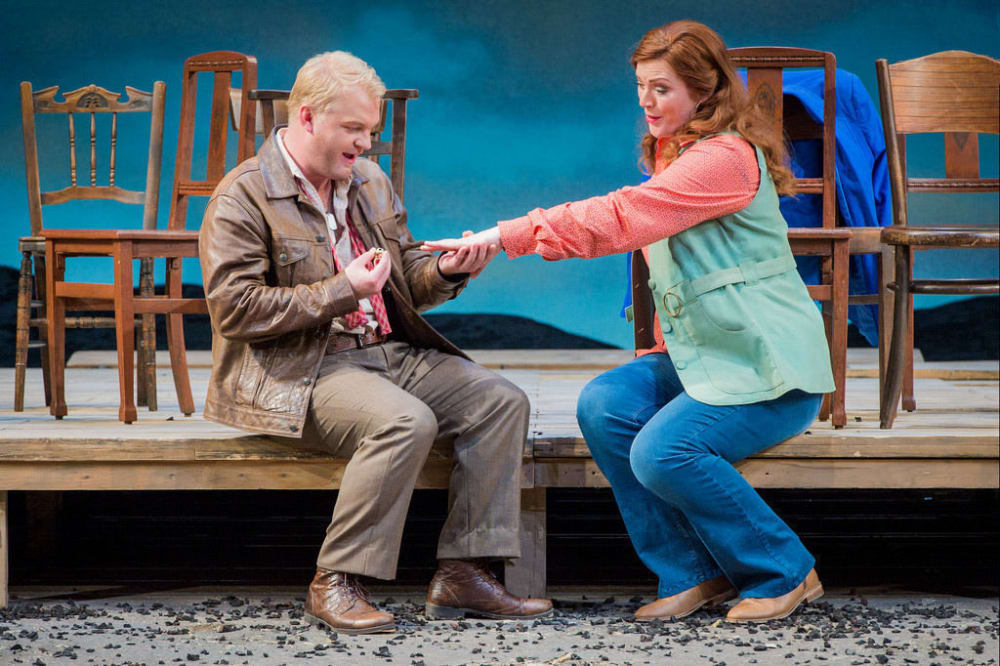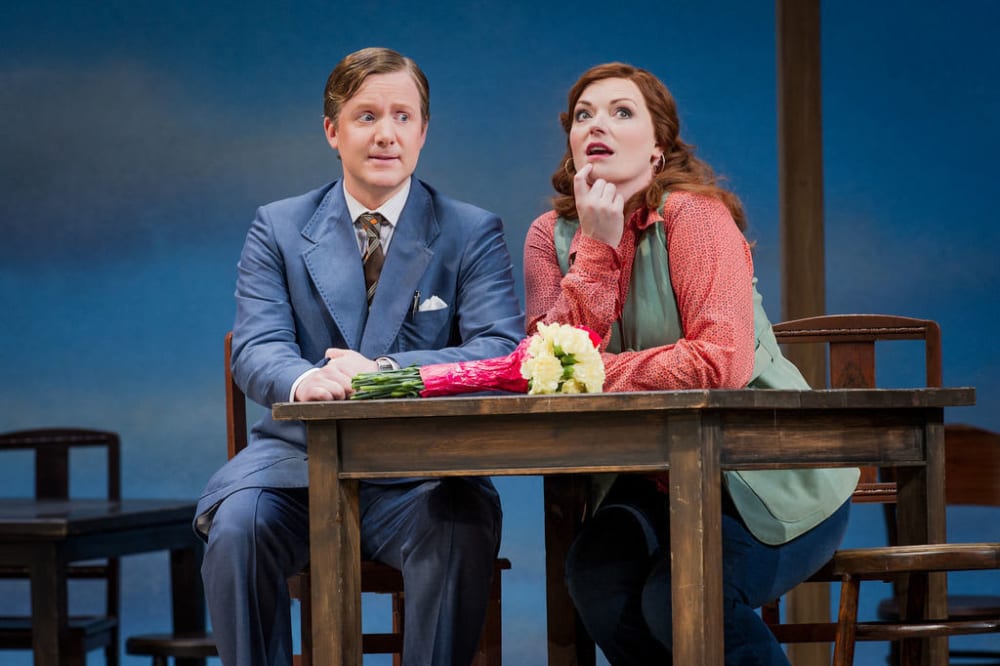 Despite not being one of its composer's favourite pieces, Smetana's comic opera, The Bartered Bride, completed in 1870, is one of his most enduringly popular and internationally renowned pieces.
Opera North's new production, directed by Daniel Slater, cleverly updates the setting to 1972—four years after the ill-fated Prague Spring was suppressed by the arrival of Russian tanks on the streets of the Czech capital.
Three identical billboard posters command centre stage, each bearing the image of an heroic female worker, her raised fist clenching a hammer and sickle. My linguistic advisor tells me that the text on the posters is inviting villagers to a celebration, with dancing and singing, of being 'made free'.
The date set for the festivity is 9 May 1972—9 May being Victory Day, an annual commemoration of the Soviet Army's triumph over the Nazis in what Russians like to call 'the Great Patriotic War' (known to us in the West as World War Two). The third poster has been vandalised: adding a beard and glasses to the woman's face turns her into a decent sketch of one Bedrich Smetena—this production has several such neat touches, so keep your eyes and ears open.
When the curtain goes up, we find the village choir rehearsing for this celebration; bunting, with Soviet and Czech colours side-side-side, bedecks the dais. Rehearsal over, the choir and choirmaster disperse, leaving village beauty, Marenka and Jenik, a mysterious young man recently arrived here, to declare their love for each other.
Unfortunately, Marenka's parents, Krusina and Ludmilla, are in debt to the local bigwig, Tobias Micha. The village mayor, Kecal has brokered a deal to have the debt cancelled, but only on condition that Marenka marries Micha's son, Vasek. Marenka's dilemma is clear—will she save her parents by marrying a naive buffoon or follow her heart?
Matters are complicated by doubts over Jenik's integrity—does he really love Marenka or is he willing to barter his bride for 3,000 USD? As often was the case in Soviet-era Iron Curtain countries, and is generally the case in comic opera, all is not as it seems...
Kate Valentine as Marenka, has a lively, warm stage presence, creating a passionate, stubborn and lovable heroine with good tonal range and plenty of force when required. Opposite her, Brendan Gunnell as Jenik has a lovely, melodic tenor voice, achieving and sustaining high notes with apparent ease, but lacks the sheer strength to command a seventeen hundred seat auditorium like The Lowry's Lyric Theatre. Despite her best accommodating efforts, Valentine's voice often overwhelms his.
In acts one and two, James Cresswell steals the show as Kecal, transformed in this production from scheming marriage broker into wheeler-dealer mayor and Party apparatchik. Cresswell laps up some witty lyrics (adapted from Karel Sabina's original by Leonard Hankin and David Poutney) and delivers a pantomime villain with a darker satirical edge, worthy of the accomplished Czech dissident writers of the era. His crisp enunciation often renders the side-titles redundant. Kecal is followed everywhere by two not-so-secret police, who take notes on what the villagers say and do and, occasionally, make arrests.
In the minor roles, Jennifer France as Esmeralda convincingly wins the heart of the stammering Vasek, dancing charmingly and singing beautifully. Stephen Richardson brings such impressive bass command to Tobias Micha that one can't help wishing Smetana had given his character more to sing about. Fiona Kimm turns Micha's wife, Hata, into Margaret Thatcher in a brunette wig—intimidating and haranguing: no wonder she drove her stepson to run away from home and caused her biological son to develop a speech impediment!
Campbell Russell takes on the role of the Circus Manager for tonight and clearly relishes the subversive satire of his dialogue, delivered with an appropriate slice of ham in what proves to be the most popular episode of the night: the circus scene. Tim Clayton revives Vanessa Grey's original choreography with great skill, the performers achieving wonders in a rather cramped space. Simon Mills lighting is quite excellent; the breaking of dawn at the opening of act three, as the hapless Vasek laments his predicament, is quite beautifully executed.
The Bartered Bride may not be the best-loved in the comic opera repertoire, but this lively, imaginative production deserves a better house and a more enthusiastic reception than the Lyric provides on this occasion. A fine production.
Reviewer: Martin Thomasson