The Beanfield

Breach
theSpace on the Mile
–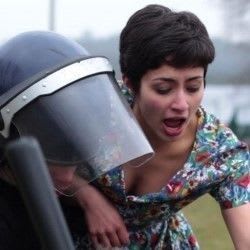 Most of those crowding into the many-layered performance of The Beanfield at this morning's 10:00AM performance can't have been alive when the shocking events this show commemorates took place thirty years ago. But those events contributed to the public order and criminal justice legislation which even today can set restrictions on gatherings and protest.
In 1985, Wiltshire police decided to stop and break up a large group of New Age travellers planning to attend a free festival at Stonehenge. Police dealing with the national miners' strike along with soldiers were drafted into the area, the travellers' vehicles were smashed and many of the travellers arrested.
The cast of the theatre company Breach recreate on stage the process of their research including their interviews with those involved in this 1985 event and their visit to the original site of what came to be known as the Battle of the Beanfield. They also pay a visit to Stonehenge to which English Heritage has allowed free access at the Summer Solstice since the year 2000.
The live action is intercut with the video artist Dorothy Allen-Pickard's powerful footage of interviews with a former police officer, a reporter and travellers who were at the Beanfield in 1985. All of them speak about the sudden terrible violence of the police.
A policeman there at the time claims that while they had regarded the miners they were fighting on picket lines "as noble", they tended to demonise travellers as outsiders. A reporter recalls crying as he described the events to his partner. A soldier admits that the violence so destabilised him that he ended up hitting both police and travellers with a large plank.
The show is thoughtful, entertaining and well constructed. It is also important. As the reporter Nick Davis in the videoed interview for the play comments, "adult men with sticks violently hit many people that day... They split up parents .. taking their children into care.. (but) to this day there has been no enquiry". This play at least helps us remember.
Reviewer: Keith Mckenna