The Beautiful Game
Music by Andrew Lloyd Webber, book and lyrics by Ben Elton
Union Theatre
–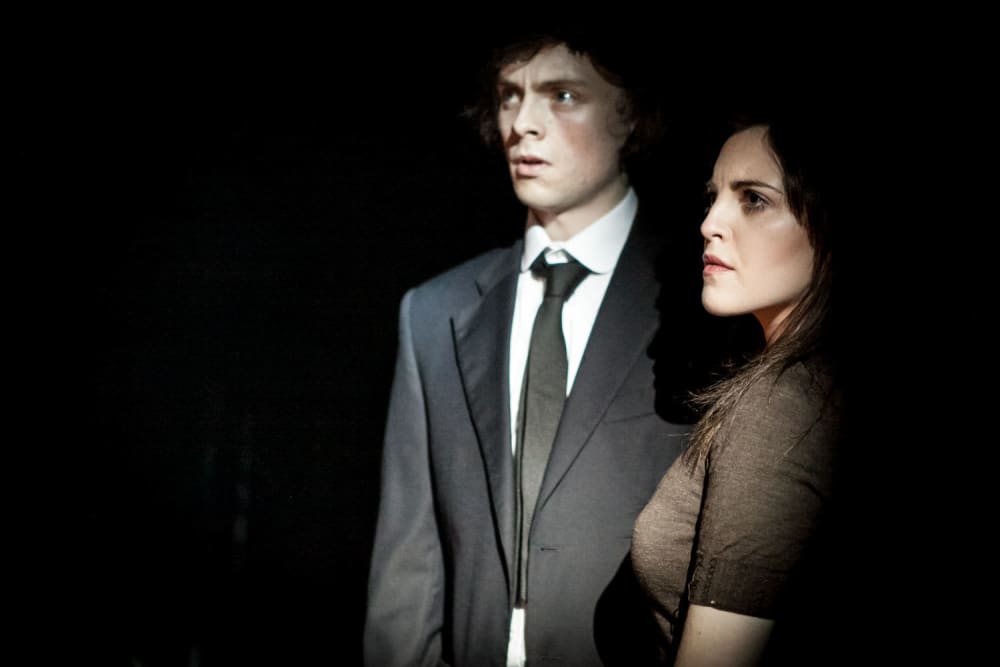 A white line splits the acting space with the dual purpose of signifying both a football pitch and the dividing personal and political conflicts of the characters.
Set amid The Troubles in Northern Ireland, Andrew Lloyd Webber and Ben Elton's The Beautiful Game follows an amateur Catholic football team who find themselves torn between becoming professionals and fighting for their country, all whilst battling with the pains and strains of adolescence.
This is the first London revival of The Beautiful Game since it was last seen at the Cambridge Theatre in 2000. Lotte Wakeham's production is slightly altered from the original (with song "Our Kind of Love" now being used in ALW's Love Never Dies) and suits the intimacy of the Union Theatre.
The love story centres on the team's star player John (Ben Kerr) and freedom fighter Mary (Niamh Perry). We see their relationship blossom from initial locker-room teasing to their eventual marriage, which is then tested once John is arrested for aiding teammate Thomas (Freddie Rogers), an IRA terrorist.
Supporting love stories come from shy, unfortunate Ginger (Alan McHale) and devout Catholic Bernadette (Natalie Douglas) as well as atheist, internationalist Del (Stephen Barry) and Christine (Daniella Bowen).
In spite of a strong ensemble performance and a fascinating story, frustratingly, The Beautiful Game never really takes off. The whole production is weighed down by Elton's unnecessarily simplistic book and lyrics; rhyming life/wife and it/kit become trite rather quickly.
Webber's score is a strange mix of pop rock infused with attempts at groove and soul (and the odd electronic moment); it doesn't really work. It would have perhaps packed more of a punch if The Beautiful Game was as a play with music rather than a full-blow musical, mainly because the cast's acting is stronger than their singing.
Furthermore, it fails to explore the nitty gritty of the conflict—masked soldiers storm the room several times but never really do anything. David Shiels's design and Tim Jackson's choreography create a dark, menacing atmosphere showcasing a masculine strength but it's never really matched in either Webber's music or Elton's book.
A particular resonant moment towards the climax shows a glimpse of potential as Thomas realises that, "It will never end". There's poignancy and intelligence to Rogers's portrayal of a young man physically and psychologically destroyed by the turmoil. Sadly this is only a fleeting moment.
There's great promise and potential in The Beautiful Game, particularly with the young emerging talent, however it's not difficult to see why this show is seldom revived.
Reviewer: Sean Brooks