The Beauty Queen of Leenane
Martin McDonagh
Chichester Festival Theatre with Lyric Hammersmith Theatre
Minerva Theatre, Chichester
–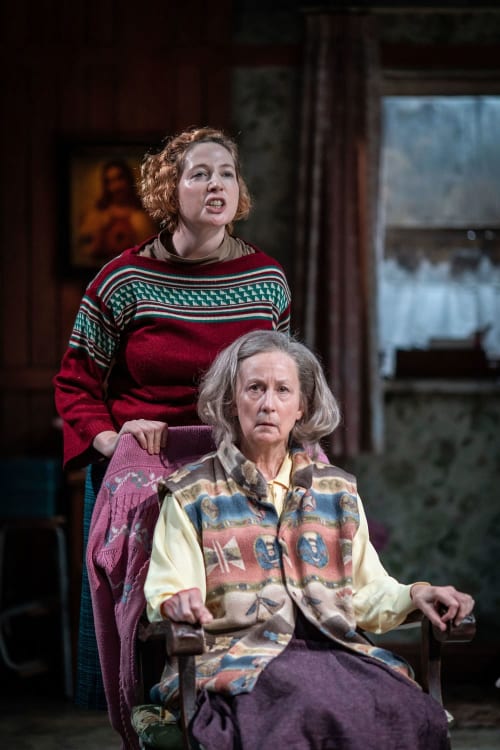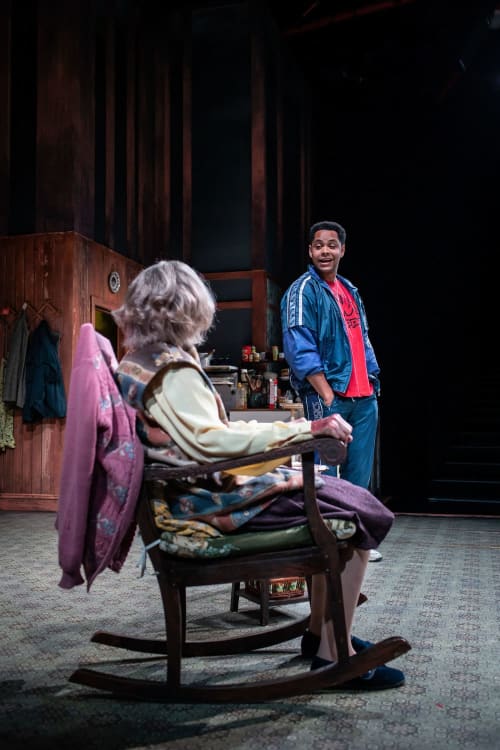 This is not a happy play, in fact it would be hard to find one more sad and depressing, and yet it is certainly not boring with the audience being kept totally involved, wondering if the expected outcome might somehow turn out differently, and there are many flashes of Irish humour, sometimes of the black variety, and also sudden unexpected savagery which brought gasps of horror. As an example of how involved we had become, I think we all felt the pain.
The action takes place in rural West Ireland and the set devised by Good Teeth Theatre is of a simple, rather poor and neglected home with a kitchen in one corner, a menacing black stove glowing at the other side of the room, a table and a wooden rocking chair. The backdrop shows the windows and doors leading outside and above we see, and hear, a ferocious raging storm, matching the turbulence within.
In the chair sits 70-year-old Mag, a selfish, cantankerous, crabby woman whose sole aim seems to be keeping Maureen, her 40-year-old daughter, right where she is, waiting on her mother hand and foot with no possibility of escape to a happier life. It would appear that the old lady is not capable of looking after herself at all, sitting frail and helpless (and complaining with relish of her urinary infection) but when a letter to Maureen is delivered and left on the table, Ingrid Craigie's Mag leaps up to scuttle across the room, her vicious intent obvious in face and body as she stuffs the letter into the stove.
A little brightness is brought by Kwaku Fortune as the letter-delivering cheerful, feckless Ray who stops to chat but one wonders at the importance of his comment that the poker by the stove was "good and heavy and long. A half a dozen coppers you could take out with this poker and not have a scratch on it".
Orla Fitzgerald's Maureen can be vicious with her mother too, getting revenge by giving her lumpy Complan, which she hates, and threatenng to pour it over her head if she doesn't finish it, but how she lightens up, and you can almost feel the frustration and tension leaving her, when the amiable and likeable Pato comes on the scene showing her some tenderness. They spend the night together, to Mag's horror, and Maureen delights in parading in her underwear inferring that it had been a night of mad passionate love, but the revelation that she had spent some time in a mental institution has Pato looking rather worried and uncertain.
Act two begins with Adam Best as Pato sitting centre-stage and beautifully, simply and movingly reading to himself the letter he has written to Maureen. "It is you and me I do want to be talking about, If there is such a thing now as 'you and me'" while Maureen, in her turn thinks he has forgotten about her. It is evident how words and actions can be grossly misinterpreted, especially by two portential lovers who both feel themselves inadequate.
You won't leave this play singing a happy song, but I think you will leave with thoughtfulness, plenty to discuss, and appreciation of a brilliantly written play, expertly performed.
Reviewer: Sheila Connor