The Bee in Me
Roland Schimmelpfennig translated by David Tushingham
Unicorn Theatre, presented with PRLtd, London in association with S.Fischer Verlage, Frankfurt
Unicorn Theatre (Weston Theatre)
–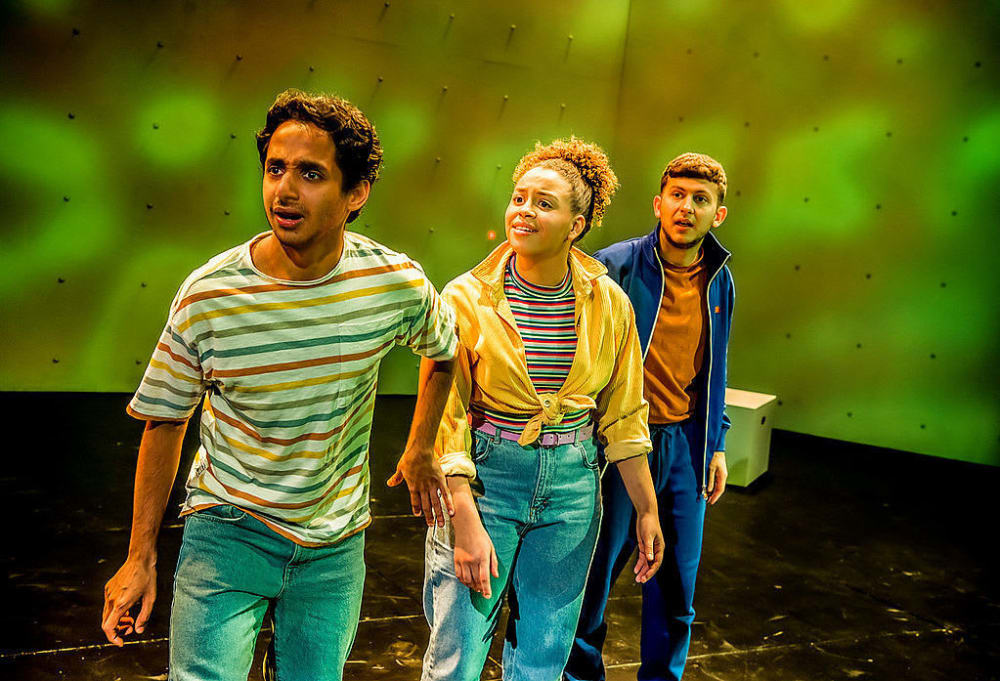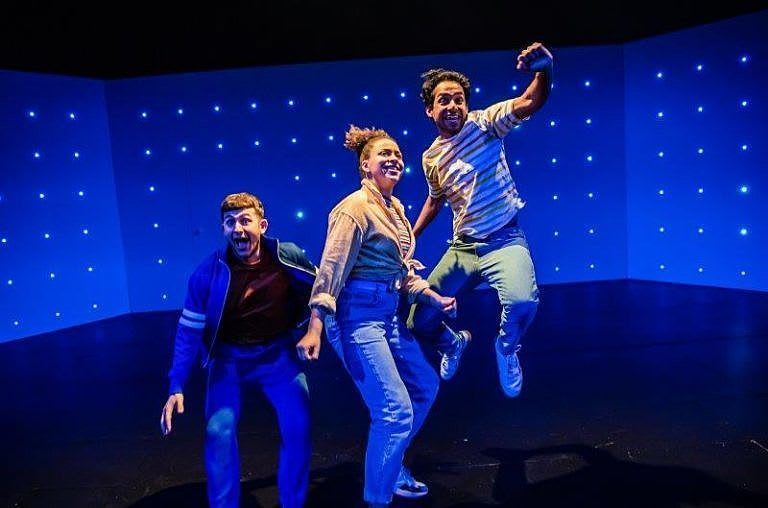 This hour-long play by prize-winning German dramatist Roland Schimmelpfennig (and given a lively translation by David Tushingham that sounds entirely spontaneous) is aimed at eight- to twelve-year-olds but grown-ups will appreciate it just as much.
Starting with a blank white wall across the stage and a white made-up bed in the centre, there is no way of knowing what might happen but suddenly there are three actors there. Three actors who are all the same person: and that person is also each separate audience member as together they live through a day in the life of a child.
He or she wakes up to bright sunshine. The sun is a great ball of fire: shut your eyes, close your ears and you too can hear it roaring. But when you open them, what has happened? You have got wings; you are striped black and yellow. You're a bee!
It is like the games that you play on your computer where you must try to move from one level to a higher one and the bee's levels are matched by the levels you have to achieve through a day of real life. The real world and that of the imagination proceed in parallel. The child must get up and get themselves off to school, the bee must find how to fly and go to find a flower for some nectar.
Emily Burnett, James Russell-Morley and Akshay Sharan all play the child, sometimes in unison, sometimes passing the characterisation from one to another, the audience can identify with the one with whom they feel the most empathy, though their own lives may not match that of this child.
He (or she) gets up to find mother still in bed, father is at the kitchen table, still drunk from last night, and it means carefully creeping around him. With dysfunctional parents who have very little money, this child has a tough time. The play is a reminder that life isn't easy for many such children but this provides some of the challenges that must be surmounted.
When told off at school for being late again, the child switches to bee form; when drizzle is not to the bee's liking, it's back to being human, but both forms rise through higher levels as in gameplay as they deal with dangers or avoid them.
The child has to cope with being bullied, the bee to escape from someone at school trying to kill it—but the shoe that's being used as a weapon breaks a window and they fly free.
There is a warning about being wary with strangers: in this case a sailor who lives on the way home who is rumoured to have a wooden leg (though no one has ever seen it; he always wears trousers). This needs more careful handling it could seem to link disability with danger. That's a flaw in an otherwise beautifully constructed play that stimulates the imagination and makes an adventure of both bee and child worlds, the switch from one to the other marked by a subtle lighting cue.
Music, lighting and movement and depth to a minimalist staging and Rachel Bagshaw's direction ensures nothing distracts from the actors' rapport with their audience, actors full of vitality who make them share the joy and trepidation in a day in the life of this child who has to cope all alone.
Reviewer: Howard Loxton