The Beekeeper of Aleppo
Nesrin Alrefaai and Matthew Spangler adaptation of the novel by Christy Lefteri
Martin Dodd for UK Productions Ltd, Nottingham Playhouse in association with Liverpool Everyman and Playhouse
Richmond Theatre
–

Listing details and ticket info...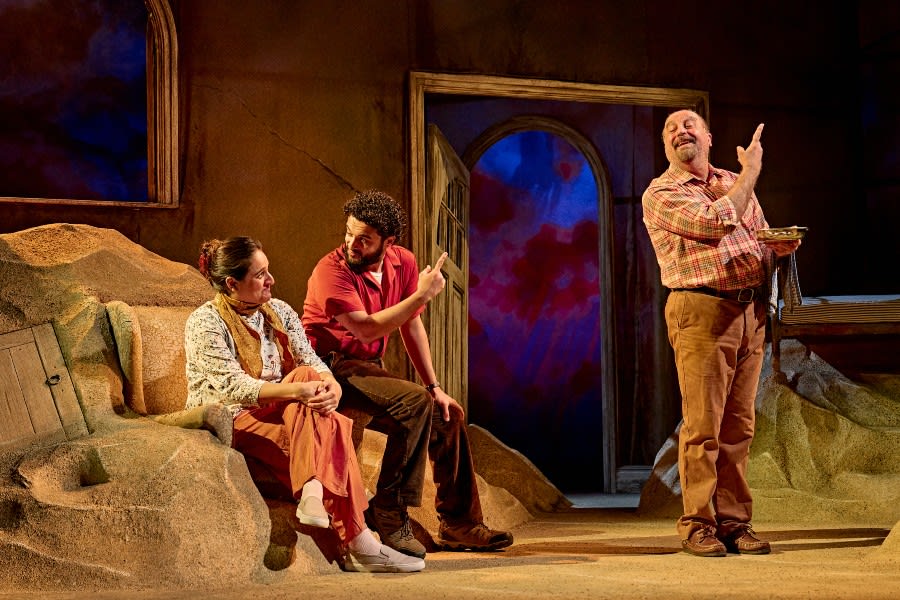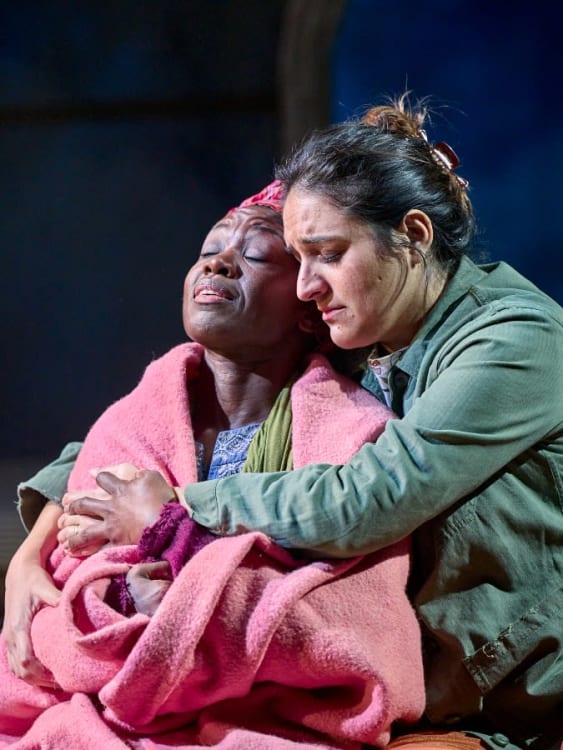 Most of us will never have to endure the trauma of being a refugee. It's not an aspect of the migrant experience that gets much media attention at a time where there is a competition amongst many public figures to stigmatise the migrants whom Home Secretary Suella Braverman has provocatively called "the invasion on our southern coast".
Christy Lefteri's 2019 novel The Beekeeper of Aleppo and its subsequent stage adaptation takes the very welcome and important opposite approach of encouraging empathy with this incredibly vulnerable group.
The performance centres on Nuri (Alfred Clay), a beekeeper from Aleppo in Syria awaiting his asylum claim in Britain. What we see is a stream of memories, fragments from his past that take us back to an earlier, better time when with his cousin Mustafa (Joseph Long), they ran a business producing honey.
Things changed with the protest movement in Syria and then the growing civil war. He and Mustafa don't take sides but, as his cousin points out, that can make them targets for both sides. The cruelty of the war is illustrated in Nuri's description of two soldiers deciding to use the figure of a small boy as target practice.
However, it's no easy matter to leave a place that has been your home, and while things are being organised, a bomb exploded in his garden killing his son and probably blinding his partner Afra (Roxy Faridany).
Their travel includes time at a refugee camp in Greece and a harrowing journey by raft in which the rough waves cause at least one of its occupants to fall into the water.
Interspersed amongst those scenes are the frustrations of life in England with a hostile immigration interviewer and the difficulties of getting a doctor to see Afra. The atmosphere is lightened a little by another refugee who calls Nuri "geezer".
But the numbing effect of trauma distances Nuri from almost all those around him. Although he avidly reads the e-mails sent by Mustafa, he avoids contacting him when they are both in England. He is dutiful to his wife but also quite remote with her and at times barely looks in her direction.
An unfortunate dramatic consequence of this understandable reaction to trauma is that the characters, with the exception of Nuri, also feel a bit remote to us. It is difficult to see them in any complex way.
Only one interaction generates any dramatic tension. It is the fatherly care Nuri comes to feel for an orphaned refugee boy who latches on to him during their journey.
However, the show is engaging and believable with a very striking set by Ruby Pugh in which mounds of sand nudge the grey, webbed walls while a bed and chair seem to have grown from the sand.
We won't learn anything about the cause of the Syrian conflict or even much about Britain's appalling treatment of refugees. But we will see something of the trauma suffered by those needing asylum.
Reviewer: Keith Mckenna