The Beggar's Opera
John Gay, adapted by Glyn Maxwell
Storyhouse
Storyhouse Chester
–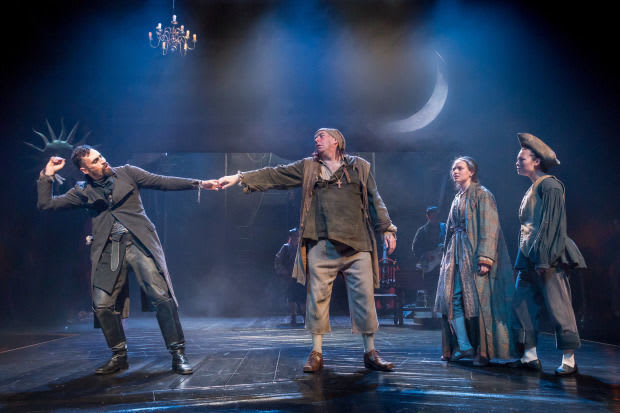 Storyhouse in Chester has chosen to launch its debut season with a production that won't be transferring to the outdoor theatre this summer. The Beggar's Opera draws us into a world that is dark, depressing and definitely for adults.
Glyn Maxwell has adapted John Gay's original and diverted the setting very much away from the lengthening shadows and gently popping corks of Grosvenor Park and into the murky underworld of eighteenth century Chester.
This splendid new theatre has been transformed into a dark world where even darker deeds are routinely performed and morality is the exception rather than the norm. Musical director Harry Blake has set Glyn Maxwell's clever lyrics, combining modern issues with eighteenth century ones, to a contemporary score which enables this talented company to display the full range of their vocal skills.
At the heart of the story is the fact that some things never change and in this case it is immorality, deception and exploitation. We meet a series of characters: those trapped on the wrong side of a cycle of racketeering and extortion and those who have become wealthy beyond belief as a result of their mastery of the situation. Life is cheap, as shown by the fate of Tom Ragg, or there to be exploited as in the hapless Filch.
Master-puppeteer of misery is Daniel Goode, who adds a neat menace to his portfolio of excellent Chester portrayals, controlling a crime syndicate, or as he would have it, a "lost property business". One of his criminal associates, Alex Mugnaioni's vibrant Macheath, is the object of Peachum's daughter's affections.
Charlotte Miranda-Smith presents a Polly Peachum who, to put it politely, is "pretty vacant" and prone to believe every word Macheath utters. Unfortunately, he is the sort of man you would be inclined to disbelieve if he said "good morning", and is also involved with the gaoler's daughter, Lucy Lockitt, played by Nancy Sullivan. The voices of the two leading ladies is a highlight of the evening, as is the "sing-off" between Goode's Peachum and Jonathon Dryden- Taylor's Lockitt; heady stuff.
Despite the dark undertones, The Beggar's Opera is full of humour, brilliantly choreographed and acted and, best of all, has a happy ending as decreed by the Beggar himself, played by the versatile Caolan McCarthy.
Two productions in and already it's clear that Storyhouse will be a superb asset to the area and, with productions of this standard, will make a lot of people very happy in the years to come.
Reviewer: Dave Jennings