The Birthday Party
Harold Pinter
London Classic Theatre
The Gala Theatre, Durham
–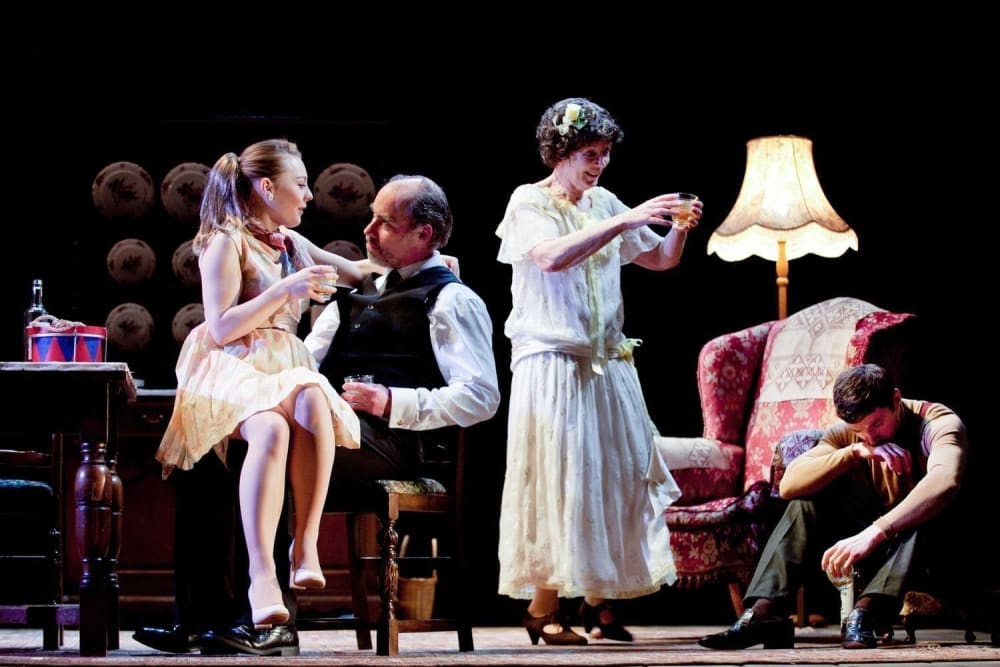 Since Harold Pinter's death in 2008, his stage work has moved slightly off radar, at least in such far-flung parts as these, though the culture-gorged South East is probably still more than amply provided.
Once the enfant terrible of British theatre, posthumously, Pinter inevitably sinks into the accepted dramatic canon, as symbolised by the name of the present touring company, London Classic Theatre.
Two facts emphasise that basically we are still fascinated by the man: a touring schedule for The Birthday Party (36 venues) most rock bands would die for and the fact that Durham Gala Theatre was 95 per cent full. Yet, even now, I suspect several of the audience were seeing this play for the first time. Witness an overheard comment from an audience member as we left. "Hmmm. An acquired taste, I think."
This was Pinter's second play and premièred at the Lyric, Hammersmith in 1958. It was panned by the critics and closed after six performances. Only the brave Harold Hobson praised it, his review calling the author, "the most original, disturbing and arresting playwright in London theatre."
I watched it last night along with the Durham poet S J Litherland who was among the lucky few at the Lyric those 58 years ago for the opening night.
Does the play stand up? And what's it about? The first question is easier to answer. Writing as original as this will always endure even if the pervading shabbiness of 1950s Britain seems a universe removed from today's shallow, high-speed glitz. The play's strength is its ability to suck us right in from line one without us ever being quite capable of putting our finger on it. It was a revolution in theatre, acted out on the most conventional of stages—a domestic interior.
We have the dull, routine seaside boarding house run by the excitable Meg (Cheryl Kennedy) and her plodding deckchair attendant of a husband Petey (Ged McKenna), with the troubled misfit Stanley (Gareth Bennett-Ryan), as the long-term guest for whom Meg obviously has the (unsatisfied) hots. Imogen Wilde is the neighbour Lulu, occasionally breezing in with a backdraft of sensuality.
Into this fairly hermetic, static world, on the occasion of Stanley's birthday, (which he is most keen not to celebrate), step two new guests, Jonathan Ashley as the dapper and silver-tongued Jew, Goldberg, exuding charm and menace in equal proportions, and Declan Rodgers's McCann, who exudes only the latter. With his muscular frame closely outlined by the tight, roll-neck, flesh-coloured jumper (tastelessly offset by red bracers) and his aggressive stance, McCann looks like a body-builder in a state of permanent flexing.
These two will cause bother, we know it. So they do, mainly to Stanley, but why is that exactly?
Goldberg charms the females and engages the rest in normally harmless but here totally sinister activities such as Blind Man's Buff and singing "Happy Birthday to You". Increasingly, we realise these visitors are are some kind of avenging angels—yet for reasons only hinted at, never firmly established. Stanley is gradually reduced to a state of mental collapse, (note the disturbing scene where he is slowly 'persuaded' to sit down). Meantime, Goldberg touches up Lulu and charms the pants off naïve Meg.
Should this sound bleak, let me say The Birthday Party is a funny play, not laced with belly-laugh lines, but played out to backdrop noises of appropriate comic responses. Pinter's dialogue, at one level naturalistic, is aways tilted on an axis which renders it not that naturalistic at all.
It is also at times uncomfortably disturbing with six terrific actors performing roles they seem born for.
Director Michael Cabot (who writes a perceptive programme piece) knows how to handle Pinter, with tiny attentions to detail slowly building into the bigger picture. So, though we may be enclosed in one room, the play takes us far beyond those four walls.
Cabot is clearly fascinated with the author's subtle rhythms of speech which range from the deceptively languorous to the dizzying speed of a Japanese bullet train. The play's pacing keeps us constantly on our toes, while Bek Palmer's domestic set manages the almost impossible task—to accommodate a variety of venues—of working for both a conventional head-on auditorium and also theatre-in-the round.
Pinter the playwright never tells us what to think—at least in these brilliant early plays. In his own unique manner, he just encourages us to think. And there's nothing ephemeral in that.
Reviewer: Peter Mortimer