The Black Veil
John Goodrum based on a short story by Charles Dickens
Rumpus Theatre Company
Pomegranate Theatre, Chesterfield
–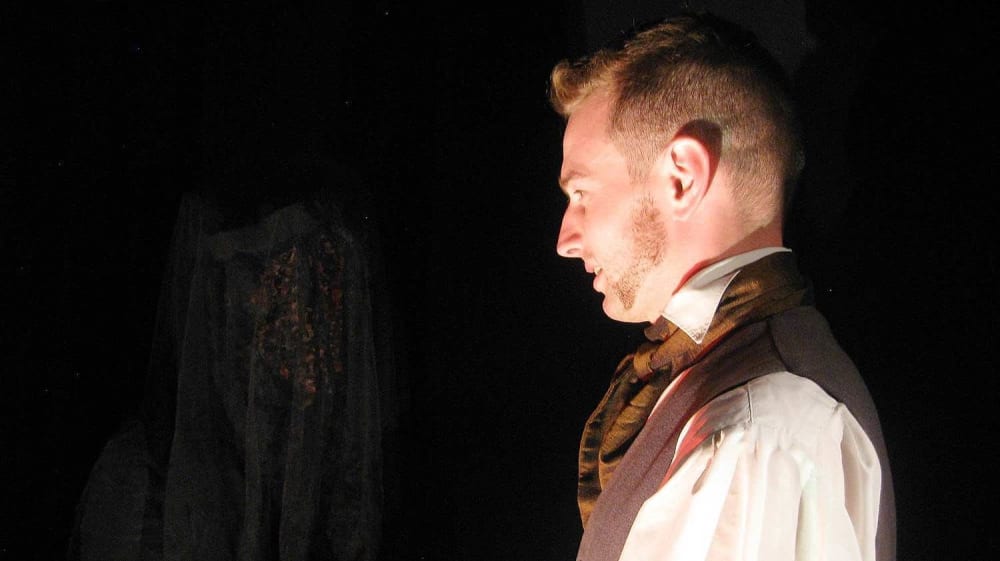 Each year Rumpus Theatre Company mounts tours of plays which aims to serve up a few chills on a dark, cold evening.
For 2019, John Goodrum, founder of the Derbyshire-based company, is reviving his 2001 work The Black Veil as well as producing his new play The Masque of the Red Death, based on an Edgar Allan Poe tale.
As with many of his adaptations, Goodrum has taken a short story written by a great writer and put his own stamp on it. This was evident in 2017 when he turned Wilkie Collins's The Ghost's Touch! into a stage show which I described as a "well-crafted, finely acted piece".
Similar sentiments can be expressed about The Black Veil. The original was part of Dickens's collection called Sketches by Boz which appeared in newspapers and monthlies before being published in book form.
Goodrum has taken the story, embellished it with the addition of a couple of characters and turned it into a clever piece of theatre that builds to a surprising and thrilling climax.
The Black Veil is set in London shortly after 1800. It features newly-qualified doctor Stephen Ruggles arriving home on a stormy winter's evening. A mysterious elderly woman whose face is hidden by a veil arrives at his lodgings. Ada Crawlings begs him to visit her grandson who is ill—but not until the following morning.
Why can't he see the patient that evening? Why has she singled out this particular doctor? And why won't she lift up her veil?
The first half builds slowly—possibly too slowly for some audience members—as the story gradually unravels.
Christopher Brookes does a sterling job as Ruggles, the committed doctor determined to stay out of trouble yet anxious to help Ada and find out what's really wrong with her grandson.
Dorkas Asher, shuffling across the stage with a walking stick, earns the audience's sympathy for her unusual plight even though you expect she probably has an ulterior motive.
When Goodrum's threatening voice is heard as the menacing Luke Gunford right at the end of the first half, it points towards a livelier, engrossing show after the interval—and that's exactly what the cast serves up.
Goodrum obviously enjoys playing Gunford, the baddie who has no qualms about using violence to stay one step ahead of the police. Yet Gunford isn't all he appears, allowing Goodrum to bring out the many sides of the character in an enthusiastic performance.
Sarah Wynne Kordas shows a selfish outlook as Ruggles's former love Carla Blackstock, another character who in reality isn't the kind, considerate person we've been led to believe.
The play builds to an absorbing, action-packed finale at a watermill which few people in the audience will be able to guess.
Experienced director Karen Henson, who has directed several Rumpus productions as well as being in charge of all four plays in the Colin McIntyre Classic Thriller Season at Nottingham's Theatre Royal earlier in 2019, shows a deft touch, especially during sinister moments in the second half.
The Black Veil is well plotted, acted and staged. The intricacies of the production may not be to everyone's liking and some may find the first section ponderous. But the veil is finally lifted and the revelations of an enthralling, fast-paced second half are definitely worth waiting for.
Reviewer: Steve Orme