The Blues Brothers - Live On Stage
Dan Aykroyd and Judith Belushi
AMPM Ltd and Charles Aaerts Theatre Productions Int Bv
Manchester Opera House
–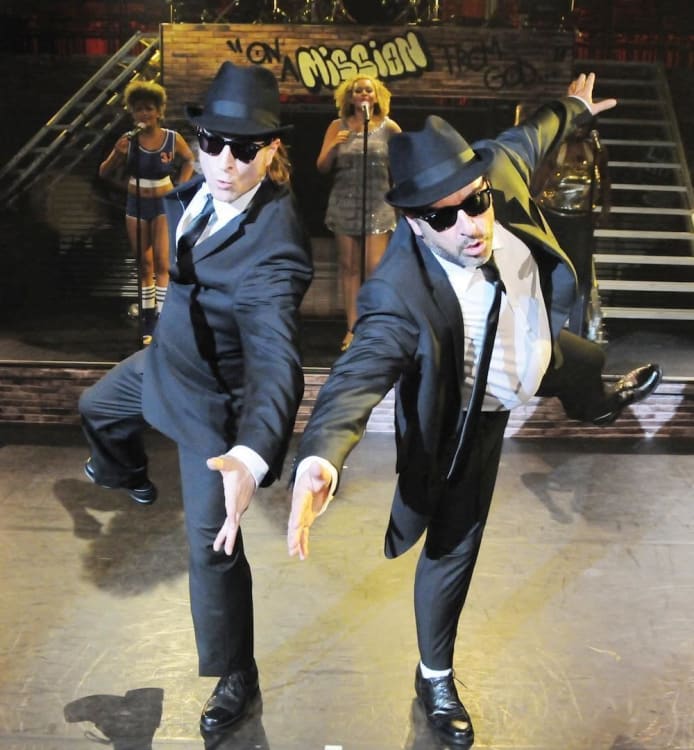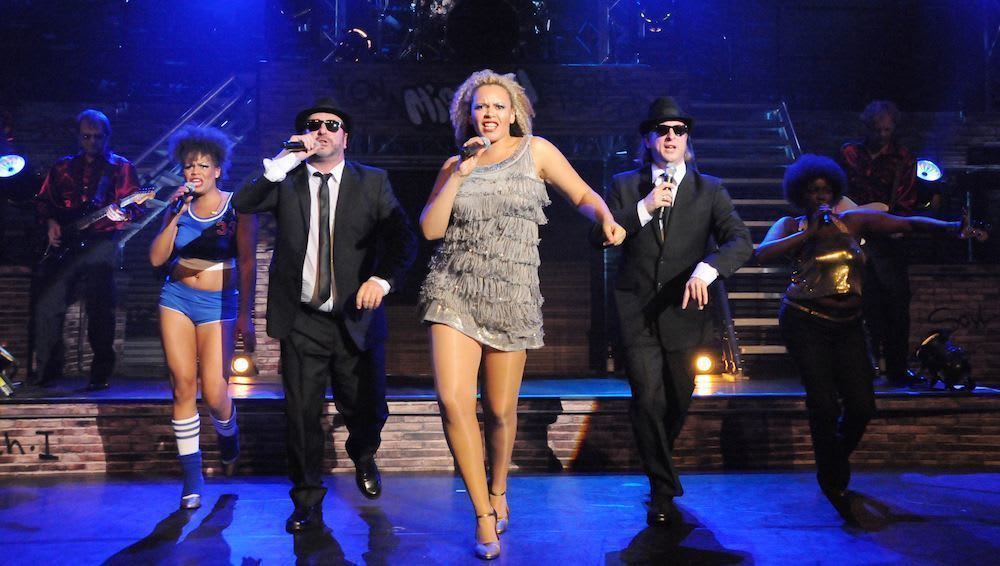 First warning: this is not a stage version of the Blues Brothers movie; it's a musical revue.
Second warning: the show features occasional references to excessive alcohol intake, the use of non-prescription drugs and a couple of instances of sexual innuendo. But, hey, this is the Blues Brothers, what else would you expect?
Third warning: when the guys divide you up into Section One (stalls), Section Two (circle and above) and Section Three, you don't want to be in Section Three... or then again, maybe you do.
Fourth warning: don't go unless you're prepared to get up on your feet and have a good time; a really good time.
For those not in the know, Elwood and Jake, aka the Blues Brothers were, respectively, the alter egos of Dan Aykroyd and the late John Belushi, first brought to life on America's Saturday Night Live comedy revue show in 1978. These two lovable but roguish campaigners in the cause of good live music are recreated here by Brad Henshaw (Jake) and Chris Chandler (Elwood) who, along with six fine musicians, three backing singers (the jaw-droppingly athletic "Bluettes") and one understudy (William Hazell), 'work their butts off' to get the audience up and moving and, now and then, singing along.
The playlist pays homage to the tastes (and humour) of Aykroyd and Belushi, staying true to some of the early shows (Muddy Waters's "I'm a King Bee" and Floyd Dickson's "Hey, Bartender" are among the featured numbers). The comedic and lighter-hearted musical interludes are judiciously scattered among the committed blues and rhythm and blues songs. More mature members of the audience can be seen grinning knowingly at the title song from Rawhide, and a deadpan version of Tammy Wynette's "Stand By Your Man' performed behind a wire grill, clearly reference the movie.
The pre-interval highlight has to be Jake's (Henshaw's) brilliant spoof/tribute to Joe Cocker in "With a Little Help From My Friends".
Post-interval, the audience again needs warming up and Jake, Elwood and the team throw themselves into the task without hesitation. Nobody in this show lacks commitment to the cause. Pretty soon the joint, as the saying goes, is jumping.
Every now and then the tempo is allowed to drop for effect, but for the most part the Blues Brothers are constantly showing off their wittily choreographed, trademark moves. Every pas de deux hits the mark and Henshaw, in the words of Raymond Chandler, 'moves right nice for a big fella'.
Regarding those quiet moments, Chris Chandler's vocals shine above all in a delicate, low key arrangement of "Under the Boardwalk" whilst Henshaw's take on Randy Newman's "Guilty" (another nod to Joe Cocker?) scarcely gets the ovation it deserves.
Each of the excellent Bluettes has her moment in the spotlight. Alexus Ruth ("Shake Your Tail Feather") and Jenessa Qua ("Think") burn with energy and vocal prowess, but Jenny Fitzpatrick ("Respect") carries off the night's award for Hottest Performance by a Female Artiste.
The whole show is propelled by six outstanding musicians, led by David and Ricky Mian (trumpet and tenor sax). Try to forget you're in a 1900-seater Victorian opera house and imagine you've just happened upon a great little live music venue.
The split level set drips with the atmosphere of one of those underground clubs only aficionados know where to find, and the creative use of lighting provides a fantastic array of mood shifts throughout the show.
I'm tempted to say hats off to The Blues Brothers but, as you probably know, the rules say hats (and shades) have to stay on.
Reviewer: Martin Thomasson