The Boat Factory
Dan Gordon
Kings Head Theatre
–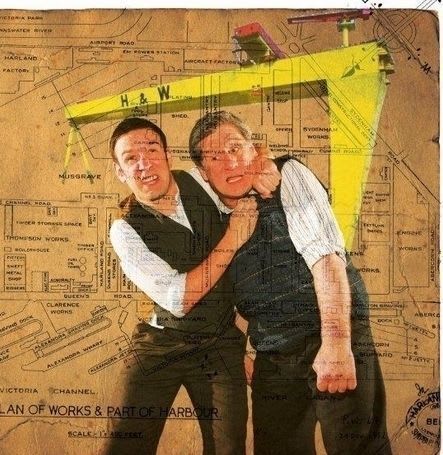 This is Dan Gordon's love song to the Belfast boatbuilding yards where the Titanic and many other great ships were designed and created, or more pertinently to the people who worked in them, as his father did.
On a set made up of two scaffolding towers and scaffold planks against a huge plan of the yards' docks, quays and sheds, Davy Gordon, played by the author, takes us back to the building of the SS Canberra, the last great liner from the yards, built to carry people to Australia and America, but already being superseded by airliners. The Canberra ended up taking troops out to the Falklands and silence overtook the shipyards. Then we go back further to when he started there as a boy apprentice.
This is not a history of the yards, which are now building wind turbines, though there are facts and figures to reflect the pride of those who worked there in the ships they built. Harland and Wolff started their company in 1861; Harland bought a small shipyard on Queen's Island from his then boss that grew into their huge enterprise.
Davy does not begin his apprenticeship until 1947, not long after the Second World War ended, but the life of the yards had probably changed little in decades and we experience it through Davy and fellow apprentice, polio-crippled Geordie Kilpatrick, played by Michael Condron.
In this two-hander, Condron plays a host of other roles and Gordon takes on others too. In one section they take it in turns to wear the bowler hat of their foreman to maintain their characters in a three-way interrogation. The writing and Philip Crawford's direction have a lightness and a sense of humour that allows narration to slide effortlessly into re-enactment. There is a sincerity in the playing that turns a middle-aged actor into a trembling teenage Davy high up above the dock and lets us share Geordie's dreams of sailing in search of Captain Ahab's Great White Whale.
Whether it is a picture of home life with granddad blaming his farts on their dog Blackie, the scams like the covert kitchen manufacture high up in the roof, the teasing of apprentices, the way they learned their trade or the accidents, these actors make this a human story that is irresistible. It is a commemoration of a life that could be dangerous—there was little regard for "Health and Safety" then, that was up to the individual, a world where men took pride in their work, knew the importance of getting measurements exact, even if they were filching company materials, and a celebration of friendship.
In the shipyards, Davy tells us, you needed to think "Don't stand and wonder how to do it—do it and wonder how you did it." The freshness and spontaneity that Dan Gordon and Michael Condron give the play make you feel that that is how it too has been brought about. It takes great skill and care from the performers and artistry in construction to create a production as moving and funny as this, but you don't notice them because you are caught up in every moment.
Reviewer: Howard Loxton