The Bodyguard
Book by Alexander Dineralis based on the original screenplay by Lawrence Kasdan
Michael Harrison and David Ian
Liverpool Empire
–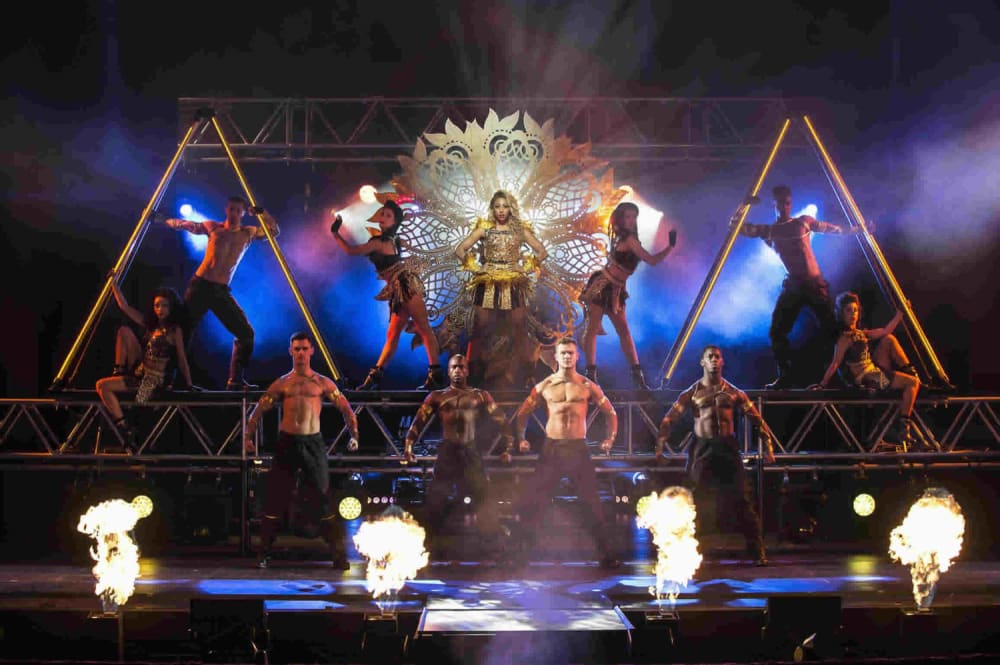 When The Bodyguard was first released back in 1992, the film received a lukewarm critical reception despite healthy box office returns. Whilst I can't speak for the movie, judged on last night's reaction to the stage version, there's a whole lot more going on here than meets the eye (and the ear).
This version starts with a bang, literally. From the moment a volley of shots ring out of the darkness—scaring the audience out of their wits—this show throws up surprise after surprise. Where to even start?
Alexandra Burke's rendition of "Queen of the Night" kicks off an evening in which the X-Factor star comes of age. Saying that such and such a person was born to play such and such a role has become somewhat trite nowadays, so I won't go there. Let's just say that Miss Burke is electrifying in her own right.
As musical theatre roles go, surely they don't get any more daunting than that of Rachel Marron, the female lead originally realised by Whitney Houston. A model of control throughout, happily Miss Burke's lungs prove to be just as deep in a performance that is nothing short of a tour-de-force of vocal dexterity.
Meanwhile Rachel John's (Nikki Marron) rendition of "Saving All My Love" threatens to steal the show. When Miss Burke takes a well-earned break, up steps Miss John and you can't even see the joins.
"I'm Every Woman", "I Wanna Dance With Somebody", "How Will I Know"; between them, this pair simply steam through a back catalogue of hits that provided the soundtrack to a decade.
With vocalists of this quality, the success of this production is virtually assured. Add a strong ensemble cast of dancers and a live band of pure silk and this show just lulls its audience, clasps it, caresses it. Yummy. Just how much soul do you want?
And then to top it all there's that set. Based around a series of sliding panels, this is the last word in ingenuity. One moment it's a sumptuous Hollywood morning room with sunlight spilling in through its tastefully appointed proportions, next moment it's a recording studio, cosy hunting lodge and karaoke bar. Seamless is the word.
If all that doesn't induce giddiness then some rather clever video inserts should do the trick. Whether it's the stalker (Matthew Stathers) penning sinister missives or Rachel and Frank (Stuart Reid) locked together in smoochy heaven. Video footage is used sparingly and with maximum effect in this production.
Just when you thought it couldn't get any better, Miss Burke appears for the ultimate show-stopper to end all show-stoppers: "I Will Always Love You". It's as tense a moment as you will experience in theatre. Can she get there? You bet she can. From her podium positon and with two thousand people willing her on, Miss Burke nails it.
How good is this show? Let's just say that The Bodyguard is one of those shows that only happens when the stars are in full alignment. One Moment in Time.
But I'm waffling. Why use 500 words when just one will do?:
Wow.
Reviewer: David Sedgwick