The Bodyguard The Musical
Lawrence Kasdan from the book by Alexander Dinelaris
Michael Harrison and David Ian
The Lyric, Theatre Royal Plymouth
–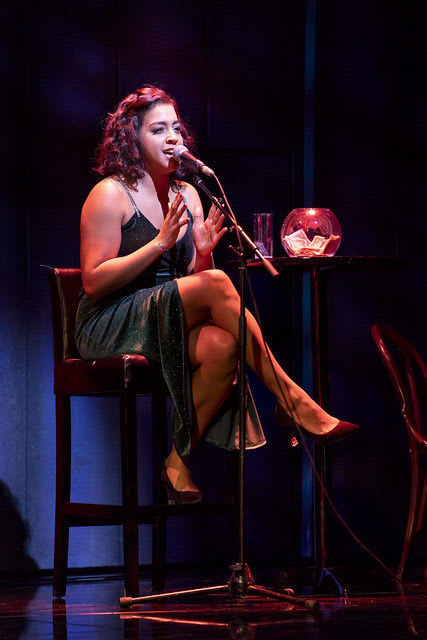 Alexandra Burke revives her multiple Grammy-winner and budding film star Rachel Marron, nailing the accent and the moves to ably fill Whitney Houston's pop diva stilettos but pitchy and seeming a little jaded in voice and script delivery.
Perhaps the monitors were off on press night as Micha Richardson as sidelined sister Nicki lost a few of her notes too. But the audience gave not a jot, out to enjoy an explosive spectacle showcasing the iconic big numbers and much bling—and live music from the octet well-hidden in the pit is tightly controlled by keyboard player Michael Riley.
Simon Cotton made a good fist stepping up from understudy to play the eponymous—but somewhat thinly drawn—bodyguard Frank but chemistry with the leading lady failed to fizzle but his karaoke is fab.
Lawrence Kasdan has adapted his screenplay, truncating and amalgamating the story (so I am told as I have not seen the film and couldn't work out some of the leaps in the storyline: what was that about Nicki answering letters and kickstarting the whole nastiness? How did the Stalker get the security job? Why doesn't anyone notice the missing security pass or bolt cabin doors?) to bring the popular piece to stage.
Archie Smith (Fletcher on the night) is beguiling as Rachel's son, body-popping and singing with great gusto—a star in the making while Phil Atkinson flexes his impressive pecs as the menacing Stalker.
Tim Hatley's set and Mark Henderson's lighting steal the show. Constantly gliding wooden panels frame vignettes and provide screens for projections before opening on the sweaty press of a nightclub, the sumptuous Marron mansion and glitzy performances.
Slo-mo and pinpoint lighting are used to great effect—none more so than as the Stalker closes in.
Despite my reservations this time round, it's a sell-out tour with constant standing ovations.
Reviewer: Karen Bussell