The Bodyguard the Musical
Book by Alexander Dinelaris from Lawrence Kasdan's screenplay
Michael Harrison and David Ian for Crossroads Live with Mehr-BB Entertainment GMBH, Playing Field (Theatre) Ltd, Mirvish Productions and Michael Watt
The Lyric, Theatre Royal Plymouth
–

Listing details and ticket info...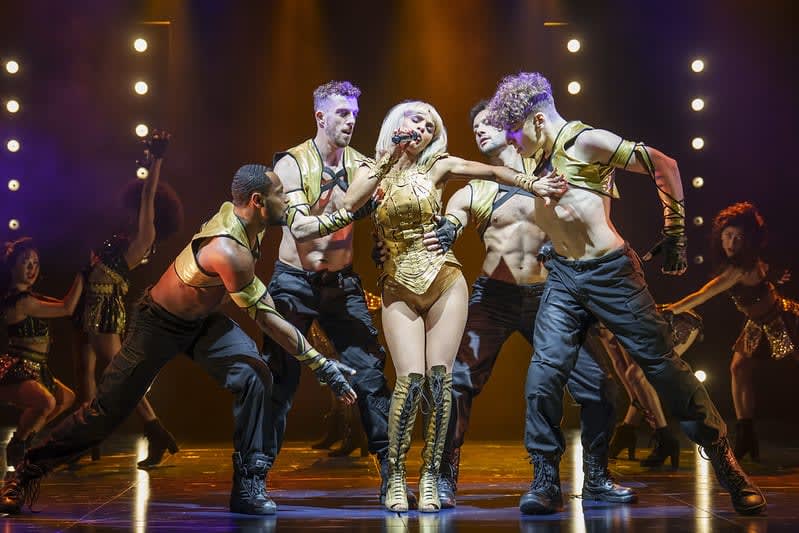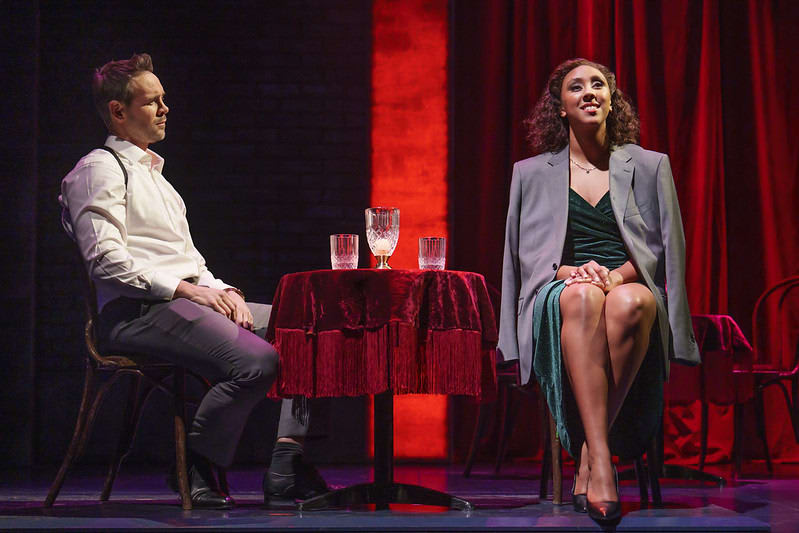 It is back again and packing them in, and shaping up to be yet another sell-out tour.
The diminutive Melody Thornton has a voice that is anything but, commanding the stage as multi-Grammy-winning pop diva and dress-sniffing psycho's obsession Rachel Marron. The former Pussycat Doll herself is a multi-platinum Grammy nominee, Dancing On Ice's best amateur skater 2018, lead in the 2019 British Pantomime Award winner Cinderella, took the crown in the Masked Singer (Australia) 2022 and is more than up to the demands of Olivier Award-winner Karen Bruce's dynamic choreography.
The explosive spectacle showcases hit after Whitney Houston hit: "I'm Every Woman"; "Saving All My Love"; "How Will I Know"; "Where Do Broken Hearts Go"; "One Moment In Time"; "I Wanna Dance With Someone"; "All The Man That I Need"; "Greatest Love of All" and a good half dozen more with belter Thornton occasionally sharing the honours with a sweet-voiced Emily-Mae (Bulda in Frozen, Theatre Royal Drury Lane) as eclipsed sister Nicki.
Alexander Dinelaris's adaption of Lawrence Kasdan's screenplay truncates and amalgamates the story (so I am told as I have not seen the 1992 film and was a tad disgruntled by some of the leaps in the storyline), but squeezing the narrative between high octane dance, much bling and superb iconic anthems allows little room to develop the characters, leaving love interest Hollyoaks' Joe Roscoe Ayden Callaghan as the eponymous, stereotypical bodyguard Frank as little more than a cipher with a rushed past history and a great knowledge of cars.
Dour, silent and belying his mantra that he 'doesn't do celebrities', the elite pro fails to impress with rookie mistakes (the not locking doors, sneaking a world famous star out for a secretive evening and persuading her to sing in a bar and not noticing a missing security pass still rankle third time of seeing), little palpable chemistry with his leading lady but a tremendous karaoke turn.
A plethora of lads step up as Fletcher with Sam Stephens (young Simba in The Lion King) impressing on press night; Phil Atkinson (EastEnders' Woody), James Groom, Graham Elwell (Of Mice and Men UK tour) and John Macauley wring every ounce of expectation and ham as Marron's lackeys and mentors while Marios Nicolaides is suitably menacing as The Stalker.
Tim Hatley's set has switched to sumptuous curtains to frame Marron mansion vignettes (but a tad see-through and short adds distraction); fabulous and dramatic dance sets and plenty of screens for Duncan McLean's clever projections before opening on the sweaty press of a nightclub, sleazy café or Oscar awards.
Once again, Mark Henderson's lighting steals the show. Lavish and spectacular or dark and brooding, atmosphere builds, tensions rise and glamour glitters.
As tempting as it is to join in, after the headline evictions of exuberant audiences earlier this year, there was not a whisper-sing to be heard—until the climatic encore medley with everyone up on their feet giving it their best Whitney to the live music from the pit.
Reviewer: Karen Bussell