The Bodyguard
Alexander Dinelaris
Michael Harrison and David Ian
Palace Theatre
–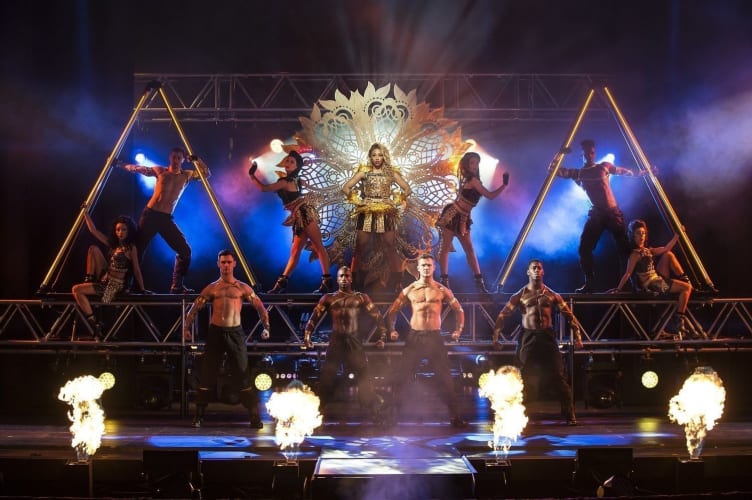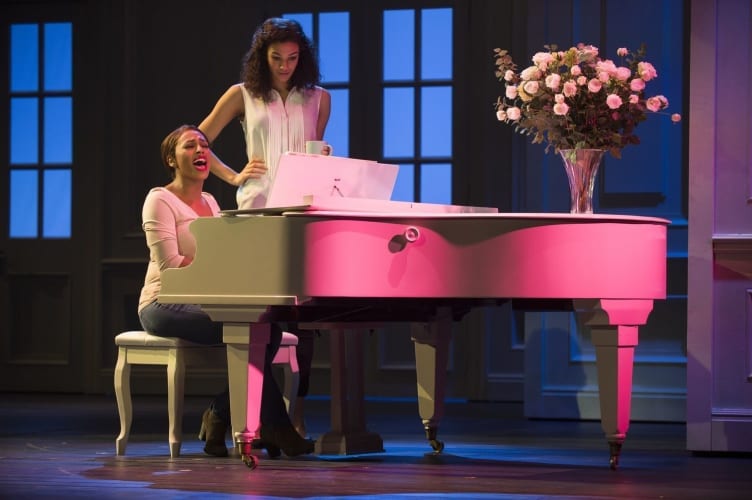 Alexander Dinelaris's musical version of 1992 film The Bodyguard has arrived in Manchester for Christmas.
It focusses on superstar singer Rachel Marron (Alexandra Burke), who is forced to hire bodyguard Frank Farmer (Stuart Reid) when she is threatened by a stalker. Although the relationship is initially tense, Rachel and Frank are soon drawn together by altogether different feelings.
The original film is famous for starring Whitney Houston, so several hits from her back catalogue have been woven into the musical's story to form a semi-biopic tribute.
Alexandra Burke makes a sassy and convincing pop diva, whether ordering her entourage around or belting out one of the iconic Whitney anthems. She seems to struggle to hit some of the lower notes in "Greatest Love of All," but overall her delivery of each song is impressive. Special mention must go to her rendition of the show's most famous song, "I Will Always Love You", which she manages to perform in spite of some excitable hecklers.
Melissa James also stands out as Rachel's sister Nicki, whose own neglected singing career and unrequited feelings for Frank make for some very poignant moments. Her jazzy performance of "Saving All My Love" in the quiet nightclub bar is pure class.
Big set piece numbers such as "I'm Every Woman" and opener "Queen of the Night" feature glitzy costumes, energetic backing dancers and effects such as dry ice and jets of flame. At these moments, it's more like being at a concert than a theatre—and the audience absolutely loves it.
It isn't all sequins and romance however—the stalker subplot is a constant, sinister presence. Mike Denman puts in a chilling performance, and the decision to make The Stalker a non-speaking role renders him all the more threatening and elusive. The gunshot and sudden blackout that start the show and The Stalker's appearance on Rachel's doorstep—complete with knife and balaclava—both succeed in making the audience jump.
Tim Hatley's set design features ingenious sliding panels that surround the stage in place of curtains. They are able to move independently from each other, allowing parts of the stage to be screened off for changes or to create a more intimate feel for small scale scenes.
The use of video projection is slightly distracting, particularly when Burke is singing her final ballad—an enormous still of Stuart Reid's face appears on a backcloth and then suddenly begins to move, which is an odd effect. Video clips are projected onto the curtain to cover changes and most often portray The Stalker's activities, but the jump from one medium to the other often jars.
The minor characters making up Rachel's entourage are essentially one-dimensional, but still entertaining—in particular her camp publicist, Sy. The funniest moment in the show has to be Frank's deadpan performance of "I Will Always Love You" in the karaoke bar, in which he sounds remarkably like Johnny Cash.
The show ends with a glittering, exuberant whole cast performance of "I Wanna Dance With Somebody." Several characters—including The Stalker—come forward for their own solos, as story is forgotten in place of a pure Whitney tribute.
Although The Bodyguard's blend of romance and thriller makes for a compelling story, it is Whitney Houston's hit songs that give this musical its edge and make it so enjoyable to watch.
Reviewer: Georgina Wells