The Book of Dragons
E Nesbit, adapted by Juliet Forster
York Theatre Royal
The Studio, York Theatre Royal
–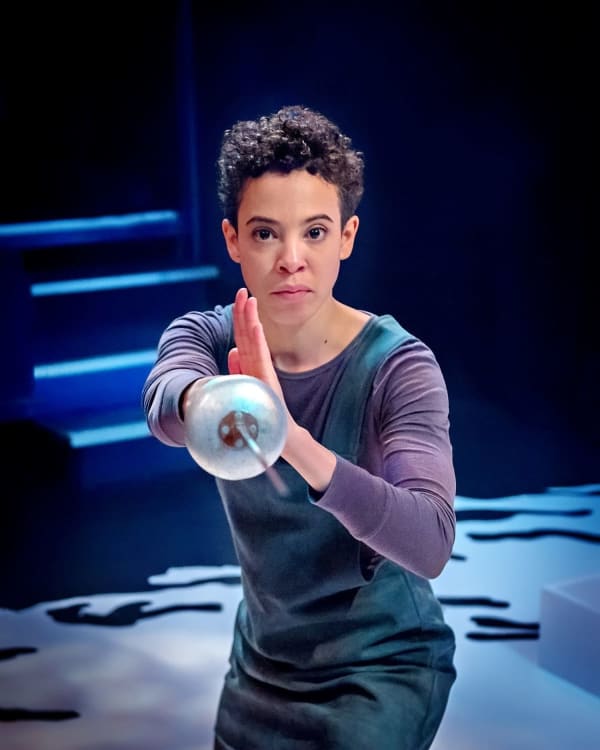 Staging a Christmas show for younger audiences is a new move for the Theatre Royal, and as Berwick Kaler and co. strut about the main stage in the panto, somewhat saner fare is on offer in Juliet Forster's adaptation of a range of E Nesbit's magical children's tales.
Several of the original stories feature brother-sister pairings who set out to investigate mystical phenomena such as the aurora borealis or strange, tiny flying creatures—both of which turn out (no spoilers here) to involve dragons. Forster's adaptation latches onto two of these characters, Effie and Harry, and makes them the protagonists of the whole set of tales, with their compilation of the eponymous book providing a through-line of sorts.
Elizabeth Mary Williams plays Effie, the younger sibling, and Emilio Iannucci her older brother, Harry. The pair have an easy rapport and a gorgeously flowing way of moving around the simple set. Iannucci is more of the clown, riffing readily off any opportunity for audience interaction, whereas Williams gives an impressive physical performance including some strong aerial work and transfixing puppetry. Both have a sparkle in their eye and a wit and playfulness which make them endearing narrators for this kind of show.
They invite us into their world of daft sibling in-jokes and routines, and show us the scrapbook in which they are collecting their experiences and tales of dragons. Each of these leads us into a self-contained narrative, so we see brave princesses and crafty blacksmiths as well as scenes rooted slightly more recognisably in the real world. The gentle encouragement at the end to keep our own scrapbooks of stories and pictures is really lovely, as is their rationale for collecting their own tales: "you never know what might turn out to be true".
In the course of the show, both performers transform themselves multiple times to take on a range of roles. Williams's performance as the dragon in a section recounting the tale of the blacksmith taming—or tricking—the beast is particularly memorable, with an inventive physicality which really makes us see the lizard-like creature hunched over in its lair. The sound design (by Jonathan Eato) and puppetry combine to create beasts of varying sizes—and it must be noted that children at the lower end of the recommended age range may find some of the staging veering towards the terrifying.
There are gentler moments of storytelling including some simple but beautiful shadow puppet work. Bethany Wells's design is inventive and magical, especially in the form of those dragon puppets, which glint and breathe, given life by clever design and Williams and Iannucci's skills.
But there are some potentially quite nerve-wracking moments for the youngest youngsters, and the switches in characters and narrative stakes might lead to distraction for those with shorter attention spans. So given the show's 70-minute running time, the mild peril and the anthology nature of the storytelling, I'd say the lower age recommendation of three years is a little too low; but 5-year-olds and over will find much to love about the piece.
Reviewer: Mark Smith