The Book of Mormon
Trey Parker, Robert Lopez and Matt Stone
Bristol Hippodrome
–

Listing details and ticket info...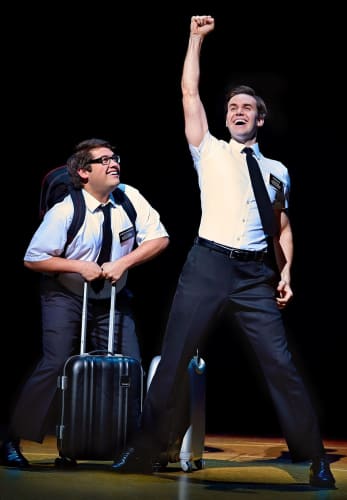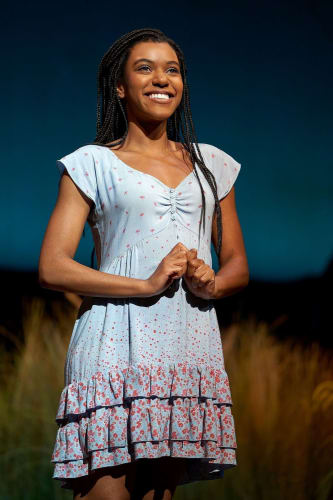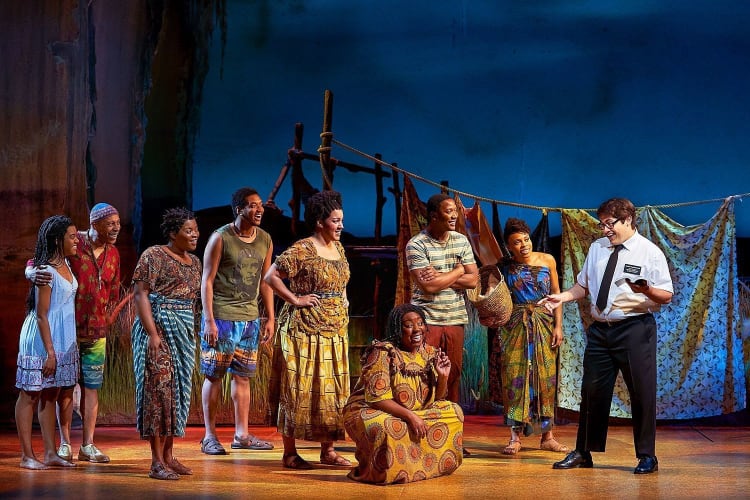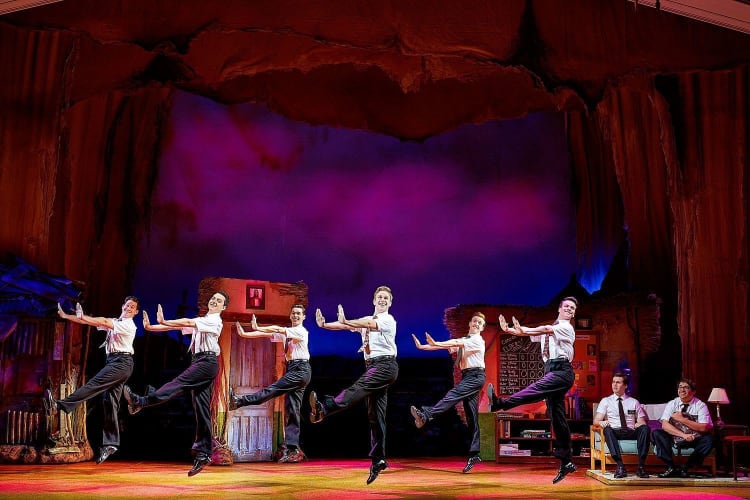 Irreverant and outrageous, the multi-award-winning The Book of Mormon continues to shock and delight audiences. It's the first week of a five-week run at Bristol Hippodrome but if the reaction of the packed house is anything to go by you should make sure you get your tickets quick before it is sold out.
The Tony, Grammy and Olivier awards-winning musical, written by South Park's Trey Parker and Matt Stone with Avenue Q's Robert Lopez, is essentially a coming-of-age buddy musical, but one with a satirical twist that takes a quite a few swipes along the way at some taboo subjects, provoking much controversy since its 2011 debut on Broadway.
In the firing zone for Parker and Stone's lampooning is the Church of Latter Day Saints and our own Disney-sanitised version of Africa. The confident, good looking, athletic Kevin Price, with perfect teeth and smile, with dreams of going to Orlando, is comically teamed up with the buffoonish and hopelessly insecure Arnold Cunningham to make a likeable odd couple. The newly qualified missionaries have been selected to go to Uganda on their first evangelising journey. After a Lion King send-off, organised by their families, the two naïve young men find the real Africa is anything but what they imagined.
Joining the rest of the mission, the two find themselves in a village, where the locals are less concerned with the bizarre stories in the Book of Mormon and listening to white people thinking they can save their souls and more concerned with the day-to-day problems of AIDs, dysentery and maggots and fearful of the local warlord, General Butt-****ing Naked, who is threatening to circumcise all the females in the village.
It is savagely satirical, foul-mouthed and gob-smackingly politically incorrect and has generated much controversy about the nature of offence. But the clever and sharp writers just about manage to pull back from crossing the line too far, ultimately by turning the joke back on ourselves. This comes with a warning—not everyone will agree.
Along the way, we get 16 great songs with some wickedly witty lyrics from Parker, Stone and Lopez. These are backed up with some superbly stylish group dance routines thanks to choreographer and co-director (with Parker) Casey Nicholaw. Stand out songs are "Turn it Off", "Hello", "I Believe", "Baptize Me" and "Spooky Mormon Hell Dream".
Robert Colvin and Conner Peirson (as Elders Price and Cunningham) have some good on-set chemistry as they go through their love-hate journey together. Nicole-Lily Baisden is delightful as the innocent and willing Nabulungi. Will Hawksworth is terrific as he camps up the role of Elder McKinley. The cast of almost 30 provide some spectacular song and dance routines—tap dancing their black thoughts away and voodoo dancing in the hell scenes.
Ultimately, we are all invited to question the nature and strength of belief. While we may not believe that Jesus Christ was a blonde, blue eyed, all-American prophet who nipped over to the USA between his crucifixion and his resurrection, we are invited to see that beliefs can make us stronger and happier.
Reviewer: Joan Phillips