The Book of Mormon
Trey Parker, Robert Lopez and Matt Stone
Palace Theatre, Manchester
–

Listing details and ticket info...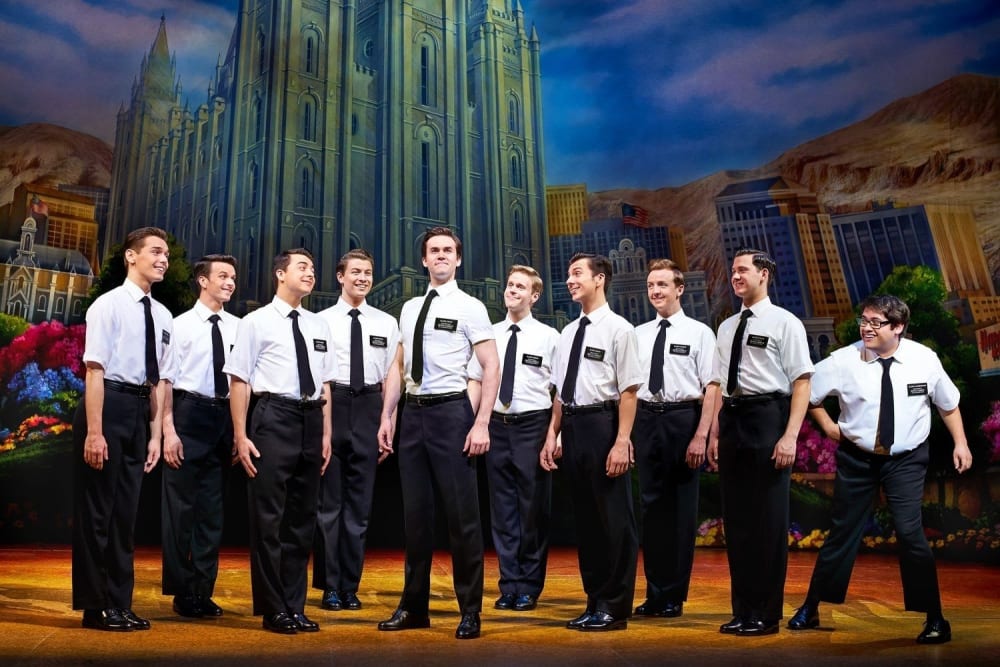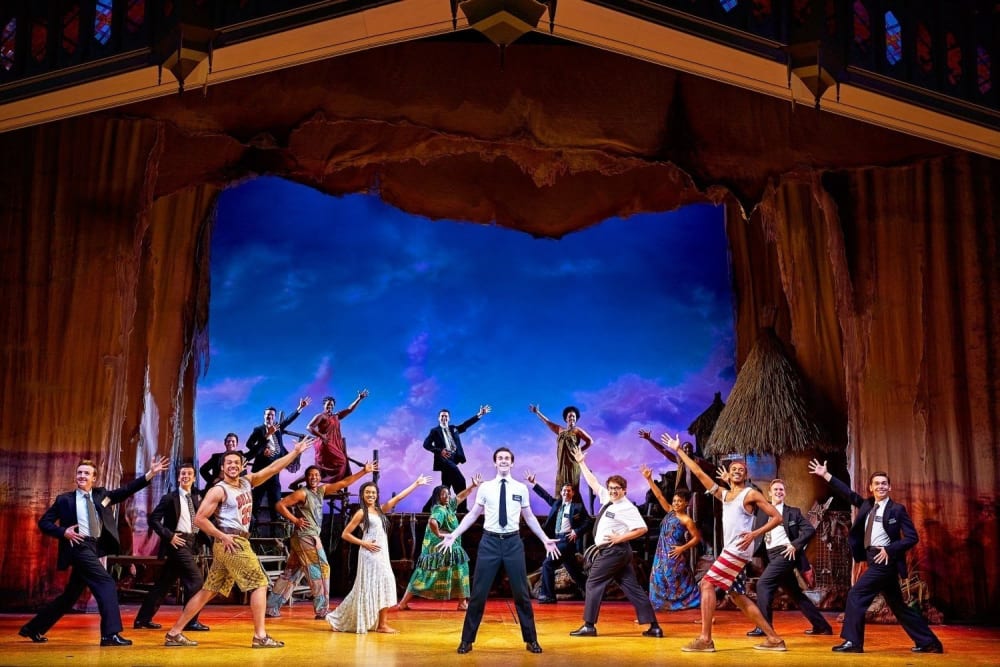 This odd—though in some ways quite conventional—musical comedy from the co-creators of TV's classic bad-taste animated series South Park with one of the Avenue Q writers seems destined to be a smash hit wherever it goes: there were huge queues for returns when it arrived in London from Broadway in 2013, and this Manchester leg of its first UK tour extended its run before even opening, with queues for tickets for the extra performances starting at 5:20AM on the day they went on sale.
On the conventional side, it centres on a classic comedy pairing of the perfect, strait-laced but rather arrogant person destined from birth for success and the oafish, clumsy one with no friends. Of course you know that by the end the clumsy one will have some sort of success over the other and everyone will have learned a valuable life lesson—it's the basis of most road movies, plus there are elements of it in the likes of Wicked and Legally Blonde, amongst many others.
The odd part is the setting for the story, which begins in the training college for Mormon missionaries in Salt Lake City, Utah, where the latest 19-year-old male recruits are about to graduate and be sent out into the world to spread the word of the Book of Mormon, the third book of the Christian Bible on which this young religion was founded. In their crisp, white shirts and black ties, they practise ringing doorbells, smiling that big smile that is earnest enough to be slightly sinister and preach the word of Joseph Smith. The hilariously physical dance routines from Casey Nicholaw demonstrate perfectly their unshakeable enthusiasm.
The recruits are paired off and sent around the world to spread their message. While Elder Price (actually Kevin, but they are all known as Elder, even though they are barely out of school), devout and destined for greatness without a hair out of place, prays to be sent to his paradise on earth—Orlando, Florida—we know he is going to end up with slobbish compulsive liar Elder (Arnold) Cunningham. And their destination? A small village in Uganda, days away even from Kampala, where the local warlord rules by fear and the gun and has threatened all the women with FGM (one of the few serious issues not made fun of, although not investigated in any depth).
The boys soon have the innocence knocked out of them when their luggage is stolen, the villagers sing of their irreverent attitude to God and the mission they are joining has so far achieved not a single conversion or baptism. Of course it is Arnold's imagination, not Kevin's studying, that finally brings success of a sort, but it isn't seen as such by the Mission President when the newly baptised villagers demonstrate what they have learned about how their new religion came to be.
If the pedigree of the writers leads you to think that this may not be entirely respectful of Mormonism, well, you'd be right, but strangely the Church of Jesus Christ of Latter Day Saints has been supportive of the show, even advertising in the programme with the brilliant slogan, "you've seen the show, now read the book". The boys sing about how they are taught to suppress their bad feelings and their homosexuality (there is a strong element of barely suppressed camp to all of their choreography) and the story of the birth of their religion isn't treated with much credibility, perhaps owing a large debt to Monty Python in the way it is told. There are no ads for the Ugandan Tourist Board in the programme, however.
The show is very sweary in both the dialogue and the lyrics and there are those little sudden shocks that Parker and Stone's South Park did so well, prompting viewers to either fall around laughing or turn off in disgust, depending on their sensibilities. The music is a proper Broadway score, in which you can hear touch of the style of Avenue Q brought by Lopez, although all three writers get equal billing for book, music and lyrics.
The two leads in the cast are superb, both having performed in the show on Broadway. Kevin Clay is perfect as Elder Price, the straight-A student, smiley and arrogant after being told all his life that he will always succeed and that if he worked hard then God would answer his prayers (he assumed for Orlando). Elder Cunningham is a showier part, but Connor Peirson certainly makes the most of it with an incredible physical performance that is both hilarious and sympathetic from beginning to end (he attracted a lot of "awwws" from the press night audience). Other significant roles are played by Ewen Cummins as village leader Mafala Hatimbi, Thomas Vernal as the General whose name I won't repeat and Nicole-Lily Baisden as pretty but naïve village girl Nabalungi, whose name Arnold can never get right (although calling her "Nigel Farage" was perhaps a step too far in the offensive humour...).
It's full of bags of energy with some hilarious dancing and very physical comedy, and vice versa. It sets out to shock and it succeeds, but some people may, strangely, not consider that such a good thing. But if you're open to the style of humour, it's a brilliant fun night out and highly recommended.
Reviewer: David Chadderton