The Book Thief
Based on the book by Markus Zusak, libretto by Jodie Picoult & Timothy Allen McDonald, music & lyrics by Elyssa Samsel & Kate Anderson
Octagon Theatre
Octagon Theatre, Bolton
–

Listing details and ticket info...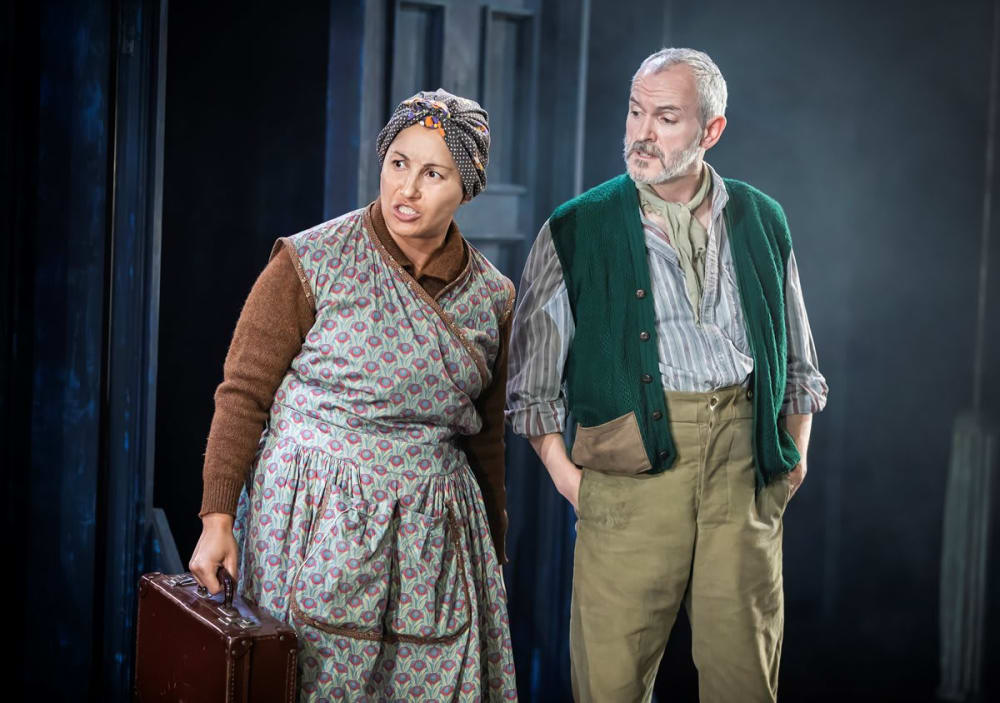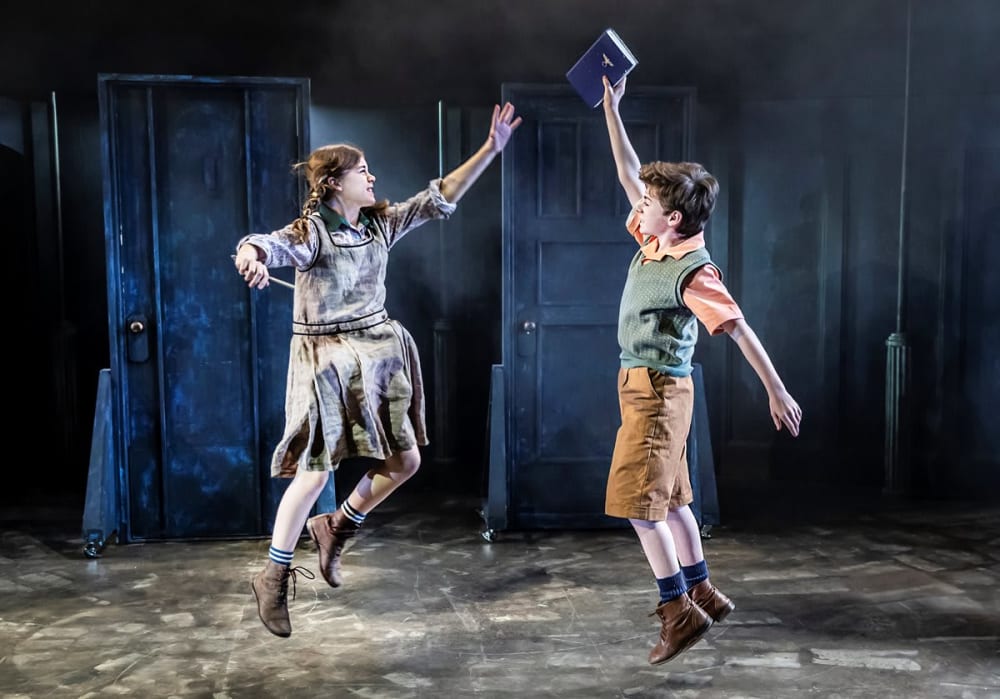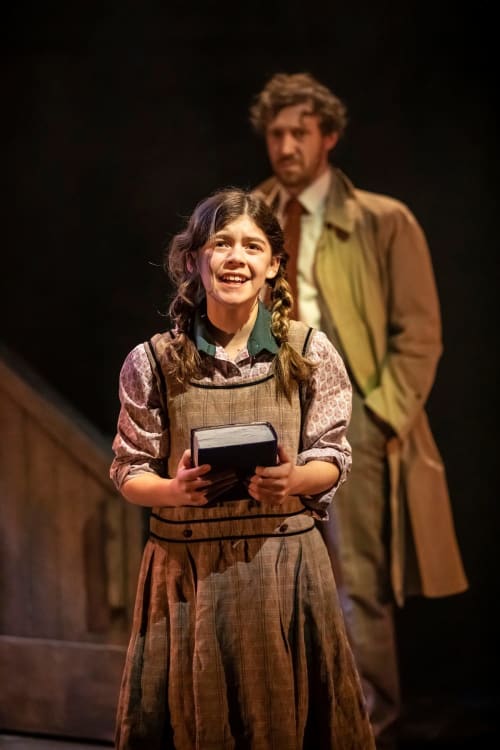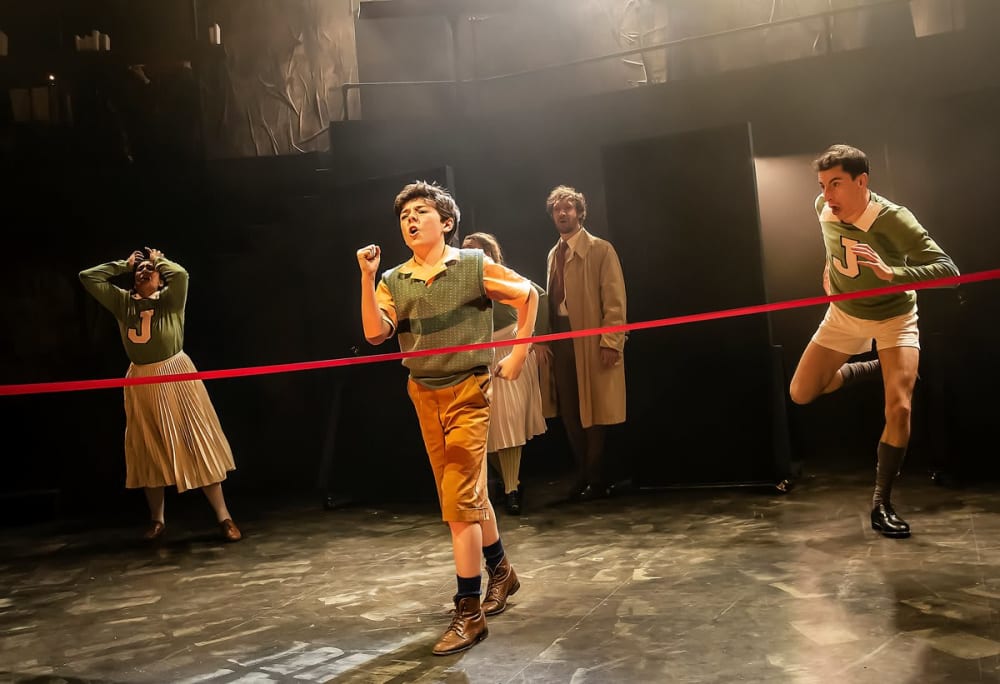 According to co-librettist and best-selling author Jodi Picoult, Broadway wasn't interested in staging this new musical—in fact she was shocked that most people she pitched it to hadn't even heard of the best-selling novel on which it is based—so she brought it to Bolton. That wasn't just a random decision; her co-writer Timothy Allen McDonald knew the Octagon's Artistic Director, Lotte Wakeham, from when she was assistant director for Matilda the Musical, and she jumped at the chance to direct this when she was offered it.
The story is set in Nazi Germany where young Liesel (Niamh Palmer, also Bea Glancy at some performances), whose parents have been taken away as 'communists', is sent to live with Rosa and Hans Hubermann (Danielle Henry and Jack Lord). Hans and Liesel get on very well and he teaches her to read, starting with the book she stole while at her younger brother's funeral, The Gravedigger's Handbook. She steals another book by a Jewish poet by rescuing it secretly from the fire after a Nazi public book-burning.
Hans is finding it difficult to get a job as he hasn't joined 'The Party' and once removed fascist slogans from a Jewish shop, so his wife is taking in washing to make ends meet. But that's not all they take in. During the First World War, his life was saved by a Jewish fellow soldier who was killed, leaving a wife and a baby son. That son is now a Jewish boxer, Max Vandenberg (Daniel Krikler), and the Hubermanns risk their lives by hiding him in their cellar.
Liesel has a very special rapport with Max, but when the authorities get a little too close to discovering him, he disappears during an air raid, then Hans is called away to fight in the war. Abandoned again, Liesel becomes bitter and rejects books and her friend next door, Rudy (Charlie Murphy, at some performances played by Alfie Corbett), until she starts to use words to create a mythologised version her own story, and how a "small, strange man" who ruled over them had such power over their lives in a copy of Mein Kampf in which Max had painted all of the pages white.
This story is narrated very effectively by Ryan O'Donnell as... well, that is kept from us until late on in the show, as it is in the book (though sadly given away in the first sentence on Wikipedia), but someone who was kept very busy at this time.
The adaptation to a musical is very well done on the whole, bringing out some lovely characters and even quite a bit of humour while not shying away from the brutality. There are some obvious parallels to more recent events, but there was no need to make them explicit by having the Nazis promise to "make Germany great again" or to write off something as "fake news", though such references are thankfully rare. I can't say I left singing any of the songs after a single listen, but they work pretty well in the context of the show.
The production has 13 people on stage and three in the live band plus a full musical production team for a newly developed piece that looks as though it has had more than the normal rehearsal period, so credit must go to the producers for making the numbers add up.
Director Lotte Wakeham has used lots pf physical, visual ensemble work on this stage before but not on this scale, and it's very slick and impressive, aided by choreography from Tom Jackson Greaves. Scenes flow seamlessly from one to the next, props appear by magic when they are needed, often produced by the mysterious narrator, and the ensemble are always in character and always relevant to telling the story, never just scene-shifters or there to plug the gaps.
The set design from Good Teeth (the theatre design studio of Victoria Smart and James Perkins) is sparse but has a minimalistic beauty to it, effectively lit by Nic Farman, with puppet designs by Samuel Wilde that let the stories come out of Liesel's book as though the pages have come alive to become the characters. Some of the vocals sounded a bit harsh or hollow, but then there are a lot of mics on stage in a theatre small enough to not really need them for the most part.
This is a show that could easily have a long future ahead of it, with Wakeham's production as integral to its success as the book, music and lyrics. Broadway's loss is definitely Bolton's gain.
Reviewer: David Chadderton