The Borrowers
Mary Norton adapted by Theresa Heskins
The Watermill Theatre
The Watermill Theatre
–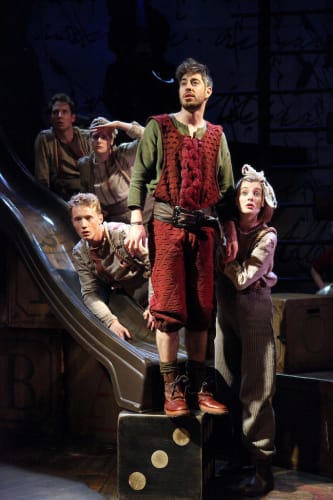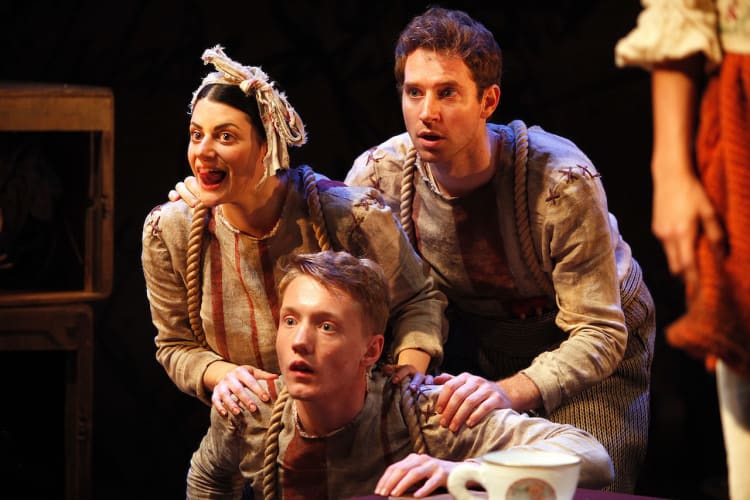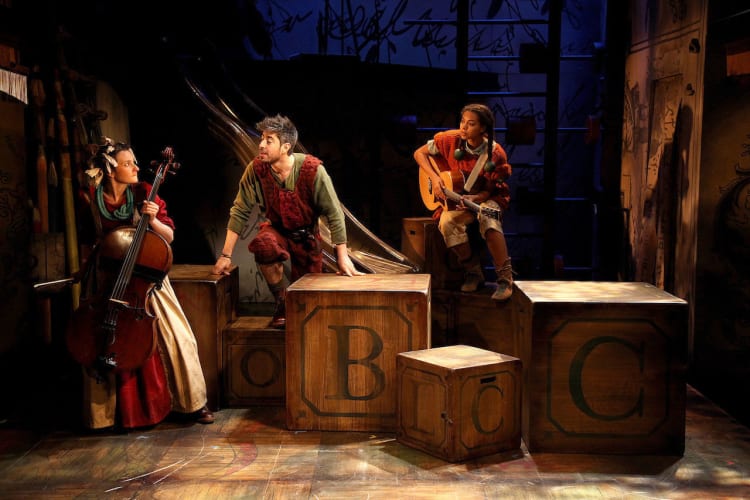 Mary Norton's charming children's book The Borrowers, adapted by the award-winning writer and director Theresa Heskins, is a sheer delight at Newbury's Watermill Theatre.
Artistic Director Paul Hart's inspired staging brings the tiny characters to life in this imaginative production, using the signature format of actor-musicians to tell the story.
The Borrowers are little people no bigger than 5 inches tall who live under the floorboards of a large country house where they "borrow never steal" items from the Human Beans to furnish their modest underground home.
Toots Butcher's stunning set with a backdrop of painted scribbles and musical notes, a huge abacus that's used as a ladder, children's alphabet blocks that provide seats and tables with a playing card as a table and gigantic pencils creates the scale superbly.
The head of this tiny household is Pod, energetically performed by Matthew Romain as he makes sorties up the curtains and into the Human Beans' home to gather unwanted treasure such as half scissors or cotton reels but most importantly avoiding being seen.
Charlotte Workman is Pod's practical wife, fussing over the family and in particular her spirited daughter Arrietty, the excellent Nenda Neurer. She wants to join her father in his adventures upstairs convincing him that just because she's a girl she should be allowed to go 'borrowing'.
Unfortunately, she is 'seen' by a boy (Frazer Hadfield) who is convalescing following his stay in India and befriends Arrietty. He gives the family furniture from the doll's house to make their lives more comfortable.
Their nemesis is the housekeeper Mrs Driver (Natasha Karp) and the crotchety gardener Crampfurl (Ed MacArthur) who are determined to get rid of these 'fairies'.
They smoke them out and the family escape, assisted by cousin Spiller, in a boat made from a huge sardine tin to ride the rapids. In a hilarious moment, they pause as a flash photo is taken of them as if they are on a ride in a theme park.
Their journey out into the wide world to find their relatives is a hazardous one, as they have to cross open fields and they seek shelter in a large discarded boot as the rain in the form of stress balls pours onto the stage.
However, there is a happy ending when the Borrowers find a model village to make their home.
Tarek Merchant's lively musical score is skilfully played by the company and one of the stand out numbers is the bluesy "Cover's an Art".
The Borrowers is the perfect alternative to pantomime and an ideal family seasonal treat and is highly recommended.
Reviewer: Robin Strapp