The Box of Delights
Piers Torday, based on the book by John Masefield
Wilton's Music Hall
–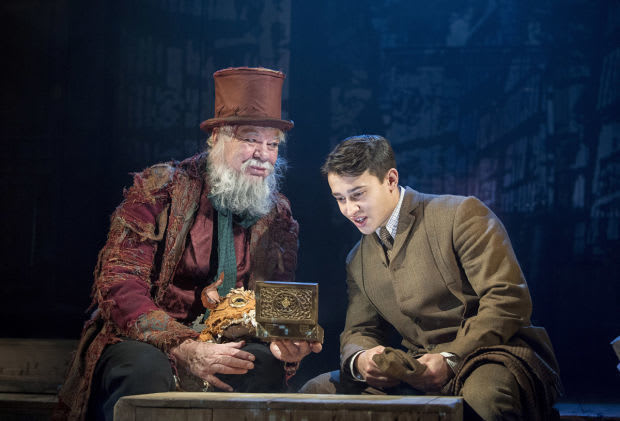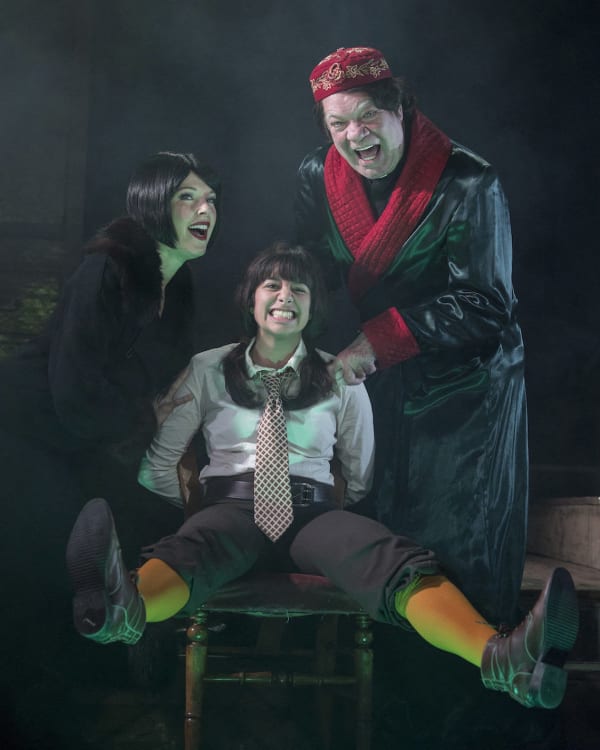 "The wolves are running," that phrase filled me with fear when as a small child I was glued to radio when Masefield's novel was adapted as a serial on Children's Hour. Ever since, it's meant danger and now those wolves are here on stage, a gang of criminal ill-doers in the guise of the clerics of a college that trains missionaries. They are working for power-seeking Abner Brown who wants to get his hands on a certain magic box to fulfil his evil intentions.
Orphan Kay Harker is on his way to stay with his aunt for Christmas when he encounters some of them who trick him and steal his wallet. Then he meets an eccentric but affable old gentleman, Cole Hawlings, who seems to know all about that and about him, who entrusts that very box to Kay's care.
This is the Box of Delights that, among other things, can carry its possessor through time and space: instantly transport them anywhere. Will Kay be able to keep it out of the wrong hands? Will Abner be able to stop Christmas from happening or will Kay and his cousins Mariah and Peter be able to foil him?
It is a complicated adventure that can't all be fitted into a couple of hours. Those who know the story will find some episodes and characters missing from Justin Audibert's fast-moving production but it is still full of exciting incidents and encounters. There are a series of kidnaps: all Kay's allies even the clergy and choir of Tatchester Cathedral, the legendary Herne the Hunter appears as an ally, Kay uses the box to make himself small, then loses access to it to change back again. There's a talking gold head, a huge rat and a fantastic Phoenix, and a sequence when sluice gates are opened and a terrible flood threatens to drown everyone.
Projections, shadow theatre, delightful puppetry all play a part in bring it to life in a setting made out of wardrobes and cupboards which aid rapid arrivals and sudden disappearances. Tom Piper's set, which starts off covered in dull drapes, blends well with the shabby chic of this lovely venue, aided by Anna Watson's lighting and Ed Lewis's atmospheric sound score.
Alistair Toovey makes an exemplary young hero, perfectly brought up; he carries the audience with him but it is Safiyya Ingar's tomboy cousin Mariah who is the boldest. She does tend to bully her poor brother Peter (Samuel Simmonds) but it's only to get him moving.
Mark Extance is the Bishop of Tatchester, innocently unaware of the danger that is threatened by magician Abner Brown and his pack: Tom Kanji's creepy criminal Charles, disguised in his dog collar, his laughter turning into wolf howls and Josefina Gabrielle as criminal colleague Sylvia Pouncer. Rosalind Steele makes an imposing Herne, helping to confront them, and she and the rest of the company double other roles.
Matthew Kelly as both evil Abner Brown and Cole Hawlings is the most remarkable and dominant doubling. Aided by Nina Dunn's video he even appears as both at the same time. His avuncular white-bearded Cole, in a maroon top hat and a well-worn coat like a dressing gown, is like a medieval Father Christmas or one out of Dickens's A Christmas Carol (before the modern Santa Claus was invented). In his rich voice full of warmth, he describes himself as a peripatetic Punch and Judy man but he's actually a centuries-old philosopher. Shorn of his beard, his Abner Brown he has a permanent scowl (he doesn't need make-up). He is really nasty but his wickedness isn't too frightening. Exploiting a melodrama convention he makes watching him enjoyable and unlikely to give bad dreams
Young audiences will no doubt root for Kay and Mariah's success and will love Cole Hawlings like a favourite uncle, while his dog Toby (presented by excellent puppetry) will be another contender for audience affection.
This may prove rather long for very young children and perhaps a little too complicated for them to follow but a couple of infant school age in front of me were engrossed and seemed to be having a good time. If kids already like theatre this should suit them and the whole family can enjoy it.
Reviewer: Howard Loxton