The Boy Who Cried Wolf!
Devised by the Company based on Michael Morpurgo's Aesop's Fables
The Bristol Old Vic Company
Bristol Old Vic
–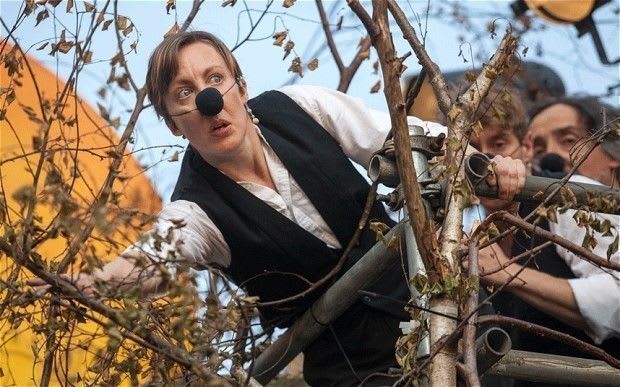 Bristol Old Vic's Associate Artist, Sally Cookson, comes with a proven track record and high praise.
In addition to directing Bristol Old Vic's triumphant Treasure Island and Peter Pan, she directed a studio adaptation of Morpurgo's Aesop's Fables back in 2007 with Scamp Theatre at BOV. It was, in Morpurgo's opinion, "the best-ever theatrical adaptation" of his work. "It was simply magic, directed with a grace and wit that other directors could only dream of".
This season, Sally Cookson has revisited the same piece, expanding it to create a middle-scale show. Between Cookson and Morpurgo, Aesop is retold by a collection of imaginatively realised, idiosyncratic characters: a hare in a onesie, a stroppy teenager crying wolf and a gold lamé clad, crooning Sun, (Chris Bianchi) to whom I could happily have listened sing all evening.
The five-strong company of actor-musicians, Chris Bianchi, Tom Wainwright, Luck Tuck and Will and Benji Bower, are without weak link. They stroll on set at the outset, laden with bags of costumes and props and staring disarmingly into the audience for several moments.
The cast sing in close harmonies to the Bowers' delightful, folksie musical accompaniment throughout. Set against the backdrop of Phil Eddolls's luscious outdoor set (complete with outdoor bar), groaning with fake foliage and fairy lights, the combined impact is infectiously festive.
Cookson doesn't miss an opportunity for a comic moment, and the strong cast breathe life into what are essentially light-weight, paper-thin morality tales. Cookson doesn't lift Aesop far enough from its dramatically insubstantial restraints to lend this production any real weight.
Nevertheless this is a jolly and engaging show for children, with plenty of chuckles thrown in to keep the grown-ups amused.
Reviewer: Allison Vale