The Boy Who Kicked Pigs
Clem Garrity, David Cumming, Natasha Hodgson, Zoe Roberts and Oliver Jones, based on the novel by Tom Baker
Kill the Beast, developed with The Lowry
The Lowry, Salford
–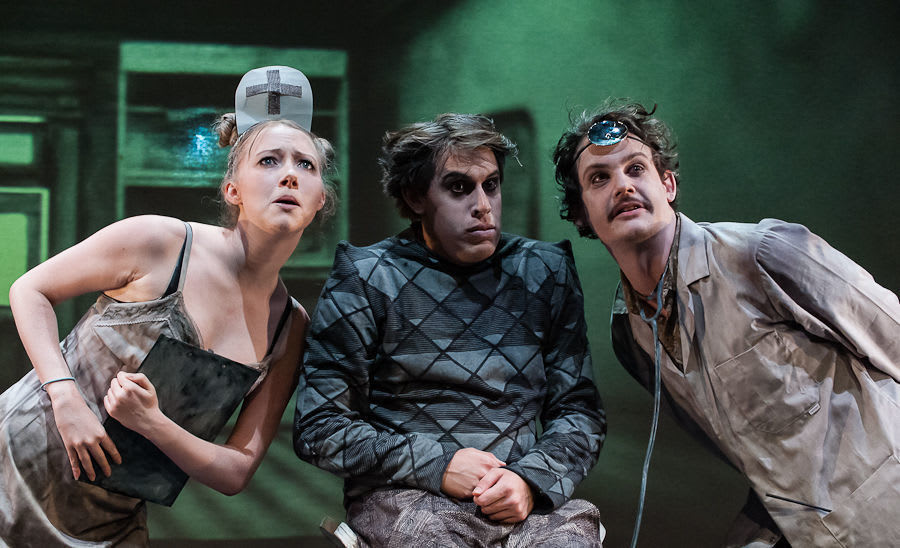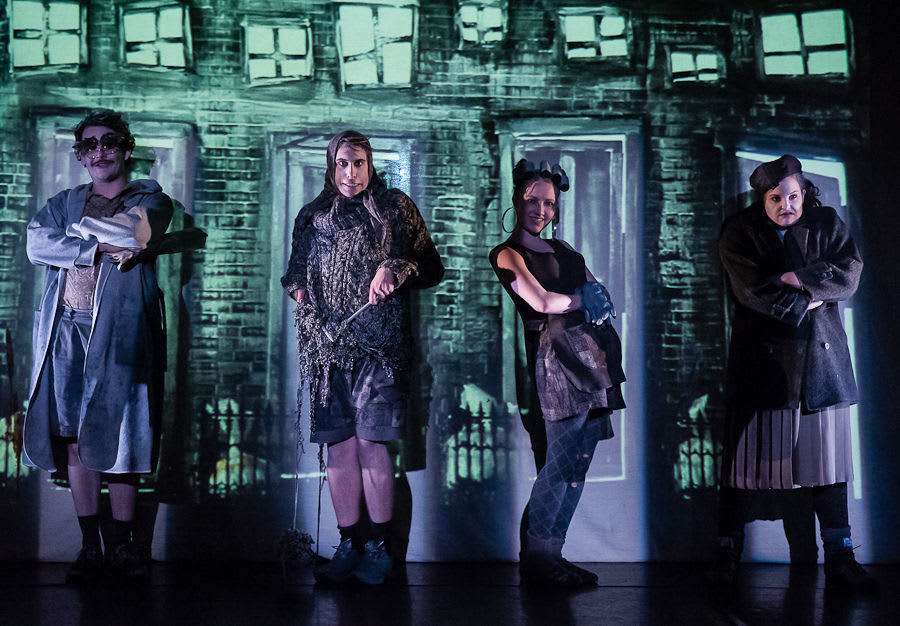 This very young company has developed an original adaptation of a cult novel by former Doctor Who Tom Baker supported by The Lowry's "Never Been Seen" scheme, which aims to bring new work to the Studio stage.
Robert is the boy of the title, and the pigs are collected by his syster Nerys in the form of toys, ornaments and, most significantly, a piggy bank called Trevor. Robert kicks Trevor through the window to annoy his sister, and it happens to cause, through an unlikely series of events, a chain of accidents and even one death.
Robert is pleased with this even though the death was, strictly speaking, an accident. However Trevor starts to talk to Robert and ridicules his achievements, egging him on to more terrible acts, starting with the bungled attempted murder of Nerys and then going on to attempt to cause a much bigger disaster.
This is the framework of a plot that holds together a series of scenes that could almost be seen as a collection of comic sketches with a similar look and style: the double act between the two policemen, the four neighbours gossiping on their doorsteps; the scenes in the offices of the Kent Clarion local newspaper that publishes nothing but classified ads offering bizarre exchanges; the opening between the benevolent blind man and those he buys drinks for. There are even some sort-of songs, delivered more like rap exchanges set to music.
These individual scenarios are beautifully built with distinctive, fully-realised comic characters and a style that carries right through flawlessly from the construction and delivery of the dialogue to the pace of the scene to the whole look of everything: costume, make-up, scenery, projections and the physicality of the actors. They manage to thoroughly create a whole world that, though far removed from reality, seems to make perfect sense on its own terms.
The style is nothing new and is quite fashionable amongst some young theatre groups—there will no doubt be dozens of student groups at this year's Edinburgh Fringe trying to achieve the same, but it is likely that none will be as slick and as fully-realised as this one. The most impressive thing about this production is how completely the company commits to the style without a hint of irony.
The four performers are very impressive in their multiple roles. David Cumming, the only person on the programme with a biography that doesn't include the University of Warwick, is an impressive physical performer with a vocal performance to match as he creates the joyfully naughty title character and the bent old blind man at the beginning, amongst others. Natasha Hodgson is another versatile performer who especially stands out as annoying young sister Nerys and the reporter at the Kent Clarion who wants to actually report some news. Zoe Roberts and Oliver Jones are the other two writer performers who also show impressive versatility in their various roles.
Director and co-writer Clem Garrity has kept a really tight control over the whole production with pacing that feels quite fast-moving overall but there are some scenes where he isn't frightened to let them develop very slowly, such as in the newspaper office, although there are some scenes that feel a little longer than necessary, particularly towards the end. The references to modern events and products got laughs from the audience, but for me they took me out of the world that the play was trying to create just for a moment.
Bryan Woltjen's video designs complete the look of the production perfectly. Video backdrops usually indicate something busy and distracting, but Woltjen has created something rather more subtle, framing the whole scene to look like a cartoon drawing—aided by Nina Scott's complementary costume designs—and adding just a simple touch of repeated movement to each, which works beautifully.
It is the attention to detail that really makes this an impressive production on such a small scale. This is a talented team of writers and performers that we are sure to see more of in the future, but this production is an unusual and entertaining piece that could certainly work before a more mainstream audience than would usually attend a Studio production.
Reviewer: David Chadderton