The Boys in the Band
Mart Crowley
Tom O'Connell and James Seabright in association with Jack Maple, King's Head Theatre and Park Theatre
Park Theatre (Park 200)
–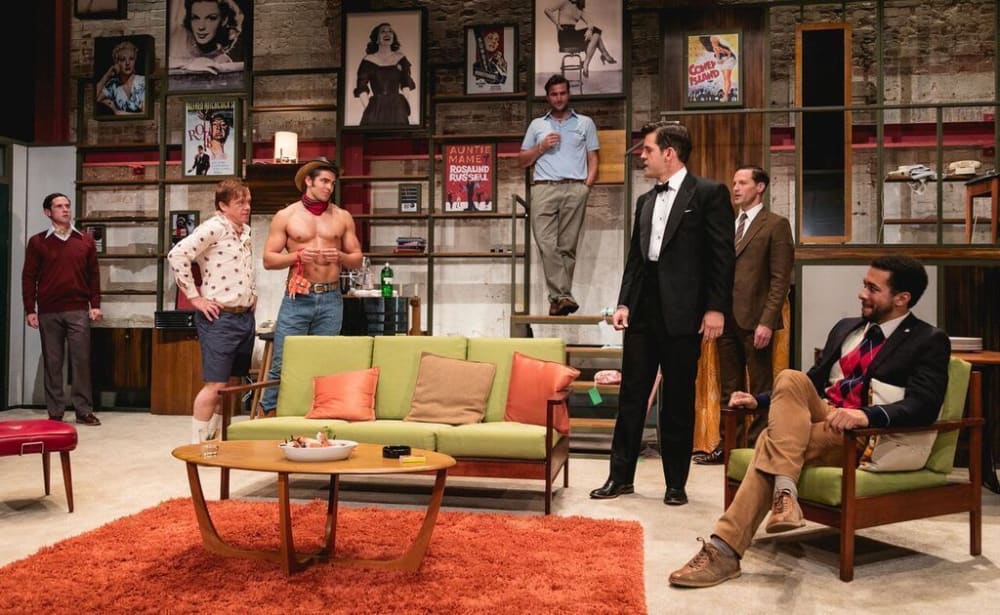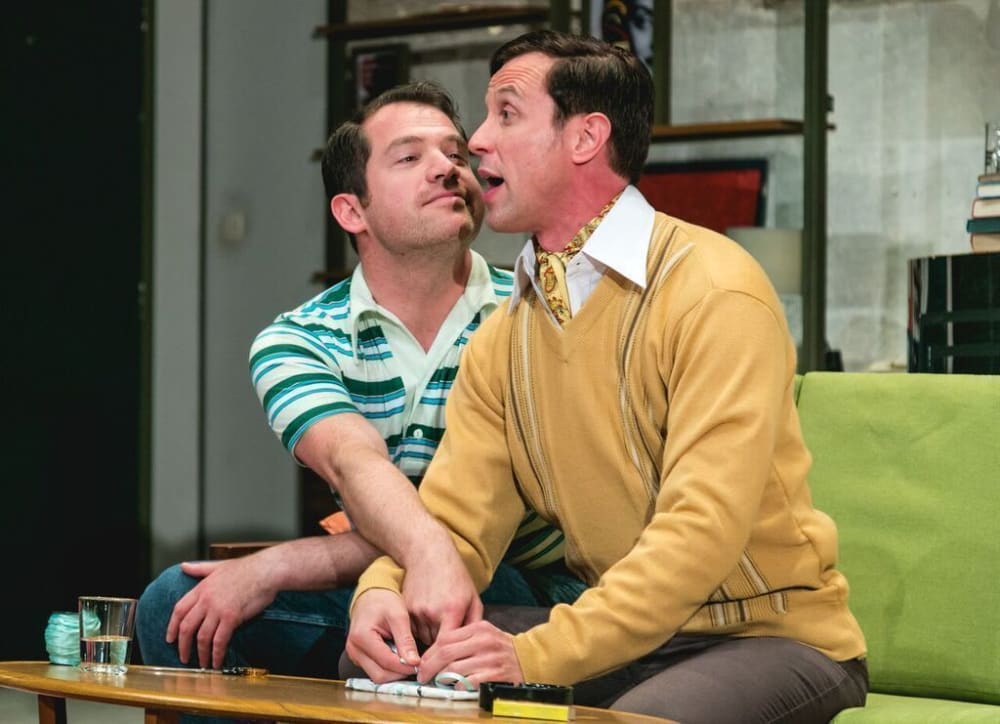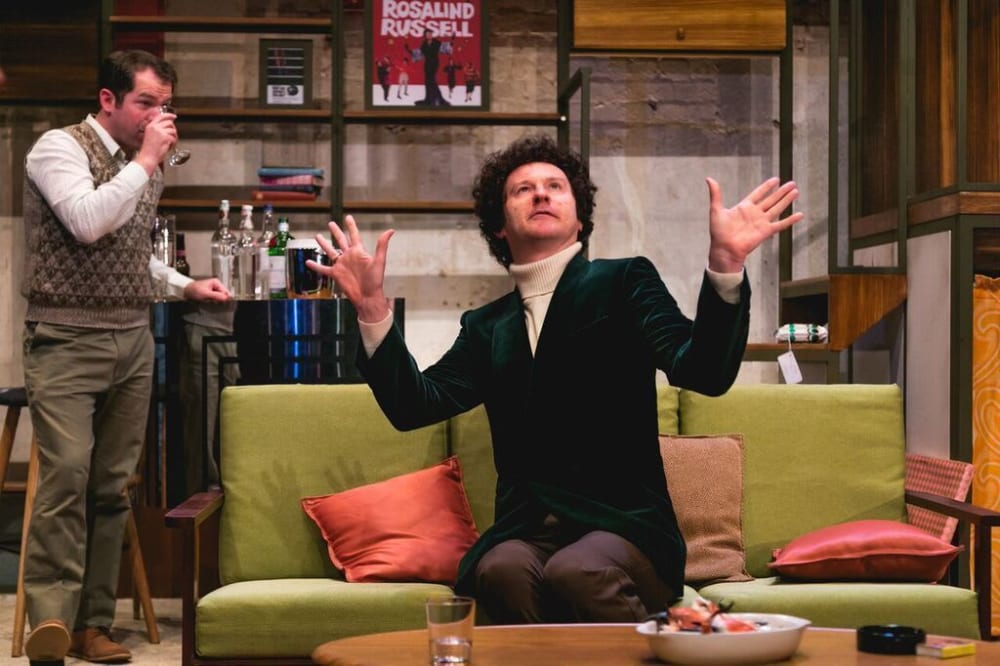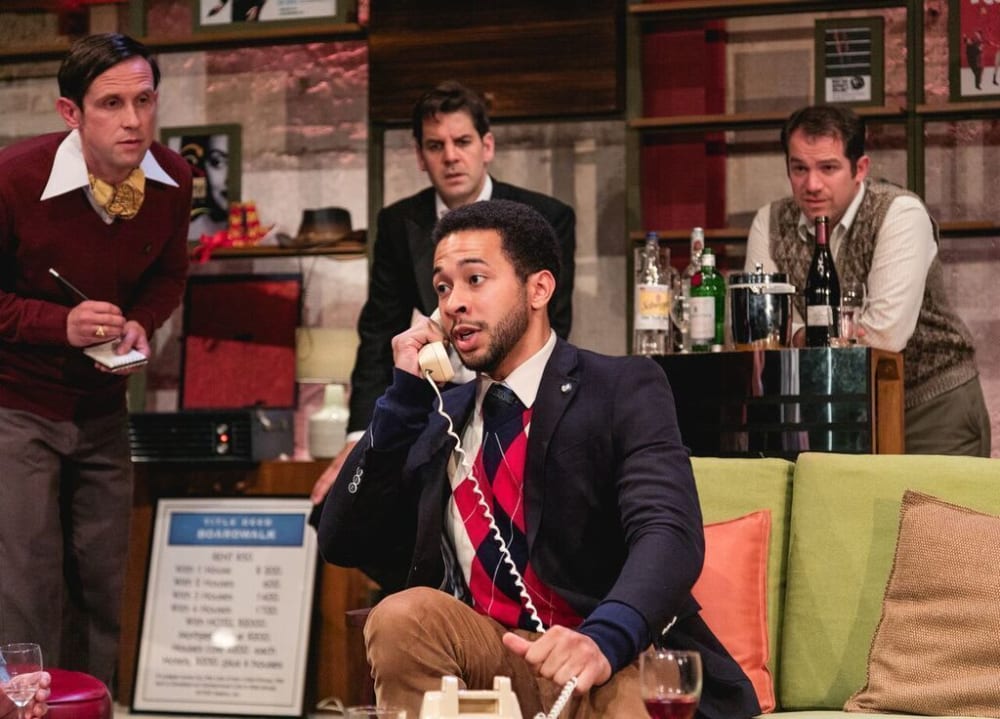 Mart Crowley's The Boys in the Band had its off-Broadway première when homosexuality was still illegal in most of the United States and the Stonewall riot still a year away—AIDS too was still in the future.
The play was staged in London the following year at Wyndham's. It was less than two years since the (partial) decriminalisation of male homosexual acts in Britain and a year since the Lord Chamberlain's censorship of plays was ended (which would never have passed it).
In that context, the presentation of a private all-male Manhattan party in which a set of self-described screaming queens sing happy birthday to a 32-year-old (42 in this revival), self-dramatising, ugly, Jew fairy was pretty strong stuff for a West End audience. Its unsentimental portrayal of camp bitchiness wasn't at all in line with promoter of the decriminalisation bill Lord Annan's request that gay men "show their thanks by comporting themselves quietly and with dignity… public flaunting would be utterly distasteful… [and make] the sponsors of this bill regret… what they had done". Even some gay playgoers found it too much, presenting such a portrait in public.
How things have changed! Wisely, director Adam Penford keeps this revival in period but it is still relevant. He and designer Rebecca Brower emphasise both its period and its gay viewpoint with contemporary music from the gay scene and a gallery of gay icon portraits (all female) hung above the apartment setting. Crowley presents a group of gay men as they see themselves—not through the eyes of gay outsiders.
There is little background to explain why these men are friends with the host or the birthday boy, the characters are rather obviously created to represent gay men with different attitudes and the situation is somewhat artificial, but that does not make these less true as a record of 1960s gay life though it is filled with more angst than there might have been in a similar London party. It is the problems they have with handling their own homosexuality that give the play much of its point. These are men who have to survive in a straight world that doesn't accept them.
They range from suited, straight-acting school teacher Hank (Nathan Nolan) to aging, effeminate Emory (James Holmes), fluttering around "like a butterfly on heat" incongruously in short trousers and still holding a torch for the boy he fell in love with at school.
Host Michael (Ian Hallard), for whom drink and his shrink have been an escape from himself, is full of self-hate which he takes out on the others, especially as he goes back to the alcohol after weeks on the wagon. He once sold a film script but now seems to live quite extravagantly he says on hand-outs.
Donald (Daniel Boys), the first guest to arrive, is his regular weekend visitor, a man who dropped out of Cornell and feels himself set up to fail. He's moved from Manhattan to the Hamptons where he works scrubbing floors for a pittance yet he drives in each week to see a psychiatrist. There's a sense that there is unfinished business between them, at least on Donald's part.
Hank has a wife and two children but lives with his lover Larry (Ben Mansfield) who likes the relationship but not monogamy. He is seems more at ease with himself than the others do. Bernard is black and seems well-adjusted, Greg Lockett handles his brief exchange about racism particularly well—he has a bond with Emory as another the others treat as underdog.
Emory has booked a kissagram/stripper boy (Jack Derges) as Harold's birthday present. He's supposed to be a "Midnight Cowboy" but he arrives early, naïve, muscled and tanned, in contrast to these older, well-educated, middle class men. There is Harold himself, sharp-tongued and intelligent behind his dark glasses. His self-deprecation is matched by the power of his put-downs. He's said to have been stacking up pills, preferring suicide to facing up to aging, but Mark Gatiss makes him a man stronger than that. You can see why the others are gathered for his birthday.
Then there is Alan, the supposedly straight old university roommate who intrudes on the party. It's a rather awkward and obvious piece of plotting: a way to demonstrate anti-gay prejudice, perhaps even self-hating homophobia. Another alumnus claims they had sex with him.
We may have gay marriage (indeed, two of this cast are husband and husband) and give gays a wider acceptance (though in some countries you could still get hanged or stoned to death) but this play is a reminder that homosexuals still have to deal with their difference and it still isn't always easy to move in a straight world. The development of online dating and Tinder haven't made it any easier to develop happy and satisfying relationships.
The Boys in the Band broke new ground as a mainstream commercial play that presented gay men as they see themselves, not as figures of farce or tragedy. In its time, it was needed but better plays have followed. This revival doesn't mark it out as a classic but it does get an honest presentation with strong performances.
What it doesn't sufficiently put over is that these are men in private, although that privacy is invaded by an outsider. It is a little too serious. The painful game that Michael makes all his guests play isn't funny but the production needs more humour.
These are men camping it up, even in their bitchiness, because that was one way of making your own world. Only when they line up and start dancing does Penfold's production fully capture the exuberant comradeship that is there as well as the angst.
Reviewer: Howard Loxton