The Boys in the Band
Mart Crowley
Tom O'Connell and James Seabright in association with Jack Maple, King's Head Theatre and Park Theatre
West Yorkshire Playhouse, Leeds
–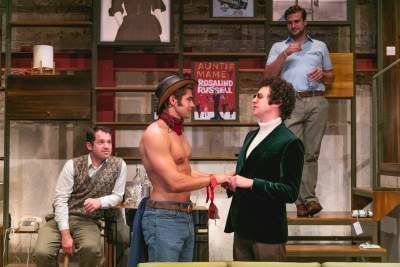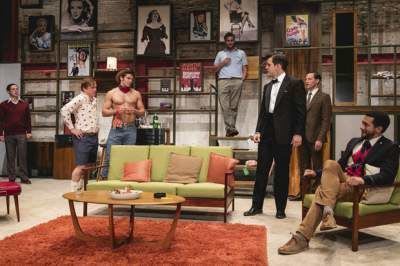 As the first play to put openly gay characters centre stage, The Boys in the Band is arguably one of the most ground-breaking dramas to emerge from America in the 20th century. First staged off-Broadway in 1968, one year before the Stonewall riots in Greenwich Village, Mart Crowley's play captures the moment just before the gay movement came into being.
Michael (Ian Hallard), a lapsed Catholic and recovering alcoholic, decides to host a birthday party for his friend Harold (Mark Gatiss) in his snazzy apartment on the Upper East Side. Whilst preparing for the gathering with the assistance of Donald (Daniel Boys)—a self-described underachiever—he receives a 'phone call from his old college roommate, Alan (John Hopkins), who wants to see him urgently. Reluctantly, Michael invites him over, even though he realises that his ostensibly straight friend will be shocked to find himself surrounded by gay partygoers.
One by one, the guests arrive: Emory (James Holmes), a flamboyant interior decorator; Hank (Nathan Nolan), a soon-to-be-divorced schoolteacher; Larry (Ben Mansfield), a promiscuous graphic designer; and Bernard (Greg Lockett), an amiable African American bookstore clerk. Alan calls again to say he won't be able to make it, but then surprises everyone by making an unexpected entrance.
The guests' half-hearted attempts to conceal their gayness prove bewildering to the traditionally masculine Alan. The sudden arrival of 'Cowboy' (Jack Derges)—a hunky, bare-chested hustler, and Emory's 'gift' to Harold—only adds to the escalating tension, which erupts when Alan punches one of the guests. It is at this point that Harold makes his grand entrance.
After the comic misunderstandings of the first act, things darken considerably in the second. As the characters become more intoxicated, their hidden resentments begin to surface, resulting in painful revelations.
Although The Boys in the Band is rightly seen as being an important piece of gay cultural history, there are some who regard the play as an outdated period piece. For these critics, the bleak view of homosexuality put forward by Michael ("show me a happy homosexual and I'll show you a gay corpse") does not square with our more enlightened attitudes. While society has become more accepting of homosexuality in the decades since the play was first staged, there is still much work to be done, and Michael's feelings of internalised homophobia and alienation will strike a chord with many audience members.
The Boys in the Band has often been compared to Edward Albee's masterpiece Who's Afraid of Virginia Woolf? (1962) because of its similar set-up (a drunken gathering descends into cruel mind games) and acerbic wit, but Crowley's play suffers from comparison. At times, the revelations of the second half feel unconvincing and stagey, and there are moments when the play descends into melodrama. That said, there is still much to enjoy in Adam Penford's production.
Costume and set designer Rebecca Brower does a fine job of recreating the aesthetic of 1960s New York. The apartment set is full of interesting details. The framed photographs of gay icons from Hollywood's Golden Age (Bette Davis, Judy Garland, Marilyn Monroe, Barbara Stanwyck) provide a web of textual references for the interested viewer. Harold's anxiety about aging, for example, is shared by Bette Davis as Margo Channing in the classic melodrama All About Eve (1950).
The ensemble cast captures the comedy and tragedy of Crowley's script with great aplomb. Michael's cruelty and self-loathing should make him repellent, but Ian Hallard manages to convey the character's inner conflict and make him sufficiently sympathetic. Olivier Award winner Mark Gatiss dominates the second act as the inscrutable and waspish Harold.
James Holmes is in scene-stealing form as Emory, the most effeminate of all the characters, particularly when trying to 'butch up'. Ben Mansfield and Nathan Nolan underplay their roles as squabbling lovers nicely. Jack Derges is suitably vacant as the dimwitted hustler. John Hopkins—looking like an ad exec from Mad Men—is the picture of wounded masculinity. Greg Lockett gets to shine in the second act when he reminisces about his unrequited love for a straight white man, and former TV talent show contestant Daniel Boys demonstrates dramatic chops as Donald, Michael's closest friend and confidante.
This is the first major revival of The Boys in the Band in nearly 20 years, and Adam Penford's production proves that the play is still relevant today. Despite some quibbles, it is a vibrant, funny and poignant piece of work.
Reviewer: James Ballands