The Breach
Naomi Wallace
Hampstead Theatre
Hampstead Theatre
–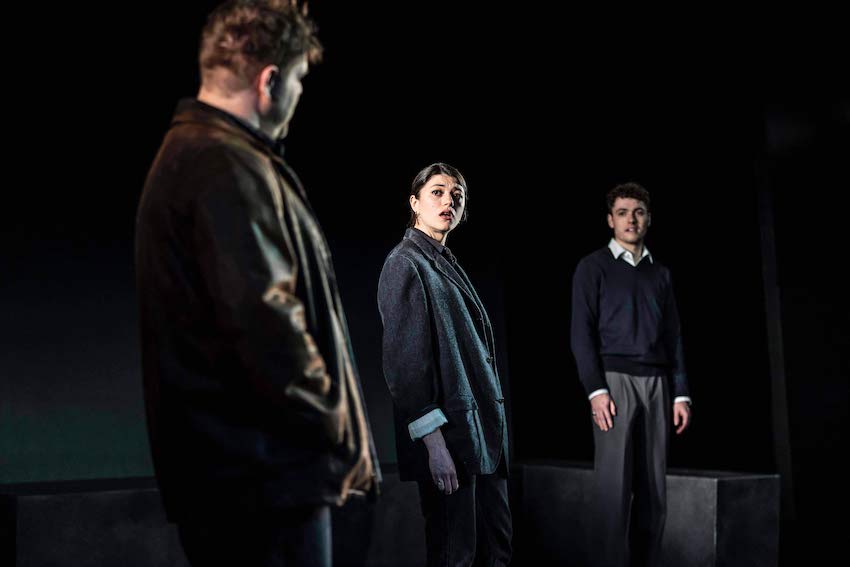 "I'm not most girls," says nearly-seventeen Jude as, with a screwdriver in each hand, she threatens two boys in the basement of her family's home in Kentucky. Hoke and Frayne are friends of Acton, her bright thirteen-year old brother. In return for his help with homework, they protect him from bullying (including their own) and think of themselves as a kind of secret club. She agrees to them meeting up in the basement.
As proof of their commitment to each other, Hoke decides that all three club members should make a symbolic sacrifice. He says he will deliberately fail his SAT (the US test for getting into college) for which Acton has been helping him prepare. Frayne attempts a token self-mutilation then has worse results. The others demand action from Acton that involves his sister, something that has him planning to leave home to avoid but which, when Jude finds out, she goes along with, her action she believes putting her in control.
Jude, who is already working in a bar evenings and weekends to pay half their bills, likes to think she's in charge and can certainly hold her own with Frayne and with better-off Hoke, whose father it turns out owned the construction company her builder dad was working for when his safety harness broke and he fell to his death from a high-rise.
Thirteen years later, Jude returns to her hometown and meets Hoke and Frayne after her brother's funeral and truths are uncovered, unsettling for all of them.
The play alternates scenes set in 1977, when they were all at high school and the war in Vietnam not long over, and 1991. A band of light passes across the stage to mark the transitions and different actors play the characters at different ages. Later, the time frames will overlap.
There is a particularly strong performance from Shannon Tarbet as the Young Jude, and this picture of an older sister assuming responsibility for her younger brother seems very true to life, but both play and Sarah Frankcom's production are strongly stylised. It is played on a bare, grey ramp down which Jude and Acton roll to celebrate their bonding with a ritual inspired by their dad's death fall. In 1991, the staging becomes much more static and you notice how grey the world is, then the lights overhead disappear when the action moves out of reality.
Alfie Jones's '77 Hoke, confident his dad's money can pull strings, Charlie Beck as his sidekick Frayne and even Stanley Morgan's Acton seem to be characters as '77 Jude sees them. Their grown-up versions (Tom Lewis, Douggie McMeekin and Jasmine Blackborrow) all know what life is really like. We don't learn a great deal about their individual lives but it is a cast that concentrates on the moment to hold our interest very effectively.
Production and the playing both offer clarity but arouse little audience empathy. The Breach is a reminder of the way that youthful mistakes mark our lives as it questions ideas of consent and responsibility. Are the guilty also victims?
What really happened at Jude's birthday party? The drama lies here in discovering the truth, gradually uncovered, but reality doesn't stop someone inventing their own would-be version.
Reviewer: Howard Loxton