The Buried Moon: Miranda and Caliban Reimagined
Laura Turner
The Petersfield Shakespeare Festival
The Rose Playhouse
–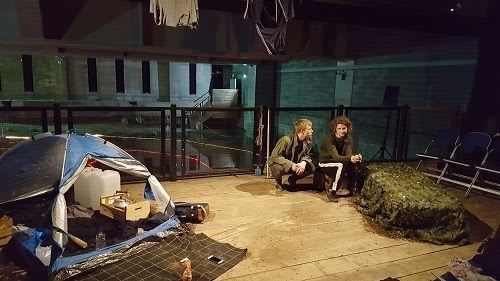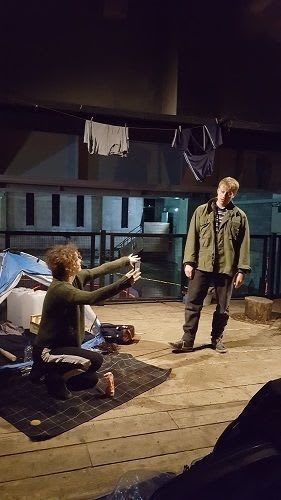 A young woman from a village in the Lincolnshire fens is struggling to relate to her father after her mother's death. She wanders on the marshes, harbouring suicidal thoughts, and stumbles across a shabby tent whose scar-faced inhabitant is as feral as his surroundings.
This modern-day Miranda, as insensitive to distinctions between social classes as Shakespeare's eponymous 'goddess' was to distinctions between reality and illusion, shares her literary predecessor's eloquent empathy. Cal—not so much an archetypal 'savage' as an eco-warrior committed to knowing, controlling and preserving his wild environment—has a love for the land equal to that felt by Shakespeare's "hag-seed" slave, Caliban.
Miranda's sensitivity to the plight of others comes up against Cal's innocent inarticulacy. He is unable to express his love, and desire, for her honesty and beauty. Lacking self-knowledge and experience she is unable to understand her own emotions or to recognise his. The volatile meeting of jealousy, uncertainty and hesitation that ensues leads to confusion and violence.
Laura Turner's The Buried Moon is a "reimagining and re-appropriation of the Miranda / Caliban dynamic from Miranda's perspective set in the Lincolnshire fen communities of today."
Georgina Hellier's Miranda is a paradoxical mix of innocent wonder, fiery curiosity and assertive directness. She is not meek but can be momentarily submissive. She wades across the marshes in a swimming costume, lugging a weighty back-pack: vulnerable, foolhardy or intrepid—it's hard to tell. Perhaps all three.
Michael Kinsey's Cal, too, is courageous and has strength of character. Shakespeare's Caliban's deformity is expressed by others in potent, olfactory imagery—he is a "deboshed fish", "half a fish and half a monster"—and so it is fitting that Cal proves an expert with a landing net and expresses a passion for fishing worthy of Hemingway or Hughes, taking delight in teaching Miranda about the essential violence of wild nature and man's engagement with it.
The dynamic between the pair—half-wonder, half-romance—is credible and strong. When incautious concern meets male desire, Miranda steps out of the immediate action to give us—to the backdrop of a tempest—access to her thoughts, as the prone Cal fulfils his real and sincere desires. Turner gives Cal no ennobling monologue and thus there is an inevitable imbalance in our knowledge of and response to the two characters, but we can appreciate his anger and sadness; both real and deserving of our sympathy.
Turner draws her title from fairy tale and myth. Collected by a Mrs Balfour from the North Lincolnshire Carrs in the Ancholme Valley, and included by Joseph Jacobs in More English Fairy Tales, The Buried Moon is set in the Carland bogs at a time when it was believed that the shining moon bestowed safety on the earth, while dark nights allowed evil things to roam. Eager to dispute this myth, the moon shrouds herself in a black cloak but, wandering in the darkness, falls into a pool and is bound there by a snagging branch. A man who has strayed into the marshes spies her faint light; it saves him from the evil creatures of the shadows, but when she struggles to follow she becomes trapped under a stone, buried, until she is freed by the wisdom of the Wise Woman and the evil things are chased from Carland.
In some ways, Miranda is on a quest to find the missing moon, but the marshes conjured by Turner lack the magic and strangeness of Shakespeare's Mediterranean or the mystery of the legend of the mythical bogs of Fenland romance.
But, 'burial' is a powerful theme in Turner's play. Because Prospero prevents Miranda from exercising her memory, she retains her innocence, but the buried memories of her origins and past are disruptive memories. And, there is much psychological archaeology in The Buried Moon as the two characters dig down into their personal parental relationships; indeed, it seems apt that Miranda first appears, dressed in overcoat, wellies and clutching a spade, on the far side of the archaeological remains of the original Rose Theatre site. Yet, while Miranda's relationship with her father and Cal's with his mother are evoked, there is no sense of the controlling, fearful power exercised by Shakespeare's Prospero or Sycorax.
Symbols are potently deployed though: buckets of soil, earth-bound treasure chests. Turner makes evocative use of music and voice-over too, even though there is none of the enchantment bestowed by the "thousand twangling instruments"of Caliban's isle "full of noises".
Shakespeare's The Tempest is a rich romance: concerned with the transformation not only of its characters' status, emotions and identity, but also of place, perception and the revolutionary power of theatre itself. I'm not sure if the social concerns of the sixteenth and seventeenth centuries—colonialism, heredity, patriarchal power, marriage mores—which inform the relationship between the original Caliban and Miranda can find parallels in a modern marshland; and, removed from the context of the wider play, the relevance of their relationship to the theme of forgiveness and reconciliation is perhaps lessened.
But, in Turner's play, Miranda's misdirected compassion is seen to be a necessary agent of restoration and resolution at the close. Jake Smith has directed an honest, forthright drama, and this is a well-acted exploration of contemporary concerns: peer pressure, consent, and how and why women behave when forced to operate and function in male-centred worlds.
Both Miranda and Cal undergo—indeed, suffer—a "sea-change" and are permanently altered by their experience in the marshes.
Reviewer: Claire Seymour