The Burning
Zoë Guzy-Sprague with the company
Incognito Theatre Company
Pleasance Courtyard
–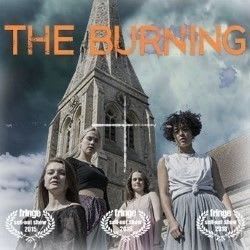 As you enter the Pleasance Upstairs Theatre you are greeted by a howling windy soundscape with misty smoke and blue lights creating an eerie atmosphere that sets the tone for Incognito Theatre Company's The Burning, superbly directed by Roberta Zuric.
It's a visceral ensemble piece performed with amazing energy and uses Incognito's impressive trademark physical theatre style .
The four female actors, Keturah Chambers, Jennie Eggleton, Kimberley Hallam and Phoebe Parker, are accomplished actors who breathe life into this important story of women being persecuted as witches.
It starts with the actors miming to a recording of the Monty Python sketch. An unusual decision and it works well.
But we are told the "ancestors are calling us back" and so we are transported back in time to discover what happened to witches throughout the ages and it's not a pleasant revelation.
Superstition, crop failures, dead livestock, weather changes are all blamed on these women and they are tried and hanged including one Agnes Waterhouse. Mathew Hopkin, the Witchfinder General, was given permission to seek out these witches with horrific consequences.
It's a whirlwind historical journey through the development of the printing press, the growth of the Protestant faith, the Enclosure Act with fences being built on common land, the Civil War and the rigours of the Industrial Revolution. These vignettes are fast-paced, each one fully realised, and the highly talented cast inventively create them with vigour and style.
Moving forward in time, Rebecca is clearing out her mother's house in Yorkshire following her death and finds boxes of papers tracing the history of her ancestors. There is a particular poignant letter revealing her mother's personal story and her love for her daughter.
Rebecca is pressurised by a local estate agent to sell the house for a major development but she is torn and doesn't know what to do. "The weight is so hard to shrug it off," perhaps she should just burn it down.
You have to admire the sheer physicality, singing and the vibrant, skilful movement work that makes this exciting, uplifting and hopeful production a sheer joy. Fight for a ticket!
Reviewer: Robin Strapp