The Burnt City
Punchdrunk in collaboration with the company
Punchdrunk
One Cartridge Place, Woolwich, London SE18 6ZR
–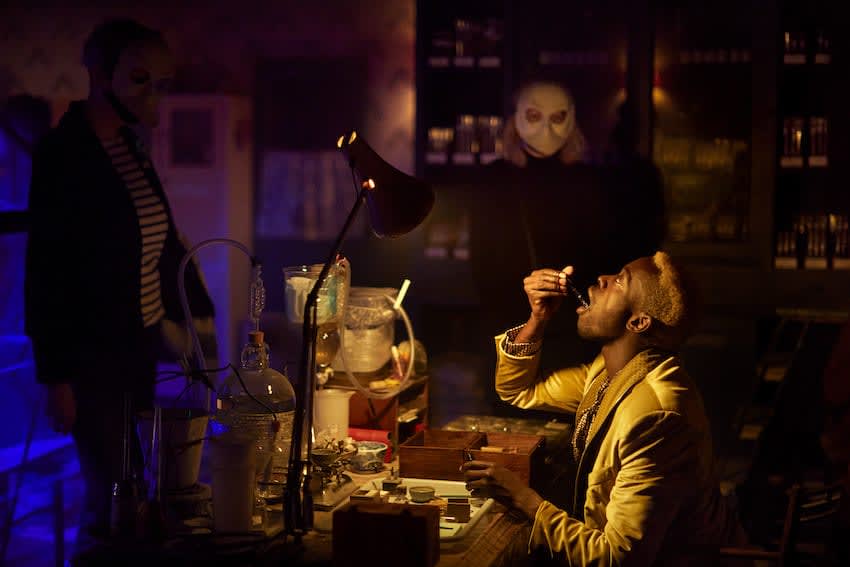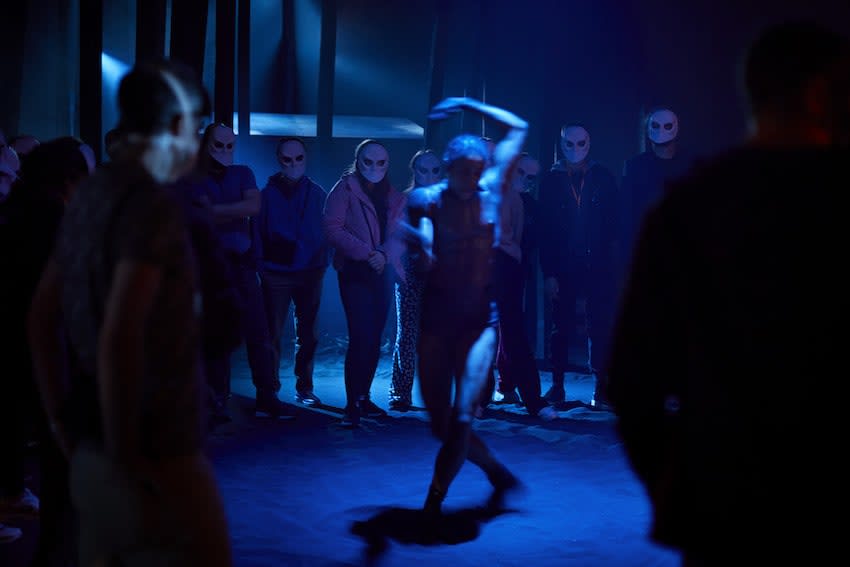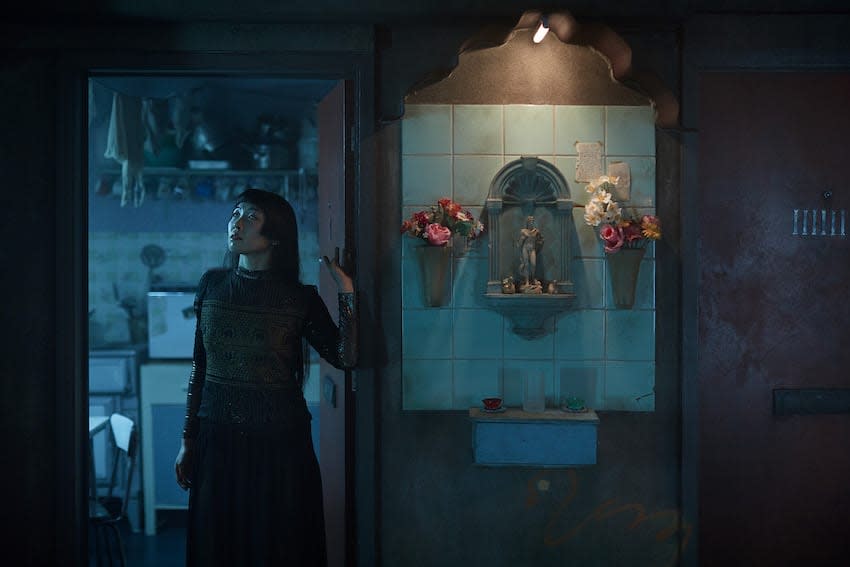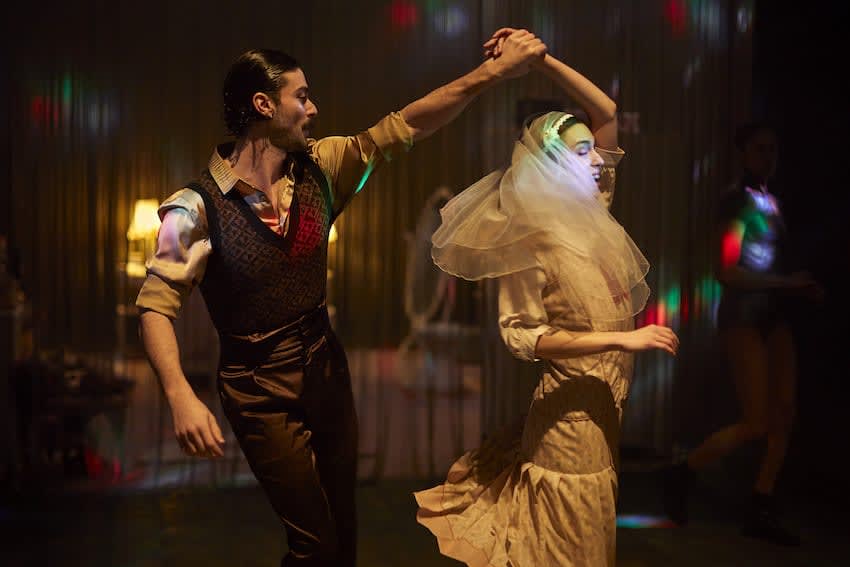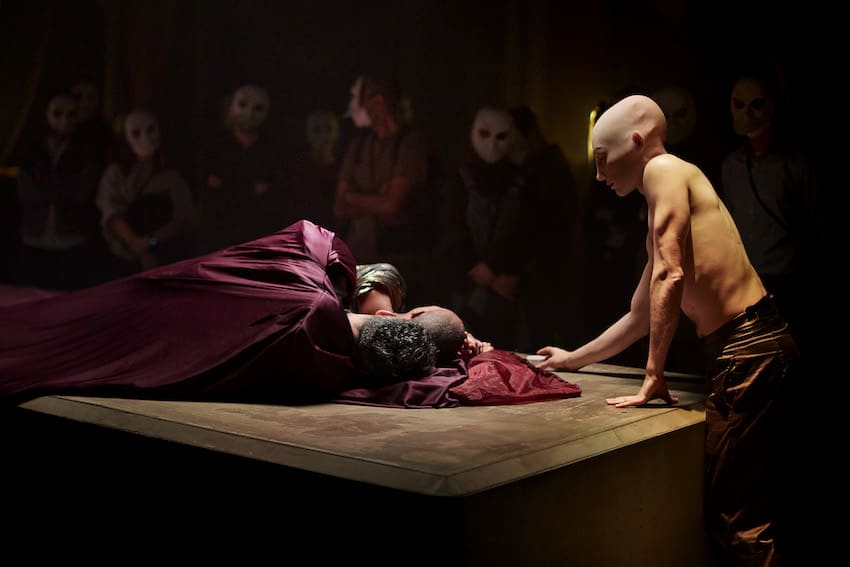 It is eight years since immersive theatre company Punchdrunk staged a production in London but now they are back with a new permanent home in the heart of Woolwich Arsenal where they are presenting The Burnt City, a large-scale enactment inspired by Classical Greek tales of the Trojan War and the plays of Aeschylus and Euripides, especially Hecuba and Agamemnon.
It is conceived on a grand scale with a creative team led by Punchdrunk founder Felix Barrett and choreographer Maxine Doyle with the collaboration of designers Livi Vaughan and Beatrice Minns, costumes by David Israel Reynoso, lighting by Ben Donoghue, a thunder-like sound score by Stephen Dobbie and contributions from a huge number of others including a cast of 49 actor-dancers, many of whom play more than one role.
It is an ambitious and vast undertaking in a huge space, some of it divided into a maze of smaller locations, bedrooms and bars, workshops, palaces, temples and dance halls, empty tents (is this the Greek camp outside Troy?) a grand staircase and, in a great open plaza, angled girders like huge tank traps that form an altar.
Once you set off in one of Punchdrunk's masks that mark audience from performer (mobile phones off and locked into a pouch so that you cannot use them), you are free to make your own way, sometimes through darkness, in search of interest and action. First, there is a museum gallery with facsimiles of treasures unearthed at Troy to remind you of the background and elements of the story. Beyond that, you emerge from a dark corridor into either Troy or Greek territory. I suspect there is some audience control in operation to divide the 600-strong audience between them, but the action is simultaneous in both areas. It is then up to you where you go, what you watch, whom you follow.
Punchdrunk is interested more in creating moments than in narrative; if you follow a character, you may find a sequential scene but equally witness a rite or an action not part of the main story.
I found myself in a huge, open space with a gallery above, and beside those angled girders were two struggling men in military greatcoats. I'd no idea who they were but, though the later spectacle includes copious bloodshed, one-on-one wrestling was the only warlike content I came across.
On the level above, I found Iphigenia being prepared for what should be a wedding. She was led down to the altar to Achilles but then became Agamemnon's sacrifice to secure the Greek fleet a fair wind. If you don't know the whys and the wherefores of the story, you'll still get its drama, made more dramatic by the perilous position in which they perform it.
It is to this same altar that Clytemnestra comes to give thanks or seek forgiveness after taking her revenge for her child's death. That comes after Agamemnon's triumphant return as the war's winner in a glittering skull-like helmet. Servants clad him in a crimson cloak that reaches the length of the staircase and, after his arrival, he's given a good working over by Mycenae's best osteopaths before being led through to his shower and his end.
Before then, I had explored some of the sandy terrain of the Greek camp but failed to find my way into Troy, meeting only blank doors or finding myself where I came from. When I did get there, it wasn't the smoking, sacked city you might expect from the show's title. Though most of its shops seemed deserted, some of its artisans seemed still at work, though the men in the dancehall could be the conquerors. This is a hedonistic, luxurious city, brothels and cafés and jewellers, presumably the war had killed trade, surely the sale signs in Cretan script and in English weren't aimed at the Greeks? There are many small scenes, very intimate. Who is the woman tearing up papers and then apparently going into labour? The semi-naked man covering himself in jewellery? Why was that man climbing into a ventilation duct? Whose was the bed full of cuddly owl soft toys?
When I reached Troy's city centre, I found myself followed by Agamemnon and his officers and saw Hecuba offering that glittering skull helmet to him (I was given it to hold at one point) before witnessing what I presume was the ritual killing of Princess Polyxena to appease the spirit of dead Achilles.
The Burnt City is not for the squeamish. There is lots of blood, most of it human, but when Queen Clytemnestra feasts with her lover Aegisthus (at a table even longer than Putin's), each offering the other the delicacy of a stag's eye, they festoon each other with bloody offal, which strangely seems more awful.
Punchdrunk leaves you to make your own sense, find your own explanations, discover your own story. Sometimes, the performers' lips move and they appear to speak dialogue, but you would never hear it, drowned out as it is by the climactic score. Nor can you see everything, let alone understand it all. The main action is repeated so that you get perhaps three chances to catch it. I know I missed some key moments, but I'm pretty sure there wasn't a wooden horse.
Three hours on your feet, sometimes edging your way through a crowd to get a better view, can be tiring too. You can escape to the bar for a rest or in Troy you may find a seat on the set to sink into. It certainly helps to know the classical sources, but where narrative is missing you can enjoy the good looks of exotic performers executing tricky choreography with style and enjoy The Burnt City's surprises. Myself? I'd prefer clearer storytelling, but three hours passed very quickly and there are moments of intense theatre skilfully handled. It is Punchdrunk back doing what they do extremely well. From what I've said I hope you'll know whether you'll like it.
Reviewer: Howard Loxton