The Burnt Part Boys
Book by Mariana Elder, music by Chris Miller, lyrics by Nathan Tysen
SDWC Productions in association with Park Theatre
Park Theatre (Park 90)
–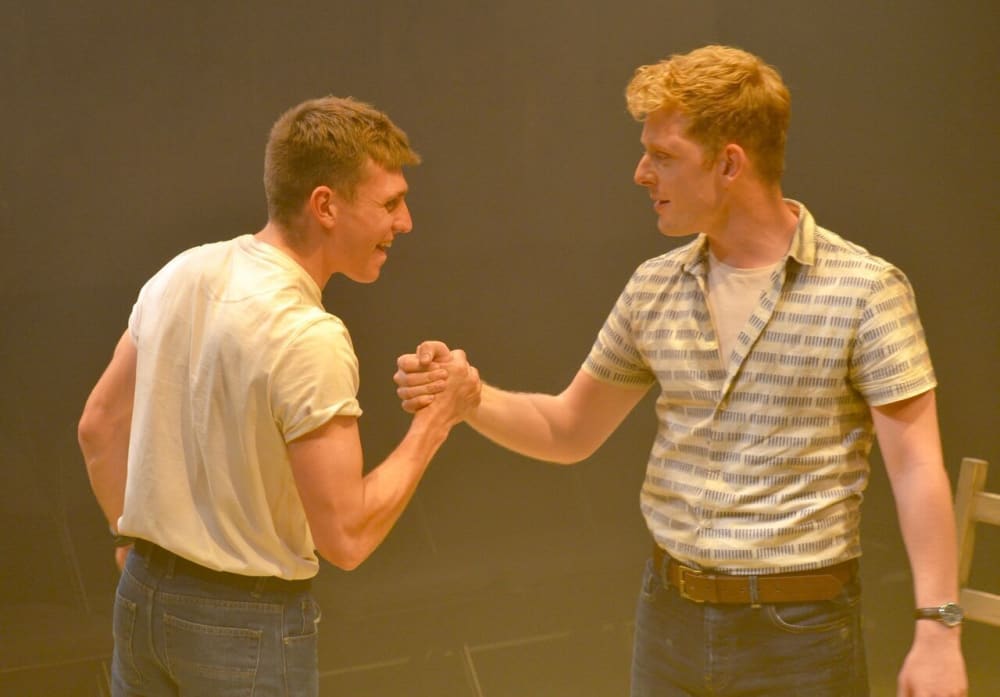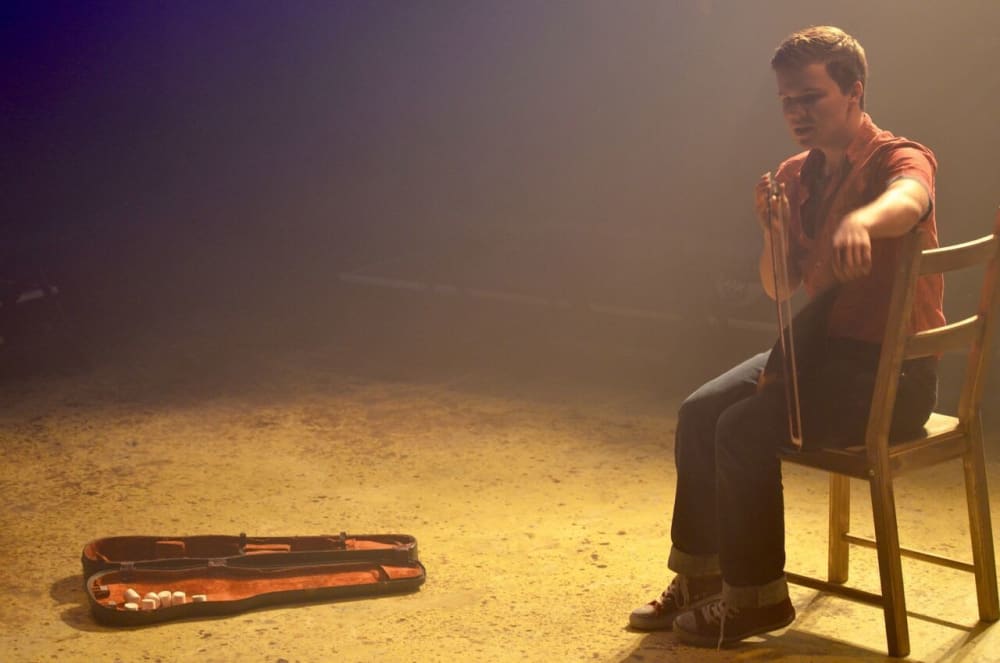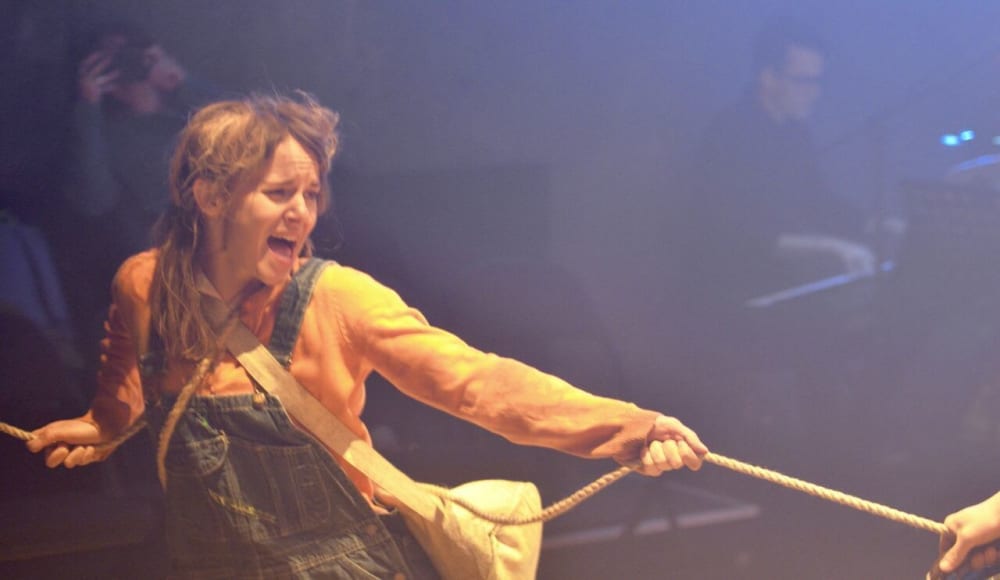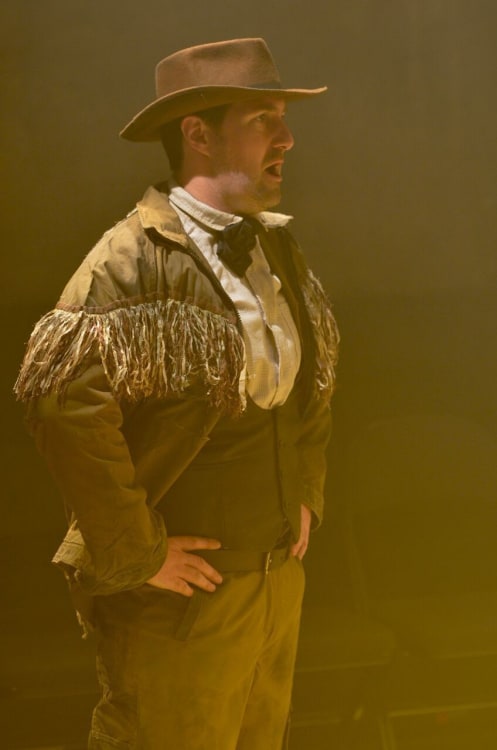 An American musical, here getting its European première, The Burnt Part Boys is set in Pickaway in the hills of West Virginia in 1962.
Ten years ago, a mine disaster killed men whose bodies still lie underground. Now Pete, a lad of fourteen whose dad had died there, hears that the mine is to be reopened. He thinks that sacrilege and plans to prevent it but his elder brother Jake, already a miner, is accepting a promotion to head of gang and going to work there.
Pete steals dynamite from his brother's lockbox and heads up the mountain with his best friend Dusty then, when Jake discovers the dynamite gone, he and his mate Chet set of in pursuit.
Part boyhood adventure, part end of boyhood story, this is a celebration of comradeship and family. Its plot is simple and perhaps predictable but the humanity of its folk and bluegrass influenced music make it moving, especially in this intimate venue and played with the sincerity this cast brings to it.
Young Joseph Peacock gives an assured and delightful performance as Pete, who is obsessed with the movie The Alamo. John Wayne and the real Davy Crockett are his heroes. In his head, Crockett, Bowie and General Sam Houston all come to life and influence his actions, figures that all seem like the father taken from him.
Ryan Heenan is equally accomplished as Dusty, especially touching in a plaintive solo as, playing on a saw, he sings "I'm the lucky one in a fatherless town / Lucky, guilty marshmallow me." Grace Osborn is a spirited Frances, a runaway who also lost her dad. A tomboy who says she knows the route, she joins the boys on their adventure.
Older brother Jake no longer thinks of romantic adventure but of practical things like earning a living. Chris Jenkins makes him not too grown-up, capturing both his love for and irritation with his younger brother as well as the close bonding he has with Chet, played by soul-eyed David Leopold with great sensitivity.
The warmth of these relationships is reflected in the multiple harmonies of the music, not least in the quartet of miners (Danny Black-George, Tomas Wolstenholme, Jonathan Bourne and Jamie Fillery) and David Haydn as Pete's dad who open the show and appear intermittently later: the ghosts of the dead men still thinking of those left behind them.
Over a bare stage, designer Rachel Wingate has hung loops of rope and fabric and lanterns that, with Charlie Morgan Jones's lighting, can become anywhere but are a constant reminder of mine workings. Below them, director Matthew Iliffe keeps the action constantly fluid. With the help of a few chairs and the ghostly miners, he creates the journey up the mountain, under the barbed wire of the mining company's security fences, through forest and across river. It is beautifully matched mime work that is fascinating to watch.
There is a great band and, though the Virginian accent sometimes makes lyrics hard to follow, this is fine singing and company work at its best. The Burnt Part Boys is a 90-minute gem well worth catching.
Reviewer: Howard Loxton