The Bus
James Lantz
Above The Stag Theatre
–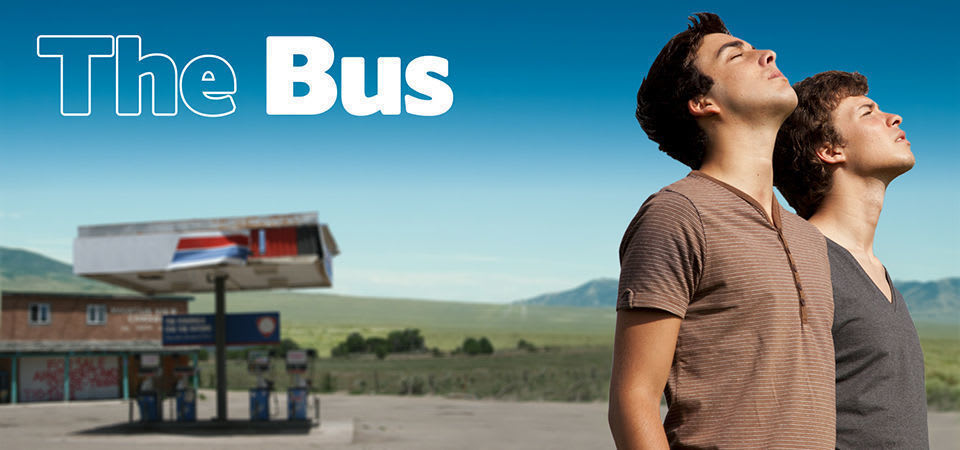 This is a fascinating play, full of surprises, that here gets an excellent production for its British première.
Ever since Harry Deforge bought a small town gas station, a bus has been parked there. It belongs to the nearby Golden Rule Bible Fellowship Church who seem to think they have a right to leave it on his a land, but Harry has lost patience with them and wants it gone.
In a little conservative backwoods town like this, the Church is pretty powerful so there's a battle set up there, paralleled by the conflict between Harry and Sarah, his religious former wife. The public confrontation leads to legal action, a boycott that could ruin Harry's business and a drastic plan on Harry's part.
That is the background to this story, but its main theme is the relationship between two teenage boys, Ian (Harry's churchgoing son, who lives with his mother) and Jordan, who use the bus as their secret meeting place. Drawn to each other at high school, they sneak onto the bus at night to be together, a happy pairing despite Ian's trepidation.
Ian nearly panics when Sarah notices that he has a love-bite, but she assumes he's got a girlfriend and helps him to hide it.
His mother is not the only observant person. Mr Sloat, the gentle, eccentric garage repairman, has seen the boys at their assignations. He turns out to be on their side (in both senses) but he's not the only one to know what they've been up to. There is tragedy ahead when church-going Ian decides on action to support his father.
The Bus sets a picture of bigoted Middle-American homophobia against a touching tale of two boys discovering their sexuality, one confidently embracing it, the other less accepting. It does not explore situation or characters very deeply but theatrically is very effective.
Alexandra Vincent acts as a sort of chorus to the piece, creating a lively liaison with the audience and then pops up as a number of its lesser characters and Ian Dring gives garage hand Sloat a delightfully multi-layered personality.
Matt Ian Kelly makes Harry so real that you want to know more about why his Sarah left him and Katherine Jee's Sarah has the right mix of doting mother and dogmatic Christian that offers a whole range of contentious issues their split could have been about.
The two boys are nicely contrasted in casting dark, straight-haired Kane John Scott and blonder, curly William Ross-Fawcett and there is a spontaneity about their playing that gives it emotional impact as they explore their newfound love. Both writing and performance make you want to know more about this relationship, it seems so real.
Robert McWhir's direction nicely balances emotional truth with theatrical effectiveness just as David Shields's set matches bold token elements with realistic details, the central bus a simple platform yet trade posters meticulously exact.
There is just an element of awkwardness in the way that the boys' greater bus-bound intimacies are hidden beneath a blanket. It may be a symbol of their need to hide them from the world, but why take a blanket with them?
A petty quibble for this is interesting work from a new playwright that is one of the best things this enterprising theatre has presented.
Reviewer: Howard Loxton