The Busy World is Hushed
Keith Bunin
Finborough Theatre
–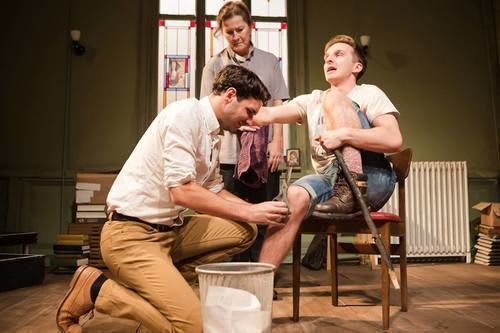 The three characters in Keith Bunin's The Busy World Is Hushed are all struggling to deal with terrible events they don't feel they can change.
Hannah (Kazia Pelka) is an Episcopal minister who twenty-five years earlier was pregnant with her son Thomas when she went to sleep as her husband walked into the sea to drown. The shock of what happened left her bewildered and refusing to eat till, for the sake of her child and her belief in God, she decided to go on with life.
Twenty-five years later, she is hiring a ghostwriter Brandt (Mateo Oxley) for her book about a newly discovered gospel that is believed to pre-date those in the New Testament of the Bible.
As she is talking to Brandt, her son Thomas arrives slightly bloodied from one of his games of getting lost in some wilderness. It's something he does quite often despite his mother's fear for his safety.
Obsessed with understanding his father's death, which might have been a suicide, he has become incredibly reckless with his life.
In addition to deliberately getting lost, he has visited where his dad died. Every so often, he returns to his mother's house to rummage through his father's possessions looking for clues.
He regards his mother's solution to grief an evasion. He tells her "(you) fold it all up and tuck it away with Jesus and the angels."
Brandt is also going through a testing time. He is slightly overwhelmed by the prospect of his father dying from a brain tumour.
This could all make gloomy entertainment but the characters are likeable and the plot if you can spot it is gentle and hopeful.
There is an especially close intense and loving romance that develops between Brandt and Thomas which Hannah regards as a positive, stabilising force for her son.
Most importantly, the dialogue is smart, witty and intelligent. Even on press night when the show hadn't quite settled into its stride, there was a good deal of laughter.
The play doesn't have a very clearly defined narrative. We can wonder at times where it is heading and whether the theological talk is all that interesting, but the intelligent, humorous dialogue alone makes this play worth seeing.
Reviewer: Keith Mckenna