The Buzz
Lydia Rynne
The Bread & Roses Theatre
The Bread & Roses Theatre
–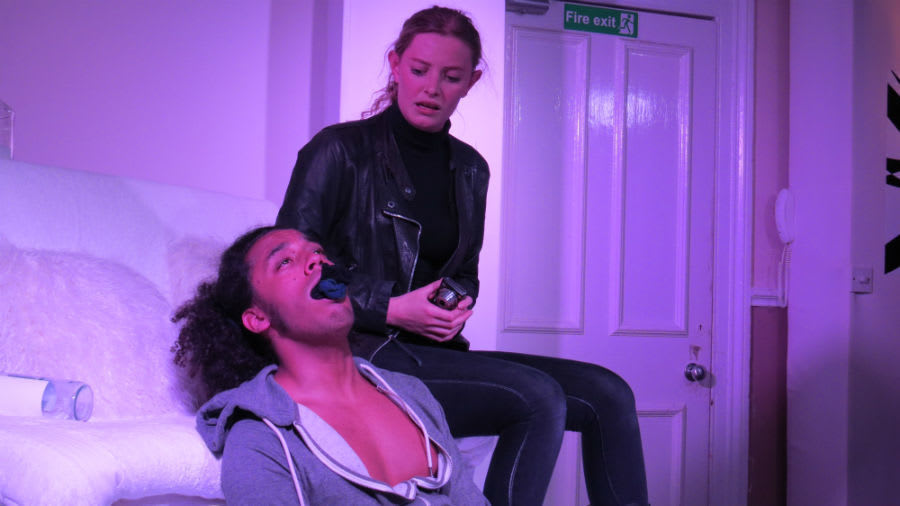 Gone are the old days of drug-fuelled musicians who neglected their partners and preyed on their fans. Today's entertainers live healthier life styles, are proud of their families and pay respect to fans and good causes.
At least that's what we hear.
Lydia Rynne's fast-moving play The Buzz takes a wry look at how true this is of the successful singer Josh (Andrew Umerah) and his less successful, still struggling partner Kyla (Sassy Clyde).
Sure enough, Josh tries to avoid late nights, eats carefully, does push-ups and even slots in some playtime with Kyla. But not all is well with their still-loving relationship.
As Josh sits preoccupied on his laptop, Kyla wants to know when she will have the promised help in getting recognition for her musical abilities.
"Soon babe," is the gist of his reply as he continues to notice only part of what she says and even then taking bits of it, regardless of meaning, to insert into his songs.
When she dismissively describes certain predatory musicians as "smelling like Sunny Delight," Josh notices the last two words which he slips into a love song.
It would be fair to say that Josh's many attractions do not include an obvious emancipatory sensitivity to women.
When fondling a little roughly Kyla's breasts, he refers to them as "Trixie and Delilah", to which she, with one of her rare references to a feminism she is supposed to espouse, corrects him with the names "Thelma and Louise".
You can sympathise slightly with the entertaining way Kyla talks about her frustrated ambitions, but you might also decide you don't really care very much for the minor difficulties of this self-obsessed pair.
As Josh departs for bed, Kyla's anarchist brother Nate (Gabriel Cagan) arrives to remind her of the days when she took him on his first protest and inspired his passion to change the world.
But that was the past and, as this seemingly easy-going, more sensitive character tries to engage with her about family members dying and the working class community she left long ago, she becomes preoccupied with her phone in the very manner that had earlier so irritated her about Josh's behaviour.
Nate thinks life should be about more than business success and has secretly arranged a visit to the penthouse by an anonymous individual (Hannah Duffy) who he believes has something to say about business ethics. And that event will shift the plot in a very disturbing direction.
The cast give fine, engaging performances. In particular, Sassy Clyde as Kyla grabs our attention by her bright, funny lines even when she says things we disagree with. But it is Gabriel Cagan as the more compassionate Nate that we are most likely to warm to.
Lydia Rynne's smart script evokes the mood and many of the worries that trouble our time from the anger around the #Me Too Movement to the frustrations of a generation left behind.
The confident, fluent pacing of the director Velenzia Spearpoint and the light, amusing dialogue give an upbeat feel to the show that softens the bleak pessimism of the characters prospects.
As we watch The Buzz, one thing is certainly clear: the rot infecting the entertainment business is going to need a lot more than a healthier diet and the exposé of a Weinstein before it is safe for either those who work in it or the fans that make the mistake of getting too close to it.
Reviewer: Keith Mckenna