The Cabinet of Dr Caligari
Sebastian Armesto and Dudley Hinton with simple8
simple8
Arcola Theatre
–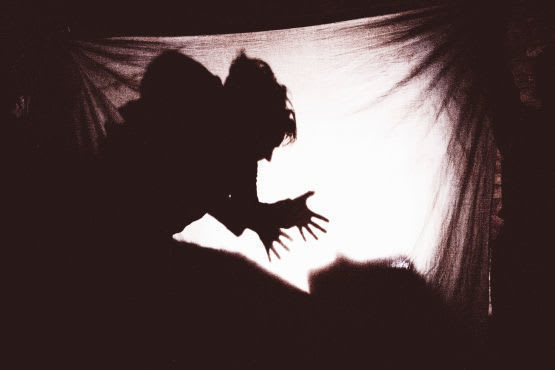 This resourceful company's latest offering takes its inspiration from Robert Wiene's silent movie expressionist classic of 1920. It is not a direct adaptation, nor does not set out to imitate its style. There are a few nods to the cinema original in a picture display of the town where it takes place, Holstenwall set on its hill, and a series of shadow sequence murders that recall some of movies images (though I must confess my memories are probably more of stills in cinema histories than of the movie when seen long ago).
Simple8, has an engagingly pared-down style. To the simple brick wall of Studio 2 (carefully lit by Sherry Coenen), a string of coloured lamps to suggest a fair and a couple of chairs, they later add a few sheets and a coffin. The company, some of them instrumentalists as well as actors, provide all the music and effects.
There is a complex set piece in which the whole cast is involved to represent the chiming of the town clock with its array of moving figures to mark a time of some significance, but otherwise things are kept remarkably simple.
The movie's asylum framing is discarded. Instead it makes the storyteller the chief stallholder of the Holstenwell Fair, but first there is a body on the ground. Later he will be recognized as Town Hall clerk Franzis Bruber (Josef Kloska). The stallholder is Herman (Christopher Doyle), presenter of Herman's Horror Spectacular, who announces that shadow and dream are all around, everywhere.
Herman goes to the town Hall to book his site at the fair and is closely followed by the mysterious Caligari (Oliver Birch). His show is a somnambulist; a lad called Cesare who for 23 years, since birth, has been in a state of sleep but can be woken and then is able to answer questions about the future.
One of the Town Hall officials is murdered and when the Mayor's daughter Jane (Sophie Roberts) and her fiancée Otto (Sargon Yelda) go to the fair Cesare predicts that he will live only until morning. That night he too is murdered and we witness yet another attempted killing.
It is clerk Franzis who the Mayor (David Brett) and his officials decide is guilty but will he face the guillotine? He isn't guilty. There is a different fate in store for him and a different one from what happens in the original.
The writers are joint directors and the cast, several of whom play more than one role, provide them with stylish performances. Christopher Doyle's mysterious black-clad, slow-moving Cesare is particularly effective. There is an eerie unreality about the way he answers questions, writing almost instant answers on large boards, and elicits compassion as he submits to Dr Caligari's hypodermic.
The performances are fortunately strong enough to hold attention for the show's 90-minute length, but the story seems strangely slight and sometimes, perhaps deliberately, unclear. Though some might read in some comment on civil service pragmatism, it is not really trying to make a critical point or explore the psychological background but it isn't effective as a horror story either. It is intriguing but not frightening and a little disappointing compared with the other productions simple8 has staged since it began in 2004.
Nevertheless I look forward to seeing what they do with Moby Dick, which follows this production at the Arcola.
Reviewer: Howard Loxton