The Captive Queen
John Dryden
Northern Broadsides, Shakespeare's Globe
Sam Wanamaker Playhouse
–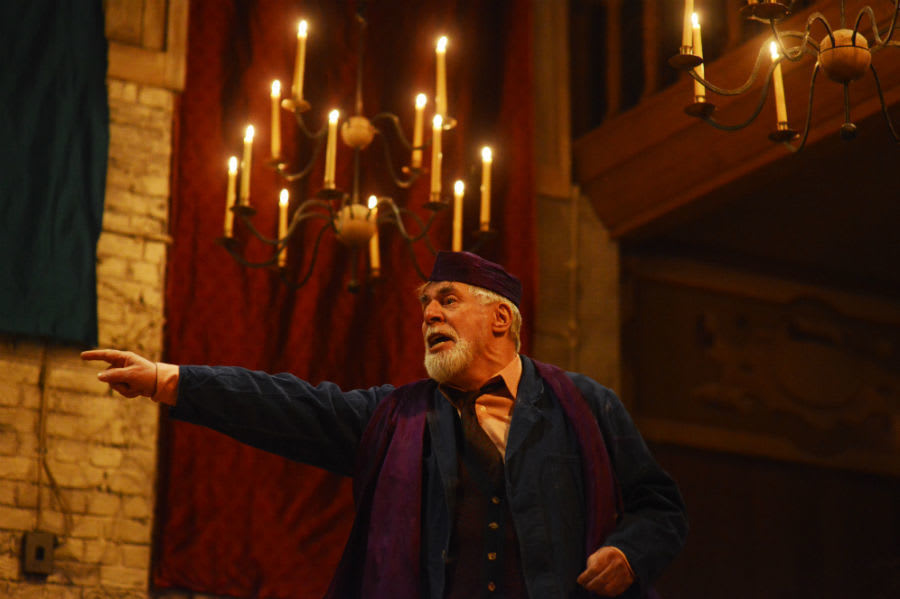 Indamora (Neerja Naik) the captive Queen of the old Emperor (Barrie Rutter) certainly catches the eye of all the grand male characters.
They have only to see her and they are immediately willing to throw off their wives, embark on the conquest of towns and even give up their lives.
That is the far-fetched plot of John Dryden's play The Captive Queen, originally entitled Aureng-zebe. The characters lack any psychological believability, depth or realism and most scenes include a rhetorical argument.
You could easily turn it into a comedy, particularly when Indamora tries to have conversations with a Prince, a high state official or the Emperor himself who all want to declare undying love.
But this production keeps things serious, and even takes special care to make us aware of the heroic rhymes that, spoken aloud, have an almost regimental drag that will initially weary the audience but eventually beat them into some kind of submission.
I longed for them to speak to the meaning and not the metre of the poetry, but this production marches its voices to the sound of the rhyme.
The story, its rhetoric and the rhyme are meant to encourage fine qualities, such as those shown by the heroic and very honourable Prince Aureng-zebe (Naeem Hayat) who Indamora probably loves if only she had time away from fending off the entire male sex. He declares (in this play almost everyone is declaring) that "Presence of mind and courage in distress, Are more than Armies to procure success."
By the end, those who have been a bit dishonourable recognise his qualities and say so before they die or in the case of the Emperor taking his clock card out of a rack and getting it stamped before he exits the stage.
I forgot to mention that this heroic tale takes place in a factory that had no relevance to the play whatsoever. Neither did the group of musicians who mostly sat on stage watching the action, occasionally singing a song between scenes.
Barry Rutter and the theatre company Northern Broadsides have since 1992 made good contributions to theatre. It is disappointing that the Arts Council should pull the plug on them.
However The Captive Queen is not their finest two and a half hours.
Reviewer: Keith Mckenna