The Caucasian Chalk Circle
Bertolt Brecht, translated by Alistair Beaton
Lyceum Theatre Company
Lyceum Theatre, Edinburgh
–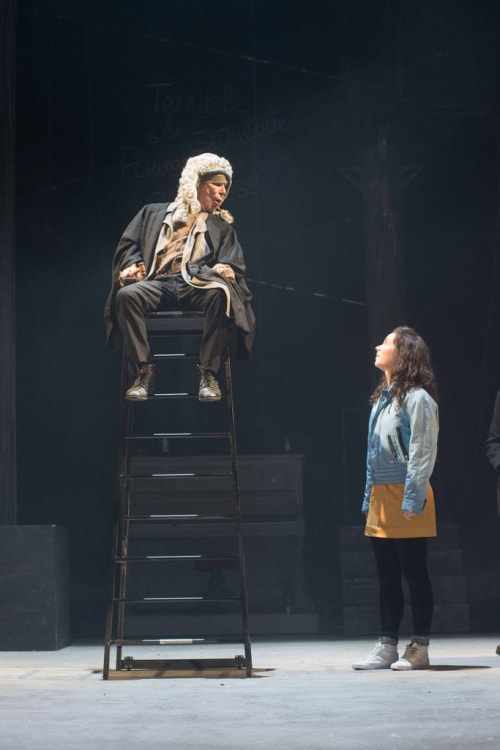 The set for this production is a far cry from the Lyceum's usual elegant, well thought out artistry. This set looked at first glance low budget and disorganised; behind this amateurish façade was a highly polished piece of theatre.
The play's starting point is a rural community staging a play to highlight their political struggles. The production really grasps the principles of Brechtian theatre in a natural way that really makes you think about the political issues and also about theatre itself.
The production boasts a large, very versatile cast, who play a range of characters and musical instruments. The playfulness of the production is a real joy to watch—there is lots of great music, some electronic, some more traditional. The most fun part of the production has to be the casting.
There is a lot of cross-dressing, both men actors playing female roles and female actors male roles. Rather than seeming like an act of desperation due to an imbalance between the cast and the play's sexes, it adds a level of theatricality, not to mention humour, to the play.
Grusha (Amy Manson) is the eye at the centre of this storm of violence, war and grotesque characters, as she tries to save a baby left behind by the Governor's wife (Jon Trenchard). Manson brings a real humanity to the role and the production, with her fragile dignity.
While it is a strong ensemble show, with all the cast getting some time centre stage, there are some great characters created by Lyceum regular Christopher Fairbank—not someone you would normally imagine playing a woman. His real moment though comes when he plays Azdak, a rascal turned judge, delivering verdicts and many good one-liners.
Some of the best work is by the women playing male characters; Deborah Arnott's Sergeant and Shirley Darroch's Prince Kazbeki were particularly fun, larger-than-life creations. Darroch playing the trombone whilst playing the Prince made a great picture.
All the cast are very strong, with the production rolling on at a fantastic pace, using very creative DIY effects, such as the bunched plastic sheet mountains and rivers. An incredibly well thought through production emphasising the transformative effects of theatre through the use of everyday materials and a playful approach to performing different characters.
A really exuberant and no-holds-barred piece of Brechtian theatre which manages to combine entertainment with political messages. Also a very accessible production, for lovers of Brecht and those with no prior knowledge.
Reviewer: Seth Ewin