The Caucasian Chalk Circle
Bertolt Brecht, adapted by Steve Waters
Rose Theatre with Carrie Hope Fletcher and Jonathan Slinger
Rose Theatre Kingston
–

Listing details and ticket info...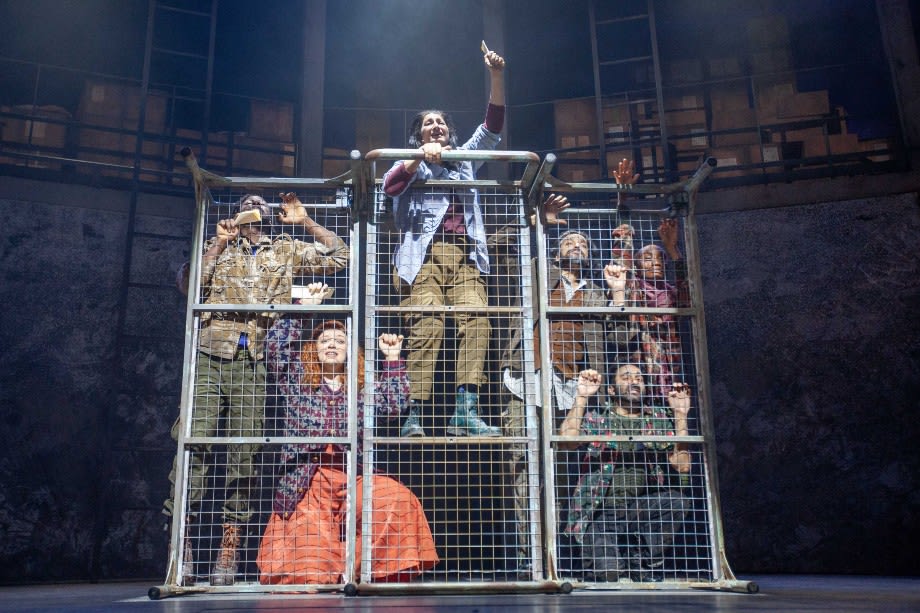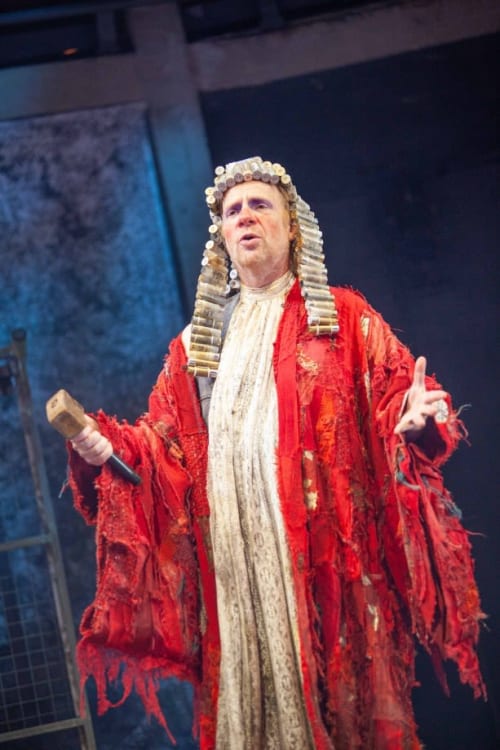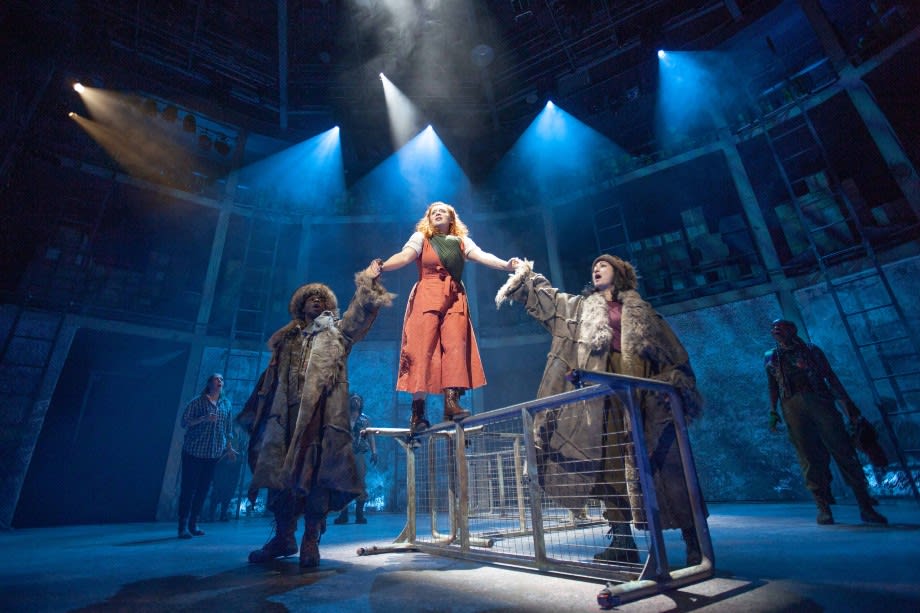 Governments fall, refugees flee and families are divided in Brecht's epic play The Caucasian Chalk Circle originally set in the Soviet Union at the end of the Second World War.
Steve Waters's adaptation gives it a very contemporary setting among refugees in a bleak warehouse where boxes are stacked on the higher levels above a ground floor of metal beds and flimsy mattresses. We hear the sound of an aircraft flying overhead. One of the refugees sits on her bed scrolling through her mobile phone.
They are already squabbling when a UNHCR official enters with the news of 'repatriation', which provokes more arguments about the way the land they are returning to should be used.
The mood shifts when a singer arrives with a play that will have a bearing on their arguments. It depicts a country suffering a setback in its current war. Someone asks, "how's the special military operation proceeding?" in an echo of what we have heard in recent times from Russian officials. Other current phrases find their way into conversations. In response to comments about developments, a character says they are "all the more reason to build back better."
When the governor is killed in a revolution, the ruling family flee leaving their baby Michael (represented by a soft toy for most of the performance) who the rebels want dead to avoid him being a focus for the old regime.
Although the servant Grusha knows her own escape will be at risk if she tries to save the baby, she carries him with her. Eventually caught, she is brought before judge Azdak, a corrupt official accidentally thrown into the post by the turbulent events. By this time, the old rulers are more in control and they want Michael returned by Azdak to his birth mother.
Jonathan Slinger's appearance as Azdak in the show's second half is a highlight of the performance. He has a strong presence, lots of good witty, subversive lines and excellent comic timing that holds our attention.
Much of the play, particularly in the first half, is punctuated by Michael Henry's pleasant music that includes the extraordinarily fine singing voice of Carrie Hope Fletcher's Grusha. It is often accompanied by the guitar of Zoe West but occasionally performed a cappella. It is not always easy to catch the lyrics but they give the event a cosy feel despite taking away the radical edge of the play and adding to the running time of nearly three hours.
To provide it all with an entertaining finish, one of the four small young lads on a rota to be a human Michael replacing the soft toy at the end walks on stage at 22:45 looking extraordinarily tired to deliver a fantastic dance which delighted the audience. It didn't contribute to our understanding of the play but might have prompted a modern-day Grusha's concerns about working small children into the night.
Although this gentle production with its relaxing music can feel a little too cautious, it still encourages us to see compassion and love as better bonds between mother and child than established law and biological relationship.
Reviewer: Keith Mckenna