The Caucasian Chalk Circle
Bertolt Brecht, translated by Frank McGuinness
Bristol Old Vic Theatre School
Tobacco Factory Theatres, Bristol
–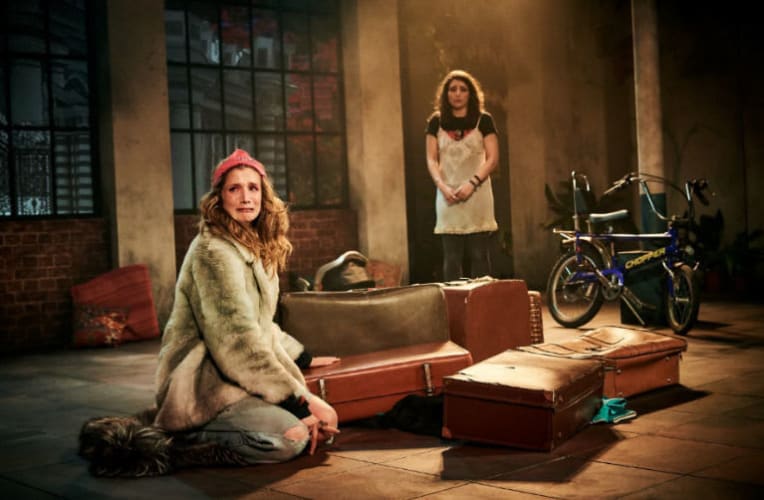 Never let it be said that Bristol Old Vic Theatre School lacks ambition. Having recently concluded a marathon production of The Life and Times of Nicholas Nickleby with its graduate class, now those completing the MFA for international Professional Acting students take on Bertolt Brecht at the Tobacco Factory.
Written in 1944, The Caucasian Chalk Circle remains one of Brecht's most accessible and popular works. Here, in Frank McGuinness's modern translation, rather than beginning with two peasant communities in a land ownership dispute, the setting moves to an urban environment and the conflict between a local community and a property developer hell-bent on thinly veiled gentrification. It's an apt scenario in an area of Bristol where so much redevelopment has and is still taking place, lending added authenticity to the cast member activists greeting the audience at the door with flyers.
There's much to enjoy as a group of travelling performers then invade the Expert's presentation to hijack events and present a morality play over the rightful parentage of a baby, echoing Solomon's biblical judgement. The youthful cast has an energetic life-force behind it and, under the direction of The Wardrobe Ensemble's Jesse Jones, injects well-choreographed pace and verve into the story. The musical narration is engaging and there's a tangible sense of mischief in many of the performances, with over-the-top archetypes of the landed elite receiving their comeuppance in the chaos of civil war, while the peasant underclass exploits their desperation, extracting a living any way they can.
At times, though, the buffoonery becomes too frenetic at the expense of narrative clarity, as eclectically adopted accents wander and some of the lines become difficult to hear when yelled with full force. But it does provide a meaningful contrast to the poignant central story of Grusha, a young servant girl who risks everything to save an abandoned baby from the war's ravages.
Though Brecht's emphasis is on alienation and social commentary, wanting audiences to engage in critical thinking rather than pure emotion, Grusha's moral dilemmas are this play's essential core and Marine Laurencelle brings an endearing integrity to the role. Her tentative moments of love with her soldier fiancé Simon, played with touching warmth and understanding by James Costello Ladanyi, are the most affecting of the production, as Grusha remains true to her conscience and growing love for baby Michael, despite the great personal sacrifice entailed.
There's effective use of projected backdrops and simple wooden crates on wheels to provide instant changes of levels, as Grusha escapes across rivers and over the mountains to the relative safety of her brother's house. Other aspects of the staging using inflatable chairs and space-hoppers feel bizarre, though arguably adding to the aura of Brechtian absurdity. One of the most bleakly funny scenes plays out when Grusha marries Adam Troyer's dying farmer in a bid to afford Michael protection, only to find her groom springs miraculously back to life once the war is over and he is no longer in danger of being called up.
Alice Birbara endows the wily judge Azdak with a wild coke-snorting licentiousness, combined with an underlying hunger for justice that sees the chalk circle being invoked as she decides on Michael's future parentage. Freja Zeuthen provides a comically outrageous portrayal of the spoilt, pouting Governor's wife Natella, only interested in reclaiming her son when she realises the inheritance he will bring. This year's students should be commended for their achievements; their production of The Caucasian Chalk Circle is memorable for some fine performances, pleasing musicality, committed ensemble work and the intensity of its retelling.
Reviewer: Claire Hayes