The Cause of Thunder
Chris Dolan
Fair Pley / Salt 'n' Sauce Promotions
New Town Theatre
–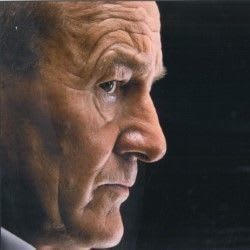 Reprising both the team, and the character from 2014's The Pitiless Storm, Fair Pley once again thrusts us into the hands of David Hayman as trade unionist and raconteur Bob Cunningham.
While the previous play delved into the inner turmoil that Cunningham felt upon being offered an OBE and his mixed emotions as he pondered out his feelings on the Scottish Referendum, The Cause of Thunder finds him older, more careworn and less enthusiastic and idealistic. Some hard years have passed since then and he walks into the Glasgow pub tired, soaked through and at a new quandry.
Chris Dolan's follow-up script manages to echo many of the dramatic themes of the earlier play, examining the mindset of the disaffected 'Yes' voters, but merged with an undercurrent of anger at that disappointment.
Cunningham's surprise at receiving an invitation to retire mirrors that of the OBE, as much as does his lamentations at being an old man with "piles bigger than my balls" mirror the feeling of a nation stung by blow after blow of political shock. Tying Brexit, Trump and the recent terrorist activity into the plot, the play feels newly relevant and yet familiar.
It's only when Cunningham starts telling pointed stories about a pair of young girls haunted by a spectre of racism and the amusing tale of a unusually entreprenurial man nicknamed 'Cannibal' that the piece segues nicely into the whimsical, each story sharing a motif of rising up and flying above the city.
Indeed, there's a fairly unsubtle theme of ascension to The Cause of Thunder, which is no real surprise as the play is a call to action, a thunderous encouragment to never give up and to bully forth with renewed vigour.
If the play has a weak spot, it is that the cacophonic crashes of thunder literally drown out part of Hayman's final oration. Also, the existence of a post-show Q&A onstage is a troublesome decision in the time-pressed hours of the Fringe, during which the stagehands emptied the stage and ripped the carpet up around an unconcerned Hayman, creating a strange mental dissonance with the powerful image of the closing moments, literally torn apart in front of us.
Reviewer: Graeme Strachan